Whether you are an experienced water-sport enthusiast or you are just starting, investing in a sturdy and stable paddleboard goes a long way. Considering the versatility of the market, it isn't that hard to find a product that is affordable and offers great quality.
After trying out and reviewing a wide variety of models, we were able to create a list of the best inflatable paddle board under 500 dollars, highlighting those with great value and quality design. Let's get to it!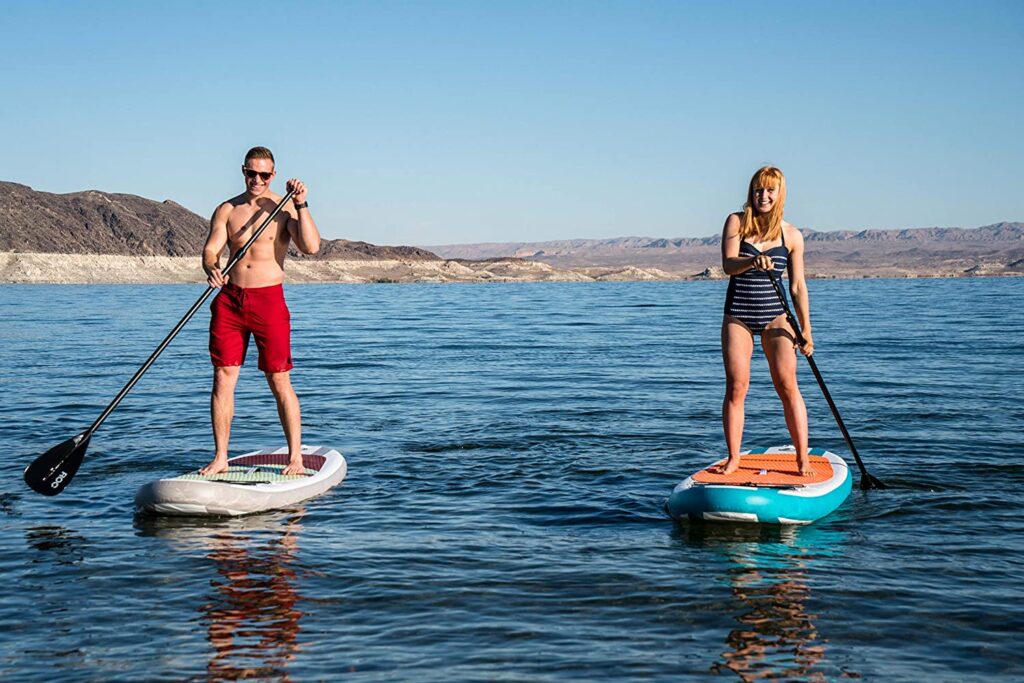 Inflatable Paddle Board Under 500 Reviews
How to find a SUP Board that fits your needs
Besides the price the are some important features to consider when choosing your Stand Up Paddle Board like:
Type of the Board (All-around, Cruising, Race, Wave etc)
Size and load capacity of the Board
Length and Width
Hull type
Inflatable or Hardboard
If you need some assistance and more detailed information about what to consider in detail, check our our detailed Buying Guide. Therein we explain everything in great detail including a very helpful Paddle Board Size Chart.
Roc Inflatable Stand Up Paddle Board
Our top pick that we are reviewing is manufactured by ROC, one of the leading names for paddleboards. It is available in a wide variety of colors such as Green, Black, Charcoal, Aqua, Desert, and Ocean. Most importantly, it is made to suit adults of any skill level and measures 10 feet in length, 33 inches in width, and 6 inches in thickness.
Review
The first thing that we want to discuss is the high-quality design that the ROC Inflatable Stand Up is highlighted by. You are looking at a product made out of military-grade material that helps withstand rough weather conditions and windy waters. Most impressively, it weighs only 17.5 pounds while providing its users with a load capacity of up to 350 pounds.
With that in mind, you can be pretty confident to take along your pet or another person on a paddling adventure. As mentioned above, the structure of this board is phenomenal and made suitable for rivers, lakes, and seas.
What makes this product stand out from most of its competitors is that there is a one-year limited warranty on all manufacturer defects. Not only that, but anyone interested in trying to paddle should have a pretty easy time with this board.
In terms of the accessories, Roc made sure to include all the essentials, such as a collapsible and floatable paddle, a safety leash, a removable fin for added maneuverability, and a hand pump.
On top of all that, there is a waterproof bag and a spacious backpack in which you can store away the board and all other accessories. The only issue that we have with it? The fact that the hand pump requires a lot of effort.
Still, given the price and the fact that this paddleboard is made to fit adults of any skill level, it is a great investment!
Pros
Great value
Military-grade material
Has a load capacity of 350 lbs.
Safe for beginners
Waterproof bag/spacious backpack
Cons
Hand pump tricky for beginners
GILI All Around Inflatable Stand Up Paddle Board Package
As our second choice, we would like to present a paddleboard that is suitable for all of you who want to get a high-quality product with all the necessary accessories. It comes in Blue, Green, Camo, and Teal and is set at 10'6″ x 31″ x 6″ in size. Similar to the aforementioned product, it is lightweight (19 pounds) and offers a superb load capacity of more than 350 pounds.
Review
The first thing that we noticed is that this model offers a similar feel to a hardboard. The main difference is that it is lighter and easier to maneuver. In addition to that, this product is suitable not only for experienced users but also for those of you who are just starting with paddleboards.
Apart from that, the most crucial point has to be the sturdy structure. It is highlighted by an innovative cross-stitching technique as well as premium PVC material that won't let you down in any weather conditions. In addition to that, while incredibly sturdy, it comes in a portable iSUP package that is pretty useful when it comes to storing this product away.
What are the accessories, you might ask? Apart from the board itself, you are getting a floatable paddle, a waterproof backpack, a two-stage hand pump, as well as a 10-inch leash for additional safety, and a removable center fin for enhanced maneuverability.
Similar to the product that we have reviewed above, you shouldn't have any doubts about safety, considering the high-traction pad that is highlighted by a diamond pattern and offers enough room for another person/pet.
On top of a durable and reliable design, you are also getting a two-year warranty and a 60-day money-back guarantee in case anything is wrong with the paddleboard. Once again, the issue seems to lie in the hand pump, which is tricky to use if you are a beginner. Still, after some practice, we were able to get a hold of it without as much physical effort.
Pros
Rugged construction
Attractive design
For beginners and experienced users
Simple to maneuver
High traction pad
Cons
Hand pump requires a lot of effort
Abahub Inflatable SUP 10'6" x 34" x 6" iSUP
It is pretty great to know that a board such as this Abahub one isn't limited to a single-use. On the contrary, it supports versatile adventures such as surfing, paddling, kayaking, and fishing. In addition to that, we found that the extra-wide and non-slip deck is just perfect for getting your Yoga session through. The dimensions are 10 feet 6 inches in width, 34 inches in length, and 6 inches in thickness.
Review
It is safe to say that Abahub did an extraordinary job manufacturing a paddleboard that is both sturdy and attractive. In addition to the abovementioned dimensions, we want to point out the versatility of the colors that it comes in, including Blue, Orange, Pink, and Grey. Like the product above, it is made to withstand tough conditions with a dual-fusion stitch and premium PVC construction.
What you should know is that it shouldn't be inflated above 15 PSI if you want to maneuver it with ease. Among the cool design details is the EVA traction pad made to enhance stability and prevent injuries for less-experienced paddlers. It is also important to highlight that it comes with three-layer sidewalls that are made to minimize air leakage and offer improved stability.
With a load capacity of 375 pounds, there isn't a single reason why you wouldn't bring your friend or a furry friend along. Add to that the fact that it includes neoprene kayak seats and D-ring safety hooks, and it is safe to assume that this extra-wide board is a fantastic investment.
Another huge advantage of the Abahub iSUP is that the 14 D-rings provide the means to mount a lot of additional material like fishing gear you can mount on the board with ease. Furthermore this SUP Set contains all the necessary accessories like a carbon fiber paddle, a safety leash, a simple-to-use hand pump, and a waterproof bag.
The main issue that we had is the fact that the backpack is a bit too small to fit the board and all of its accessories. Other than that, there's not a lot that we can put against this versatile and simple to use Abahub product!
Pros
Affordable price
Sturdy PVC construction
Large EVA traction pad which make the board suitable also for uses like Yoga
Has a load capacity of 375 lbs – ideal heavy riders, tours with kids or a dog or to take additional gear with you.
Easily converted to a kayak
Cons
Aqua Plus Inflatable SUP
If what you are looking to get is a reliable paddleboard, but you don't have a lot of money to spare, then we may have just the right product for you. It is a model suitable for both adults and youngsters, set at 10 feet 6 inches in length, 33 inches in width, and 6 inches in thickness, with a load capacity of up to 330 pounds.
Review
The first point that we were impressed by is how small this board is when you deflate it. Set at 1 foot by 37 inches, it is pretty easy to store away. After giving it a few test tries, we concluded that it is suitable for cruising or fishing on both rough and calm waters. The main reason for that is the double-stitch design that is enhanced by premium PVC.
Considering the enhanced structure, you don't have to worry if the board will flip over in the heavy wind or rough conditions.
As for the accessories, 11 pieces of D-rings and a bungee for storage and will allow you to attach an extra safety leash. Not only that but also a double-action pump that makes the inflation process pretty simple.
Coming at a great price, we can safely say that the board is made by the latest industry standards. The only thing that we would like to see changed is the size of the storage bag as it simply isn't big enough.
Pros
Great price
Double-stitch structure
Simple to store away
Beginner-friendly
Long bungee
Cons
THURSO SURF Prodigy Junior Paddle Board
Ending our list of the best paddleboard under $500, it is essential to highlight a product that is great for all the enthusiastic youngsters. Coming in three color designs, including Emerald, Azure, and Magenta, it is set at 7'6″ x 30″ x 4″ with a load capacity of up to 165 pounds.
Review
The first point that we were impressed by is the dual-layer structure of this paddleboard. The military-grade coatings are made out of premium PVC material and offer a triple-quadruple reinforcement to the sidewalls. It is safe to say that the THURSO SURF paddleboard is much similar to professional hard boards.
One of the coolest points has to be the convertible paddle which can be adjusted between 68 inches to 84 inches or converted into a kayak paddle. In our humble opinion, the carbon fiber structure is a much better solution compared to aluminum or fiberglass.
Similar to professional products, it is highlighted by removable fins (three), of which the center can be adjusted for lower drag and more maneuverability. Most importantly, the whole product is made beginner-friendly, and the installation of the fins can be done within minutes.
Apart from the board and the paddle, you get a safety leash and a spacious duffle bag for storage.
Regarding potential issues, we should mention that it doesn't come with a hand pump and that the price is somewhat higher than its competitors. Still, it's a great choice for any kid who is just starting.
Pros
Dual-layer structure
Military-grade coatings
Convertible paddle
Removable fins
Beginner-friendly
Great maneuverability
Cons
Somewhat pricey
No hand pump
Wrap Up about the best inflatable paddle board under 500
There isn't a single doubt that the products mentioned above are all worth your money.
What we like the most is the Roc Inflatable Stand Up Paddleboard for its simplicity and sturdy design.
On the other hand, for all those that are on a limited budget, we recommend the Abahub Inflatable Paddleboard that is much similar regarding all-around performance.
But whichever Board from our list you choose, you will get a Board with a very good price-performance ratio.
Do you have the most important SUP accessories
Are you not sure which additional accessories are truly needed and where to get them for a fair price? Or do you need more information about the right SUP clothes?
Check out our complete SUP Accessories overview and learn everything you need to know about SUP clothes here!