Paddleboarding is a highly underrated sport. It's a fantastic, fun way to get in some good exercise while also getting yourself out of the house and into nature – which, let's face it, we could all stand to do a little more.
Of course, as with any sport, you might be wondering what kind of safety equipment you should be worn when you go out to paddleboard if you have to wear any at all. So, in this article, we're going to dive deeper into paddleboarding. Read on for more information regarding the question do you need a life vest on a paddleboard.
However, the short answer for paddleboarding on US coastal water is:
You have to have a personal floating device (PFD), whenever you paddle on your SUP. Kids under the age of 12 even have to wear a life jacket.
And more so: we definitely suggest that you have a PFD with you, even if you're a good swimmer, as there are always different factors like wind, weather, (water) temperature or your physical condition which could change instantly.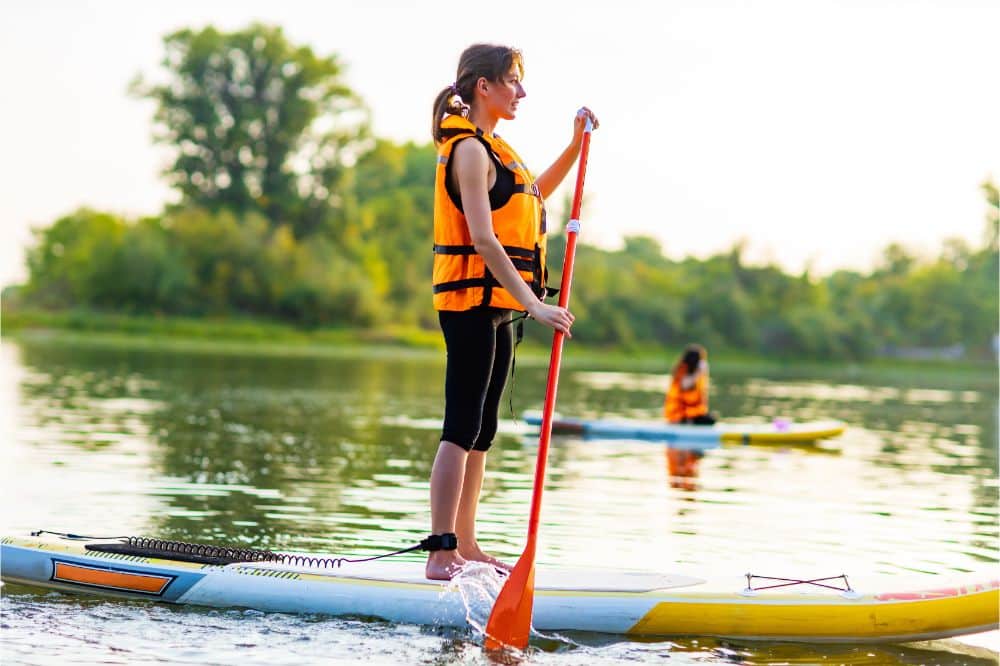 Should you wear a life jacket when paddleboarding?
Stand-up paddleboards are classified as vessels by the United States Coast Guard, and that means that you have to have a USCG-approved personal flotation device with you whenever you paddle on a stand-up board. If you are under the age of 12, you definitely have to wear one. The coast guard considers you a boater when you are on a paddleboard, even if it seems counterintuitive. 
Being a manually propelled vessel doesn't mean that you don't have to follow life jacket rules. All of the rules that apply to small boat safety also apply to you on your paddleboard, which means following life jacket requirements. This also means that you will have to carry a sound-producing device with you at all times when you're boarding, and if you're using your board at night, you'll need to carry a light.
What Happens When You Don't Wear Inflatable Life Jackets?
You could likely land up getting a ticket if you don't wear a life jacket while paddleboarding on coastal waters. You don't want this to happen, so make sure that you're always wearing a USGC-approved life jacket, even if you are on calm waters. You wouldn't want to ruin your paddle boarding adventures over an easily avoidable ticket. 
Why always take Portable Flotation Devices with you?
When you find yourself out on the water, whether by choice or by accident, PFDs will provide you with some much-needed buoyancy, depending on their buoyancy rating. At the same time, it might seem like small talk to choose a good life jacket. Remember that these pieces of equipment got their name for a reason – they're there to save your life when you need them the most. 
Types of PFDs
There's a reason why so many paddleboarders choose to stick to Type V and inflatable PFDs (remark: for Kids you should choose Type III PFDs), and that's mainly due to their purpose-built design considerations, which offer you a full range of comfortable motion for activities like water skiing and paddleboarding. Let's look at some of the most popular classifications for life jackets and which ones are best for you.
Foam Core PFDs (Type III)
One of the most common flotation devices used on stand-up paddleboards is a foam core PFD, also called a foam core vest. While they are a little bulkier than inflatable vests, they have the added benefits of easier maintenance in a serviceable condition and lower upfront costs. 
The great thing about these devices is that their foam construction does not require any gas cartridges or air chambers to keep you floating. So, regular services are required less. Another significant advantage to these devices is that their size allows for storage pockets. 
Not every model will have pockets, but of course, not every paddleboard will need pockets. However, if yours does come with one, you could use those pockets to store your cell phone, water bottle, and other essentials. 
Inflatables (Type V)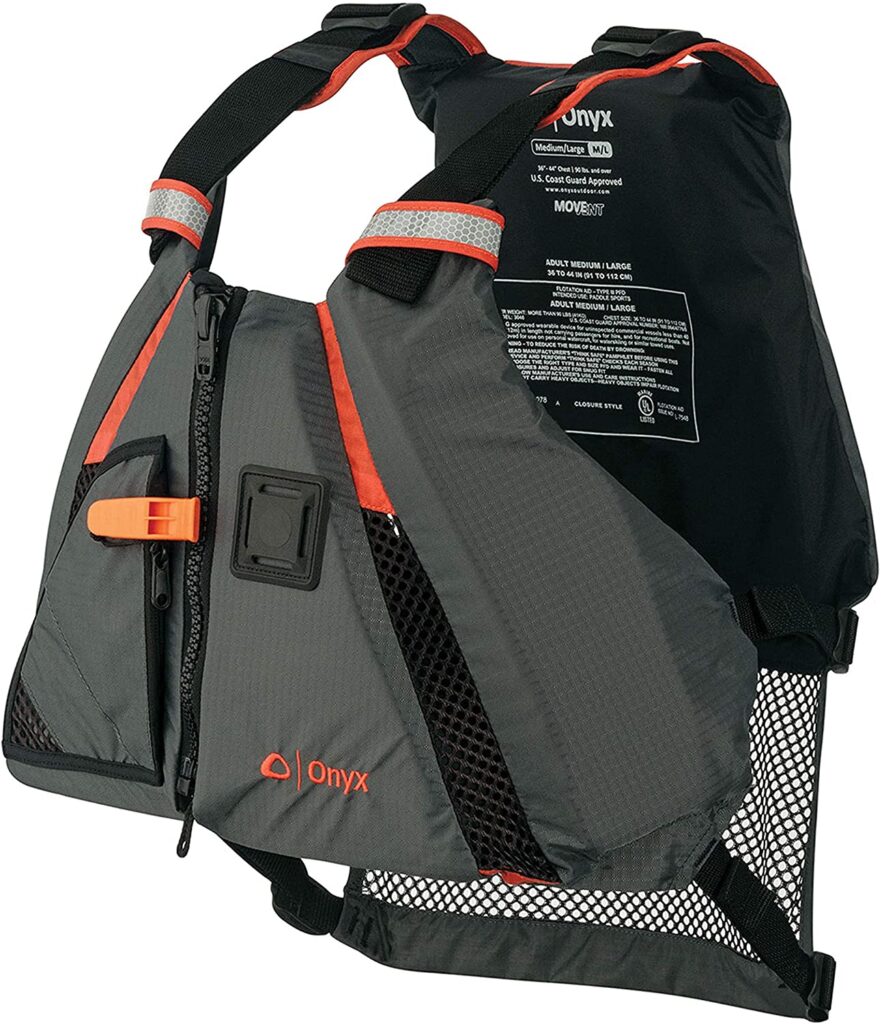 The following kind of PFD is the inflatable vest and is fantastic for SUPs.
They are made up of either one or several air chambers that inflate using an integrated gas cartridge. This technology allows them to maintain their minimalist appeal while also making them more comfortable and less prone to showing signs of deterioration. 
Their slimmer back and chest plates facilitate less ribbing and belts in the front, which offers you a more excellent range of motion that you can take advantage of while you're out on the water. 
A great example for Paddleboarding is the Onyx MoveVent CGA Life Vest.
Auto-inflating life jackets
There are also auto-inflating jackets that, as the name suggests, inflate by themselves once they become immersed in water, but they can also be inflated manually. The critical thing to consider with this kind of jacket is how often you plan to get wet because you risk wasting the gas cartridge in non-emergency situations if you accidentally fall into the water. 
Remember that even the best paddleboarders sometimes fall off their boards, so this might not be the best jacket for paddleboarding if you live on the clumsier side of life. However, they are still a great coast guard-approved life jacket that meets the current life jacket regulations and are impressive if you don't want to worry about manually inflating your vest.
Inflatable life belts
These are the most minimalist and streamlined PFDs available on the market right now. As the name suggests, they are worn around your waist like you would a belt while still offering similar buoyancy to the other options that we've mentioned.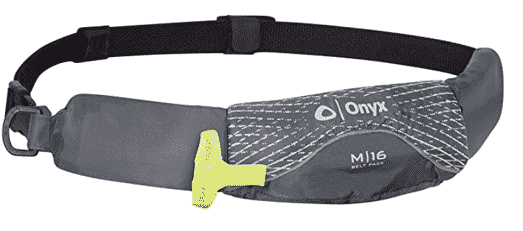 As with life vests that are inflated manually, you will have to activate the gas cartridge in a life belt by pulling on the cord. It's important to note that you will have to perform some regular servicing on this PFD since the gas cartridge has to be replaced after each use. 
For lightweight personal flotation devices that still meet life jacket guidelines while being streamlined and minimalist, inflatable life belts offer a fantastic solution for various paddle boarding types. 
Our favorite inflatable life belt is the Onyx M16, which is light, comes at a fair price, is fully USGC approved and has a really low profile design.
Some Key Considerations about PFD's
Now that we've got a basic understanding of the different flotation devices, it's time to decide what works best for you. You'll need to consider a couple of things, like the life jacket regulations in your region, how much life jacket usage you get, and the body of water that you prefer to paddle on. 
Size
The most important factor, no matter which PFD you choose to use, is that it has to fit you properly. It's so easy to slip out of your vest if it's too large, or you may find that your breathing is restricted because it's too small. 
Remember that sizing will vary depending on the brand and model, so be sure to visit an outfitter and always check the life jacket label to see if it's in a size that fits you. However, if you don't get the chance to visit a fitter, be sure to take your measurements in advance before you pick out a size. 
It also helps to keep in mind that you may be wearing your flotation device over clothing, so when you're taking your measurements, consider the usual attire you wear when you go out onto the water. 
Fit
Adjusting the right fit is the next step in the process. It's easy to think that fit and size are the same, but they're pretty different in the case of flotation devices. Consider the broad range and size that you fit within – the fit is how you're going to make sure that your device is perfect for you. 
The process of fitting a jacket is quite simple, but you should still take your time to make sure that you get it right. It will vary depending on the device, so consulting an owner's manual can do you good. With that being said, there are a couple of general rules that you should keep in mind.
As we mentioned previously, you want your device to fit snugly but not so tight as to restrict your motion and breathing. Tighten the device up as much as possible while ensuring that you still have room to move and breathe. Next, make sure that it does not slide up and down your body – if it's loose while you're in the water, you might slip right through and into the water with no support. 
Style
Even though these devices are designed to keep you safe in the water, there's still the style factor to consider! You'll often find that many manufacturers put their personal touch on the style of their devices to give them their signature look – there are many options to choose from, so it definitely won't be challenging to find one that looks good on you.
Life jackets used to be considered unfashionable and unstylish, but those days are long gone. Now, you can find a wide range of colorful jackets that feature attractive, unique designs that help you stand out amongst the crowd and feel stylish while still being safe on the water. 
So, if you're going to pick out one of the more oversized, bulkier vests, try to find something that makes you feel stylish! Start by finding the type of vest you prefer to wear, then scope out the different available styles on the market. 
Final Thoughts
Using a life vest or PFD when paddleboarding is about more than just avoiding getting fined when in coastal waters. If you were to fall and hit your head or sustain any other injury, wearing a PFD will allow you to stay afloat even if you are unconscious or are unable to swim. They also make it easier for rescue teams to see you if you find yourself in a tricky situation.
Additionally, even if you are paddleboarding on a river or lake, you never know if a motorboat's wake could knock you off and you need some floatation assistance to get back to your paddleboard. In this kind of situation, if you're not that good at swimming, a flotation device will make it much easier for you to get back to your board and out of the water. Lastly, wearing a life vest when paddleboarding ensures that you don't tire yourself out treading water when you fall off.
So, if you're on the hunt for a good lifejacket for paddleboarding, but aren't sure where to start, the Onyx MoveVent jacket makes for a great point of departure. Alternatively, if you're looking for something a little more lightweight, consider the Onyx M16 inflatable belt – it'll keep you afloat but still give you a good range of movement. And remember – safety should be your top priority!
More information about the Paddleboard Equipment you really need
Especially when starting out, one might have a lot of questions about the equipment and accessories one really need for Stand Up Paddling.
Those questions can reach from the right type of SUP Board, to the different paddles, the SUP Pump or even which clothes are needed for Stand Up Paddling. In the following articles we've put together all the information you really need about the SUP equipment. Check it out!