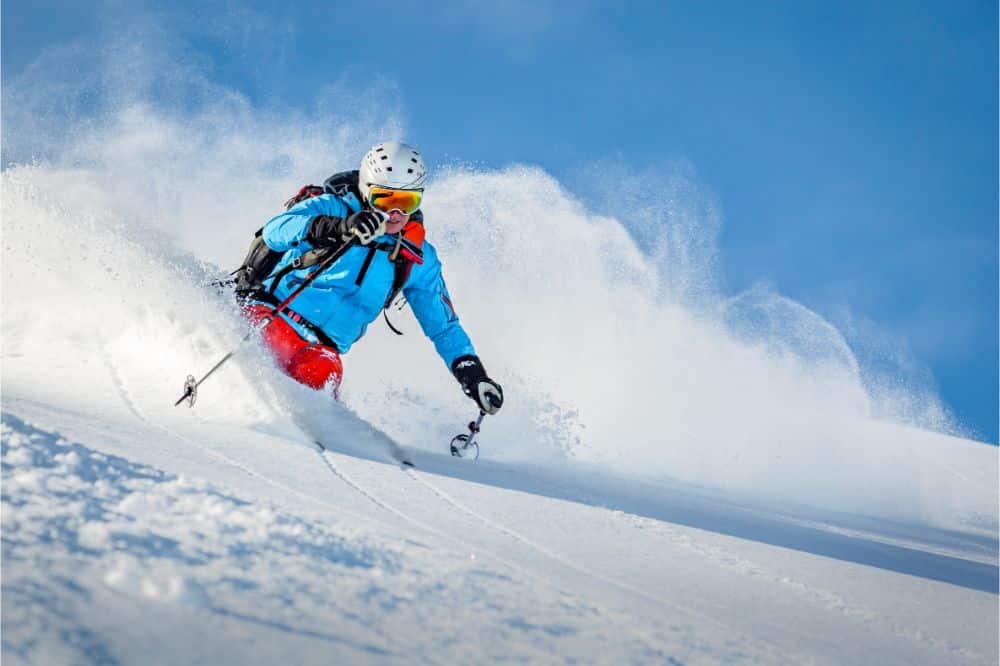 If you're planning a skiing trip this winter vacation, it is always a good idea to be as prepared as possible, especially if it is not your first time skiing in the snow and you want to start with the really cool stuff: do some freeride skiing and ride some powder.
Knowing the difference between the various types of skis available can help you choose which would work best for you and if you are into powder riding, you should definitely have the right skis.
The two best options for riding some powder are the powder or freeriding skis and all-mountain skis. While they may look similar, they vary in length, width, and cost.
Let's take a more in-depth look at the most obvious differences between freeride and all-mountain skis by comparing what they can be used for and who can use them.
What are Powder Skis (Freeride Skis)?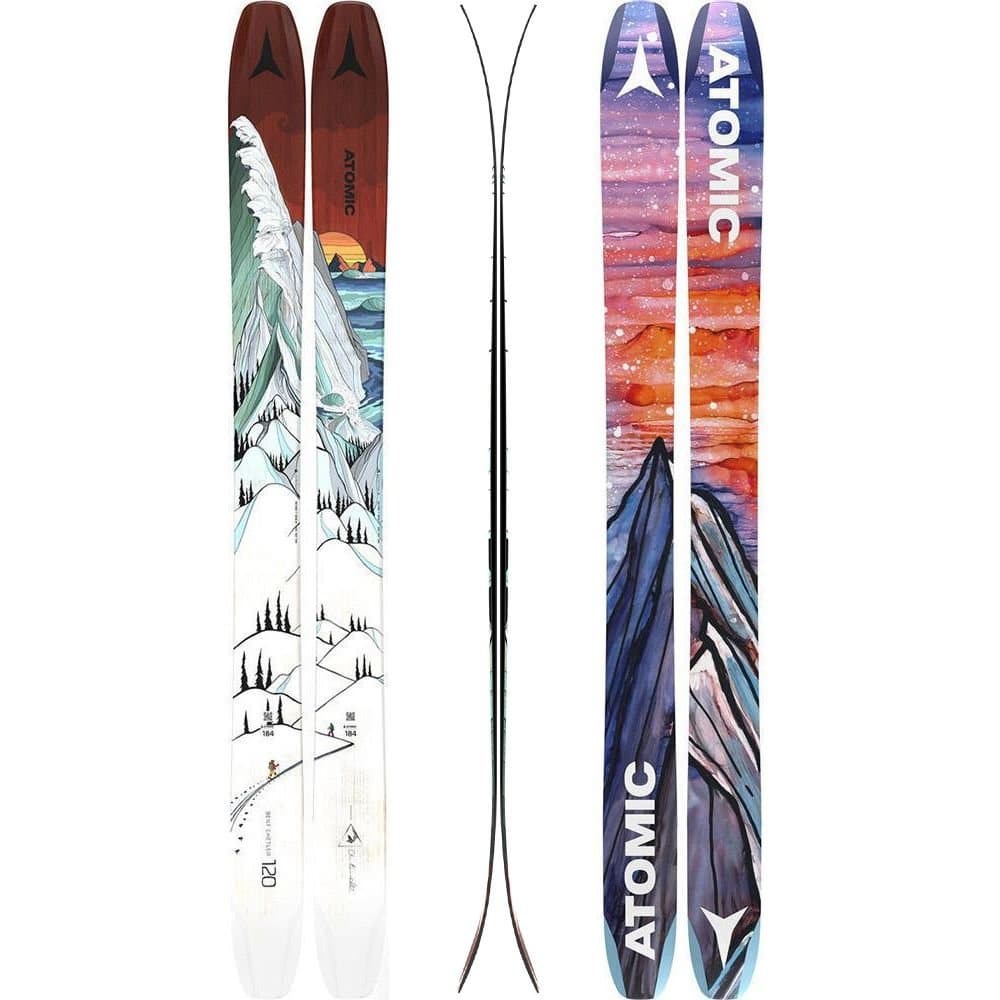 Freeride skis are among the most popular types of skis and are mainly designed for riding deep and fluffy powder. While your skill level should not be the only consideration when choosing skis, it is important to note that freeride skis are wider (90mm to 120mm under the bindings), and have more bend (rocker compared to most other ski types) than other types of skis. They are great for use in deeper snow but can be harder to control when making turns on icy terrain.
The main goals for which powder skis are designed:
Generate as much uplift in deep snow as possible
Be as maneuverable in deep snow as possible
Be as easy to ride as possible in different snow conditions outside groomed slopes
Besides the fact that they are designed wider and with more rocker, you need therefore be aware that freeride skis should be longer than your normal piste skis. Typically they should the length at least 10 to 15 cm above your height. This supports the generation of uplift and with that maneuverability through powder snow.
Freeride skis are due to their additional size heavier than all-mountain skis or touring skis. So if you plan tours that have significant ascents you need to hike, you maybe should prefer a touring ski or an All-Mountain Ski
Freeride skis are made for high-speed and cool descents in deep snow outside groomed slopes. Therefore: if that is your main focus, purchasing a good freeride ski is definitely worth your money.
What are All-Mountain Skis?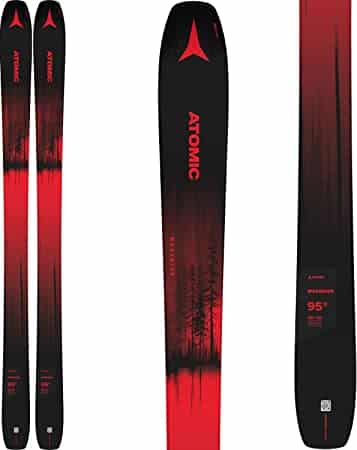 All-mountain skis are pretty much what their name indicates; they are designed for all-mountain skiing. They are the most versatile skis and can be used by skiers of all skill levels. For absolute beginners though, a good set of shorter carving skis are best.
All-mountain skis are a good choice for powder skiing but do also do a nice job on slopes and on ski tours. In order to achieve this versatility, All-Mountain Skis are designed differently than Freeride or normal Piste Skis.
Consequently, compared to Freeride or Powder skis, they are narrower (between 75mm to 95mm under the bindings), have typically less rocker, and are chosen a little shorter. However, they are still significantly wider and you choose them longer than normal skis, which enables them to generate super uplift in powder snow. So this intermediate design between normal and Freeride skis allows them to provide great maneuverability and control as well in soft powder, and deep snow as in spring snow and are even good and a fun ride on hard or icy slopes.
As you choose All-mountain skis shorter (about 5cm below your height) than their freeride counterparts and due to their shape, All-Mountain skis have a shorter radius compared to the Powder Skis (but still larger than a carving ski for example).
Thanks to that you can also make some nice carving turns on a normal slope and easily tackle also steep and icy parts of a slope. Furthermore, All-Mountain Skis are lighter compared to Freeride Skis, which makes them a better choice if you want to do a Tour with a longer hiking section from time to time.
In summary: All-mountain skis are the way to go if you want an all-in-one product: a nice ski to do some large carving turns, ride some powder and even do a short tour from time to time.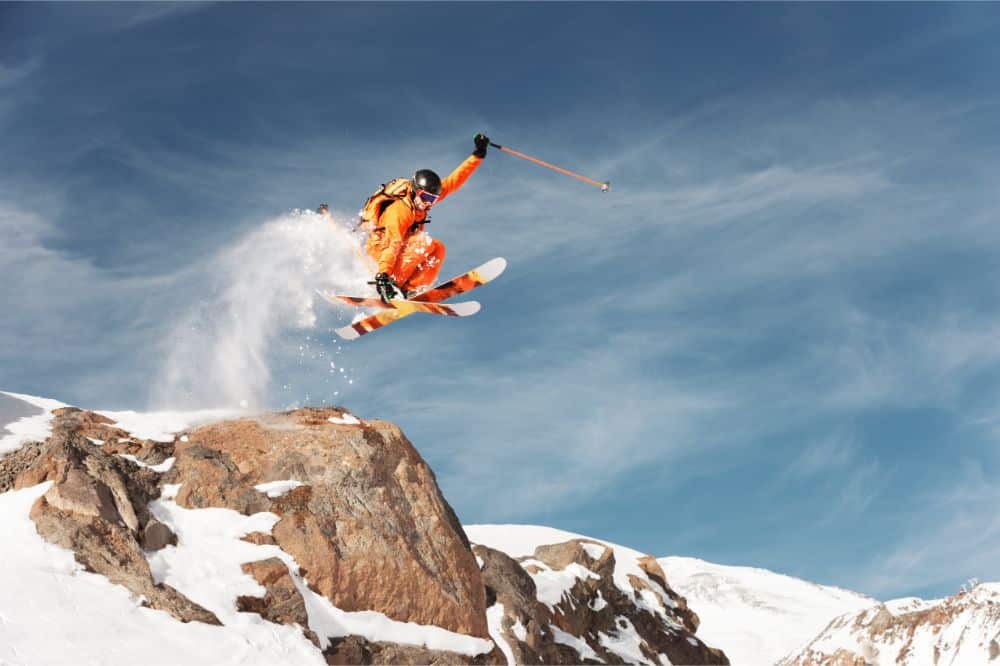 A Guide to Choosing the Best Skis for you
Choosing skis can be tricky, but the task becomes much easier if you know the type of skiing you will be doing and are completely honest with yourself about your skill level.
Skis (type, construction, and length) should be chosen according to the following factors.
1. Choosing the length based on your Skill Level
Whether you are skiing for the first time or have been hitting the slopes for years, you need to choose a set of skis that are designed for your skill level. Since skis are most often chosen according to the skier's height, choosing a set of skis that will match your skill level is fairly easy.
Here's how to choose skis based on your skill level.
Beginners
Beginner skiers should choose a set of skis that comes up to no higher than chin height. A shorter ski makes it easier to turn and can help you develop your skiing skills.
Intermediate
If you've already been skiing but don't do it too often, you are classed as an intermediate skier. Intermediate skiers should choose skis that stand at the height of roughly their nose. This is ideal for balancing on the skis, maneuverability, and, of course, stability.
Advanced or Pro
Skiers with great skill can choose the length of their ski mainly based on the intended usage. So if you want to have a ski for short, crispy turns on hard slopes, you choose a ski that is about chin height. If you want to ride long turns at high speed, you choose a ski that stands between your nose or even comes to your full height. Skill comes with experience, and those who have been skiing for many years and have built up their skill level will have good control of their skis no matter the size of the skis.
This rule of thumb applies mainly to normal skis. So if you are interested in off-piste and freeride skiing, you should furthermore consider the following:
All-mountain skis should be chosen, no matter the skill level, and a little longer than normal skis. So normally, we choose All-Mountain skis which stand at a height between the nose and full height. For Freeride skis you should go even a little longer, which means that freeride skis should be chosen one or even up to two "fists" longer than all-mountain skis.
In conclusion, you should remember the following rule of thumb:
The shorter the skis, the easier they are to maneuver and turn as they have a shorter radius. Shorter skis can, however, shake when you are skiing at higher speeds, so might be harder to control while skiing straight.
2. How the Type of Snow or Skiing Conditions influence the Type of Ski you need
As we mentioned in our breakdown of freeride and all-mountain skis, the type of skis you choose is directly influenced by the snow or terrains you will be skiing in. And of course by which type of skiing you wanna do mainly.
There are three factors that you should consider when choosing skis:
On-Piste versus Off-Piste
If you want to spend your time mainly on marked slopes in the ski area, you should go for a normal piste ski or an All-Mountain ski.
If riding on slopes is just something you need to do between your next off-piste ride, choose either an All-Mountain or a Freeride Ski.
If you're planning and willing to hike up the mountain for some hours for your next descent regularly, you should have a look at a light Touring Ski or an All-Mountain Ski unless you're a real deal Freerider which does some hardcore descents for which one really needs a perfect powder ski. However, if you plan to leave the ski area regularly, you should think about equipping your skis with Touring bindings and buying some ski skins.
Depth of the Snow
The deeper and softer snow is easier to ski with freeride skis. Furthermore, Freeride skis make it easier to ride in changing snow conditions. Changing snow conditions occur e.g. when there was a strong wind. Then you will find areas in which the snow is densely packed and areas in which there is a lot of powder on the same slope.
However, the harder the conditions get, especially on groomed slopes, less wide and stiffer skis than Powder Skis are definitely better and easier to ride.
Versatility
You have to be aware, that most types of skis are mainly designed with specific usage in mind. All types of piste skis (Carving Skis or Slalom and Giant Slalom Skis) are huge fun on groomed slopes, but provide much less fun in the free terrain.
Freeride skis are definitely the best solution outside groomed slopes, independently of the snow conditions (from deep fluffy powder to spring snow).
However, the chance is big that you neither want to spend the money to buy several pairs of skis nor you want to take different types of skis with you when you head out for some days of skiing. The best solution for that is clearly the All-Mountain Skis. They provide a versatility that is unachieved. Thus for us, we ourselves only take a good, wider All-Mountain Ski with us when we go for a fun day in the snow.
3. Construction
Ski manufacturers use different materials and construction types. Both mainly influence the quality and robustness of the product, as well as the price.
The most common types of skis are made from one of three materials:
Foam or foam composite
These are ideal for beginner or younger skiers, as they are softer and have more flexibility which makes them easier to control and maneuver. The price of such skis is lower, but they do not provide the robustness, durability, and stiffness you need when you are riding off-piste regularly.
Wood, metal, carbon, and glass fiber
Most quality skis nowadays use a composite construction with a wooden core and carbon or glass fiber reinforcements. Thanks to this construction these skis are stiff, relatively lightweight, and durable. You can expect that such a ski maintains good riding performance for 30+ intense skiing days. This means, that you can use such a ski easily for several years, of course depending on how many days you ride during the winter season. 
Summarizing: If you are interested in freeriding and off-piste skiing, you should definitely go for a composite ski with wood or metal core and fiber reinforcements. They may cost a little more money at first, but you'll appreciate the better quality and durability.
Conclusion
Before you hit the ski slopes, you need to ensure that you are choosing and using the right skis for the terrain you will be skiing, as well as the type of snow you will be skiing in. Two of the most popular types of skis are freeriding and all-mountain skis. Your choice of either of these depends on your skill level, the type of skiing you will be doing, and based on your decision how many different pairs of skis you want to have.
Use our handy guide to help you select the best set of skis for your next skiing trip, and remember to base your choice of skis on the factors we have mentioned above.
Do you need more information about powder skiing and the equipment you need besides the skis?
Then check out the following helpful articles!!!