If you enjoy spending time on the water, then you should consider getting a paddleboard. While paddling may not be as dynamic as surfing, it is entertaining and requires skill and balance to stay on top.
Considering that the market offers a wide variety of models, we were interested in finding one that comes at an affordable price and is suitable for both youths and adults. Thus, we came across the SereneLife Inflatable Stand Up Paddle Board that is advertised for its wide stance, non-slip deck, and several accessories to keep you on board.
With the idea of helping you determine if it is the right product for you, we've prepared a thorough review, focusing on how to use it, what its highlighting points are, and if whether there are any downsides. Let's get to it!
SereneLife Inflatable Stand Up Paddle Board Review
First, it is great to know that SereneLife is a popular brand that has been around for years and offers spectacular customer service in case of any manufacturer's defects. There are the following variants of the SereneLife iSUP:
SereneLife FreeFlow and Rising Flow: 10'6" x 32" x 6" with a max. weight capacity of 275lbs
Serene Life Thunder Wave: 10′ x 32" x 6 with a max. weight capacity of 275lbs
All the variants weight around 19.6lbs, giving them a good weight capacity of 275lbs until max. 300lbs. To be honest with you: the board versions mainly differ in their design. You can use both variants if your weight is up to 220lbs without hesitance. We only recommend to go to the Thunder Wave if your Kids will paddle too, as it provides a little better maneuvrability. But as said above: the differences are minimal. One of the coolest points is that it can be inflated and deflated within minutes, with the maximum pressure set at 15 PSI.
By the way: our favorite is the black SereneLife Rising Flow model. The design is pretty cool…
However, in the further course of this review we won't distinguish anymore between the Flow- and the Thunder-variant.
Who Is This Product for?
The main target group for both variants is all you water enthusiasts who enjoy cruising on open waters. As mentioned above, paddling is a great way to get started with water sports, especially if you are interested in surfing but want to build your skills and balance. SereneLife did a fantastic job manufacturing a board that addresses the needs of teenagers and adults as it is not only versatile in design but also highlighted by a hassle-free setup and travel-friendly appeal.
Thus, it is safe to say that this inflatable SereneLife Stand Up Paddle Board is great for people who are always on the go, newbies, and experienced enthusiasts who don't want to pay $700 for a single board but want to get a product with several advantages.
What's Included?
Apart from the paddleboard and a removable main fin, this all-in-one set features a wide variety of accessories. Firstly, there are six SUP accessories, including
a cellphone holder
an action camera holder
an air valve
a set of bungee cords
a safety leash
a repair kit.
In addition to that, it also includes:
an aluminum paddle (remark: floats only for a short period of time)
a manual double-action air pump
two transportation bags; one for storage and the other one that is waterproof and perfect for travel purposes.
Lastly, a detailed guide features all the necessary instructions on getting started and the maintenance details you should address.
Overview of Features
The first thing that we want to discuss is the sturdy design that highlights this product.
Made out of military-grade material, you shouldn't worry about the physical damage that occurs due to bumps or scratches.
Also, we found the material quality greatly affects the overall stability of this paddleboard, making it not only one of the most rugged but also most stable products on the market.
One of the most remarkable points about this SereneLife product is that it doesn't have limited use. Thus, not only can it be used by adults, youths and teenagers given the available two shapes of 10.6 feet by 32 inches and 10 feet by 32 inches, but also in a wide variety of conditions. It is suitable for cruising on the ocean as much as it is on freshwaters such as lakes and rivers. The wide stance design and the aforementioned MG material work together to make the balancing part easier for newbies. Summarizing, the SereneLife Inflatable Stand Up Paddle Board is a great All-around SUP Board.
The fin system consists of three bottom fin panels, whereof the sophisticated main fin can be easily removed for better maneuverability once you are confident enough. This gives you the possibility to tailor the fin system according your personal needs regarding handling, steering, and maneuvering the paddleboard, especially in rough waters. As mentioned above, the bottom panel fin is another feature that makes this SereneLine product teenager-friendly.
Among the highlighting point has to be the portability of this SUP paddleboard. It won't take you more than a few minutes to have this board inflated at a pressure of 15 PSI and deflated in the same amount of time when you are ready to pack your things up and get going. You can easily roll it up without the need for a bulky roof rack.
The main issue that we have with it?
The aluminum paddle is a tad heavy. Still, for the given price and considering the stability/durability, it is a product that you should definitely consider!
How to Use it
Experiencing the SereneLife Inflatable Stand Up Paddle Board is much similar to any other paddleboard out there. The first step is to inflate the board with a manual air pump. Once you are on it and you've attached the safety ankle leash, it all comes down to adjusting the top fin and starting your cruising adventure by paddling through the water. When you are done, deflate and fold it for convenient storage.
Pros
Reasonable price
Highlighted by military-grade material
Features a wide stance for more balance
Three bottom fins for better maneuverability
Simple to inflate/deflate
A wide variety of accessories
Cons
The aluminum paddle is a tad heavy and only floats for a short period of time
Alternatives
FBSport Premium Inflatable Stand Up Paddle Board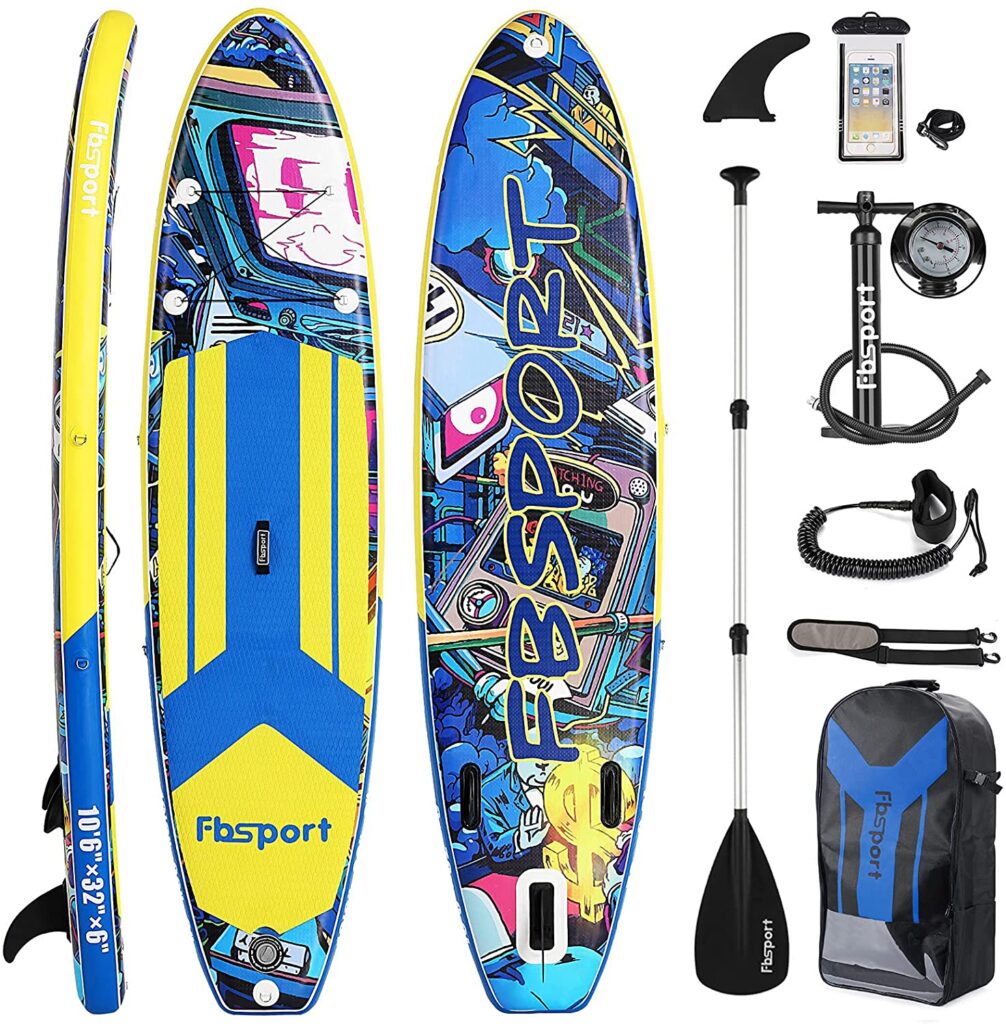 If you aren't a fan of SereneLife but want a product that is similar price-wise and design-wise, this FBSport Premium Inflatable is a perfect choice.
Coming in a wide variety of colors, it is highlighted by a wide stance and a non-slip 6-inch thick deck. It is made out of military-grade material, offers a load capacity of 280 pounds, and is advertised as one of the lightest paddleboards on the market.
Most importantly, it comes with triple bottom fins for enhanced maneuverability. The price is pretty reasonable for the design and usability you are getting.
Wrap Up of the SereneLife inflatable stand up paddle board review
Judging by our experience, the SereneLife Inflatable Stand Up Paddle Board is one of the best mid-end products on the market. It is suitable for different skill levels and is sure to serve as a long-term investment considering its sturdy and sophisticated design.
As a final verdict: choosing the SereneLife Inflatable SUP Board is a good choice if you are looking for a solid, stable and durable all-around SUP Board. So if you are just Stand Up Paddling for fun and are not looking for a SUP Board for a specific use (like Touring, Trekking, Racing, Wave etc) and you like the design: go for it!
The most important thing which you should consider is to invest in a better paddle or eventually in an electrical pump. Our favorite Selection of great SUP Paddles can be found below!