The sport of stand up paddling is finding more and more followers. And for good reason:
In addition to training for coordination and fitness, SUP offers perfect relaxation and is incredibly fun.
As a newcomer to SUP, you should first ask the following particular questions, which will be answered here in order:
In this article, we'll provide you with the most important information so that you can choose the right Stand Up Paddle set for you.
SUP accessories – the right equipment for every tour
If you are not interested in the details right now, we recommend taking a look at our checklist and our selection of the best Stand Up Paddle sets so that you don't forget anything.
The Stand Up Paddle Set: What makes sense and what's the minimum needed?
Purchasing a complete SUP Set makes sense, especially if you are a beginner or just hit the water occasionally, as most of them contain the crucial Stand Up Paddle Board Accessories.
These are the advantages to buying a complete set compared to the purchasing of all components individually:
You get complete and also good quality equipment cheaper than if you buy all the individual parts.
You don't have to deal in detail with the entire range of SUP accessories
The disadvantages of buying a Stand Up Paddle set are:
Not all boards can be found in a complete set, so selection can be somewhat limited
In particular, if you do regular SUP tours, you will have specific needs over time, especially different accessories, which you may not be able to meet with a set. The best example of this is that usually only standard pumps are offered. With more frequent use, you will want to switch to a double lift or even electric pump
Conclusion: Advantages and disadvantages of SUP Sets
For SUP beginners or occasional paddlers, it makes sense to look for a good set. Nowadays you can find offers here that offer a very good price-performance ratio. This also applies to other online platforms; we clearly recommend that you should then rely on well-known and consistent manufacturers rather than on cheaper sellers.
Advanced paddlers, who have more specific requirements for the board and accessories, should definitely assemble their own equipment.
What must a Stand Up Paddle set contain at least?
Most Stand Up Paddle sets contain similar equipment. So you can decide accurately which SUP sets make sense for you, we have listed the "Must-Haves" and also what we consider the "Should-Haves." This means you can simply use the following list as a checklist.
A basic set must contain at least the following (Must-Haves), so if your favorite Board does not come with these Accessories, you definitely have to add them separately:
SUP Board
SUP paddle (make sure it is adjustable)
Pump (if it is an inflatable SUP board)
Backpack or bag for transport
Safety Leash
Fins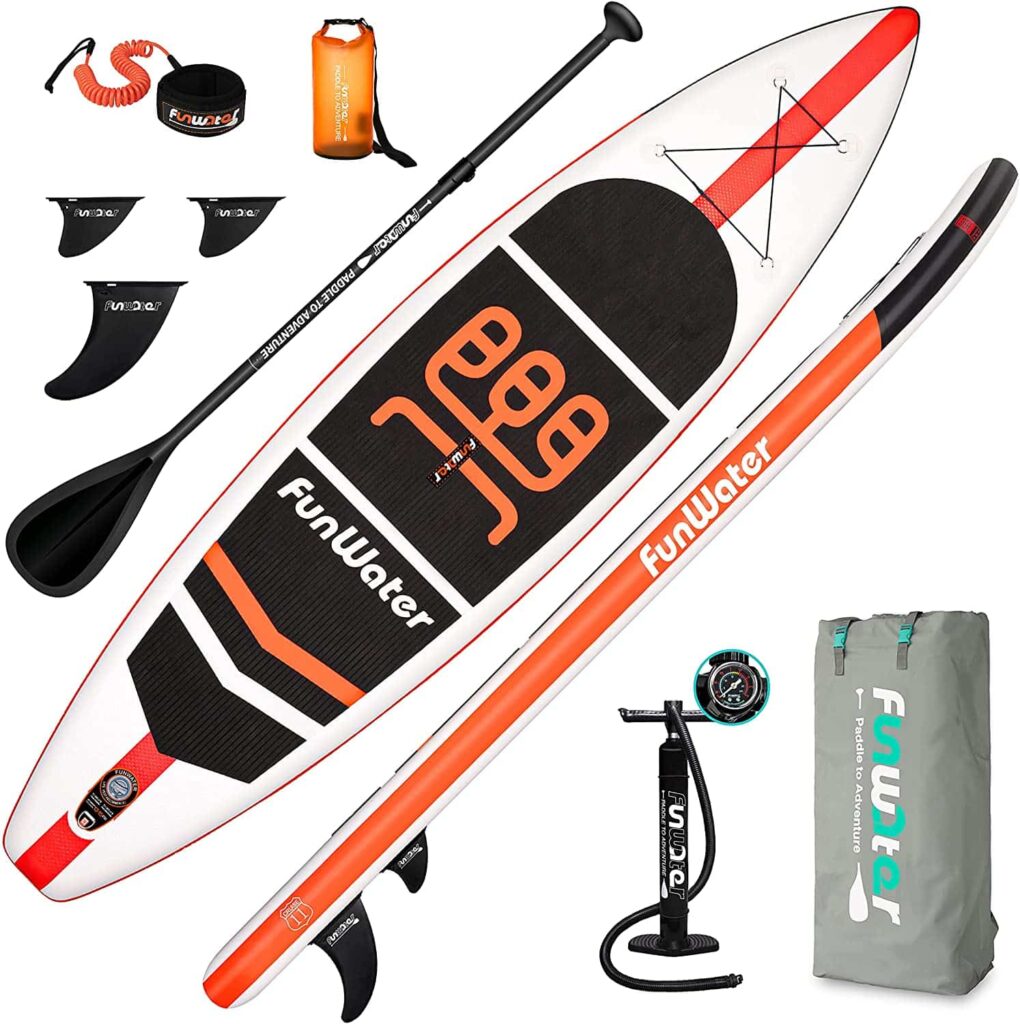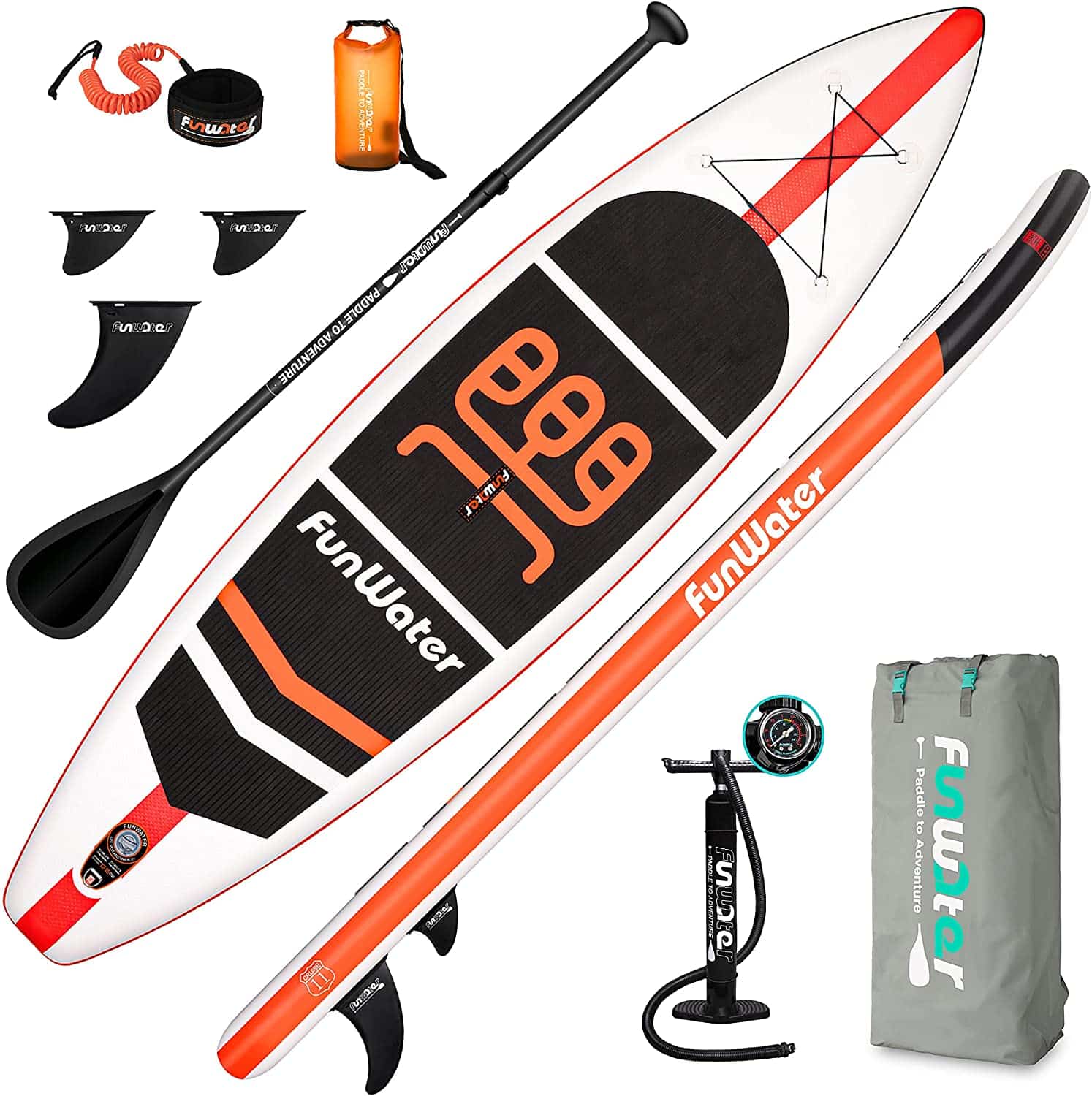 In order to be really well equipped, you should also think about the following accessories (Should-Haves):
Dry bag and/or a waterproof phone case
Reapair Kit
Life jacket
SUP clothing
As we have already mentioned, please note that the selection of different board types is limited when searching for complete sets. This means that, if you really want to do a special kind of stand up paddling, you need to assemble your own equipment. Don't worry, though; we give you a lot of support, including checklists and tips.
This article will also tell you the most important thing you need to know about all Stand Up Paddle Equipment. After reading it, you will have all the basics for finding your equipment efficiently and cheaply!
Approximately how much will a good Stand Up Paddle Set cost me?
As we've stated: If you are ready to buy your own SUP set, we also recommend you invest in good quality equipment. This will pay off in the long run easily and save you some frustration.
You can get a good set for beginners today for about 400 – 700 Dollar. Occasional paddlers don't need to spend more.
Given the quality, durability, and robustness, as well as the extended guarantees you get with these sets, we find they have a clear advantage over the less expensive offers.
At the end of this article you will also find our recommendation for less expensive Stand Up Paddle Sets with a good price-performance ratio.
The right equipment for every type of condition: what you should consider in detail
First things first: the SUP board
First of all, you have to think about which of the different types of SUP boards would be the best for you.

Depending on the application, SUP boards of different sizes and shapes can be selected:
For beginners and more relaxed tours, all-round boards  are  ideal. Even if your focus is on pure speed rather than fitness training, an all-round board will serve you quite well. However, more advanced riders can also opt for Cruising SUP Boards.
For long SUP tours,  you should definitely opt for a Touring Stand Up Paddle Board.  If you are planning multi-day tours, you need to make sure that your board offers appropriate devices for attaching luggage.
If you like to have fun in the waves,  it is worth it to buy a smaller and more agile Wave SUP board.
Nowadays, there is a specific solution for almost every application. There are boards for yoga, fishing, white water, downwind, tandem, or even for children.
If you need more detailed information about the different types of Stand Up Paddle Boards e.g. how they differ and for whom they are most suitable, our detailed SUP Board Overview will certainly help you.
Generally, however, you should not make it too complicated:
if you do not have very specific requirements for your board, but simply want to have fun (whether on the lake, sea, calmer rivers or small waves), you certainly will not be badly served with a good all-rounder. And if your focus is on longer tours and higher speeds, then you should look at the touring boards.
Bonus SUP –  Tip:
If you picture yourself sitting kayak-style: these days you can find good stand up paddle sets which include both a mountable seat and a second paddle blade (so you can extend your SUP paddle to a kayak or double paddle).
Conclusion: Which board type is best for me?
If you do not have a precise idea but are looking for one good solution for many different applications, allrounders are a good choice.
SUP Boards: Which are better, Inflatable or Hardboards?
The inflatable SUP boards (Inflatable or iSUP) are easier to transport and extremely flexible. Although the SUP hardboard does not have to be inflated, it is far inferior to an inflatable SUP board in terms of storage and transport.
Therefore, especially for the holiday and occasional paddler, the inflatable board is the better alternative.
These are in no way inferior to the hardboards in terms of gliding properties and ride comfort, as well as durability, quality and robustness. The iSUP boards are less delicate, for example, if you meet a stone or touch down at the bottom.
Conclusion: Inflatable SUP board or not?
If you do not live directly on the water, ore you aren't looking for the top percent in performance or a very special application, you should opt for an inflatable SUP board.
Bonus SUP – Tip:
When choosing, also pay attention to the manufacturer guarantees. The quality brands in particular often give extended guarantees. This not only saves trouble altogether, but also speaks for the general quality of the equipment.
A good example here is Bluefin: they offer a 5-year warranty and a 60-day return period.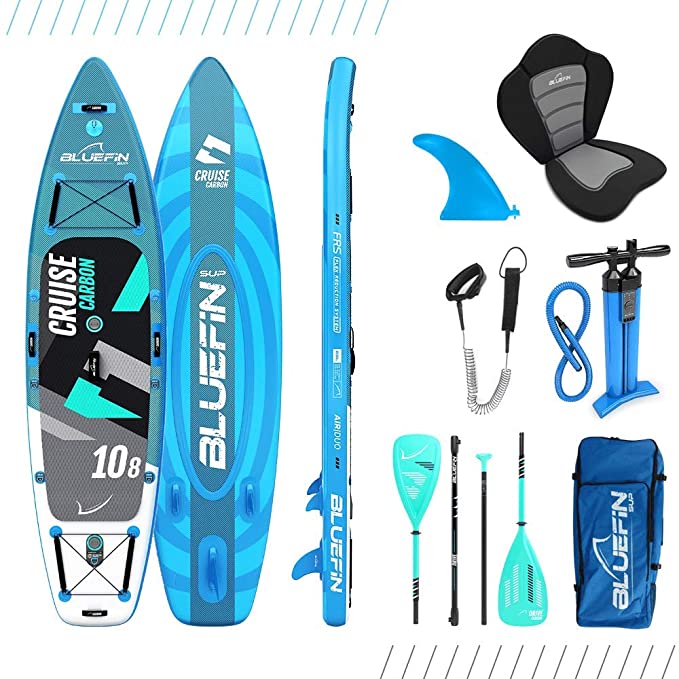 What size and volume do I need?
A final important point: now you only have to look at payload or volume and length to make your decision on your board. To know more about how to do this, take a look at our Buying Guide with length chart.
Bonus SUP – Tip:
Many manufacturers can exaggerate when it comes to the maximum payload. It is therefore advisable to always subtract about 10 – 20% from the payload to be on the safe side.
SUP Paddle
The most important thing about the paddle is that its length is adjustable.
If you opt for a slightly more expensive Stand Up Paddle set, you should consider a carbon or fiberglass paddle. For occasional or pleasure paddlers, however, a good quality aluminum paddle is perfectly sufficient.
SUP Pump
Of course, every Stand Up Paddle set with an inflatable board includes a pump. A slightly less expensive set will include a normal pump.
However, if you will plan to be on the road often, we recommend that you make sure that your set includes at least one double-stroke pump. If you plan to do a lot of stand up paddling using an iSUP, we definitely recommend you purchase an electric pump – unless you don't already consider pumping a fitness or warm-up exercise.
Backpack or Carry Bag
There actually is no right or wrong here. The set simply must contain a corresponding backpack for transport and storage.
Safety Leash
The safety leash (SUP leash) should be familiar if you're a surfer.
The leash is available in different versions, which you should definitely adapt to your SUP tour. With stand up paddling, the leash is optimized for shallow water, white water, or surfing. For touring and excursions in shallow and calm water, a spiral or coiled leash is the right choice, while with wave SUP you should use a straight (longboard) leash. For whitewater tours, you should choose a spiral leash with a safety lock or even use no leash altogether.
You can find a detailed description on how to use and attach the safety leash in our Tips & Advice Section:
SUP accessories and extras: The really practical should-haves
For stand up paddle excursions, in addition to the basic equipment described above, we recommend that you have a dry bag, a life jacket and a repair kit.  You also need to pay attention to your clothing so that you are not surprised by cold, wet, or sun.
We will show you the most important aspects here.
Drybag
The Drybag is a waterproof bag in which smartphones and other utensils can be packed safely. It is essential that you always carry a mobile phone with you, especially in remote areas. The longer and more remote your tours are, the more items you should take:
Drinking water and food
Power bank or solar charging station
Replacement clothing
However, if you only take short trips, and always stay close to the coast (where someone can see you), you don't necessarily need a dry bag. Larger and slightly more expensive Stand Up Paddle Sets usually include a dry bag. Otherwise, you can also buy them separately easily and inexpensively.
Life Jacket
Generally, it is always advisable to wear a life jacket for water sports (even for good swimmers). But it is clear that such a garment isn't really the most comfortable garment, especially for paddling. But as your safety is important, we've put together an overview explaining the most important questions about Life Jackets and Personal Floating Devices, which includes also the best options for SUP.
Anyway:
The farther your tour goes, you should wear a life jacket for your own safety., especially if you are traveling alone
Remember: The use of a life jacket or swimming aid in any body of water is often required by law if the distance of the SUP tour to the shore is more than 300 meters.

(of course depending on the jurisdiction)
Naturally a Life Jacket this is basically a requirement for children, no matter how far away from the shore you paddle with them!
To be clear: a life jacket is usually not included in an SUP set. However, we strongly recommend that you buy an additional one.
Repair Kit
For iSUP you need a repair kit with vinyl patches and PVC glue. For hardboards you can use commercial surf gum used by regular surfers. However, it is certainly ideal if the Stand Up Paddle Set already includes a basic repair kit.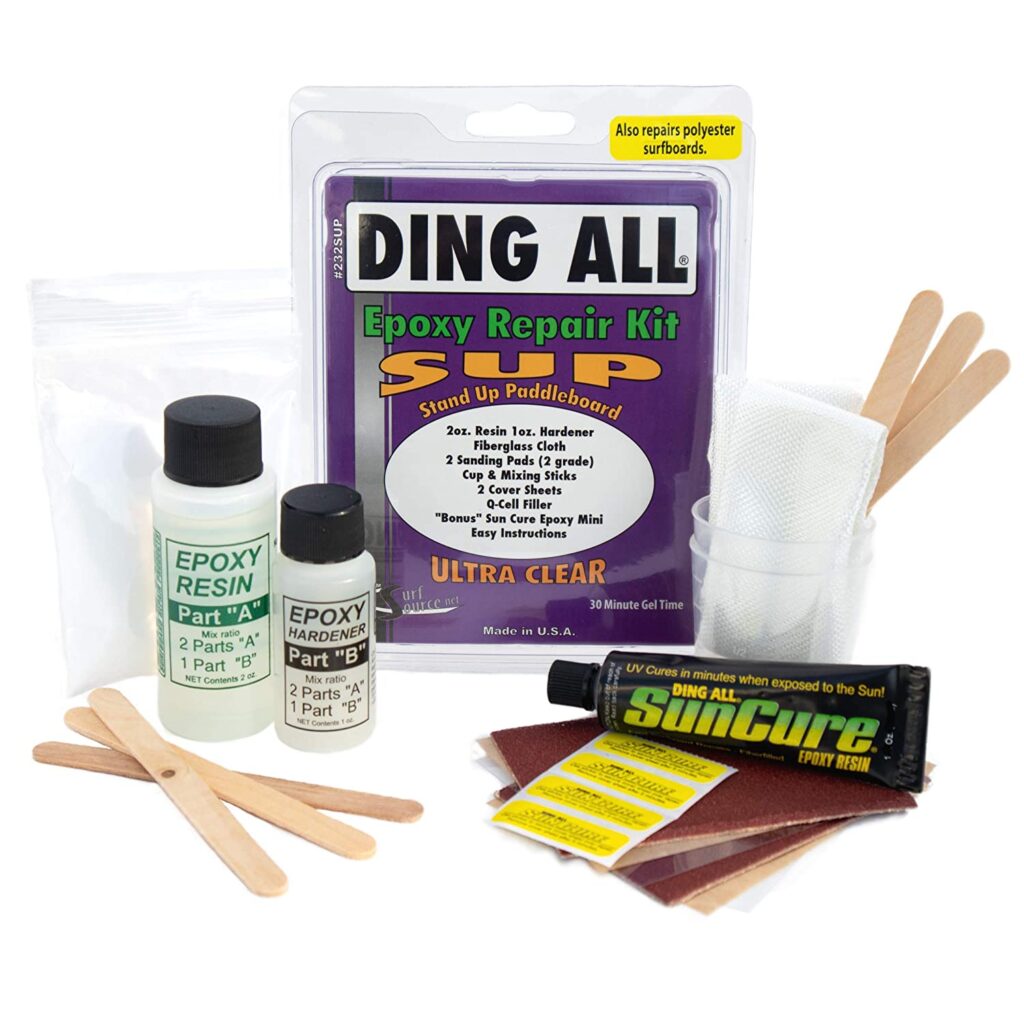 The repair kit is usually not part of the complete sets, but suitable and inexpensive repair kits can be ordered online very easily. We believe an example of a good repair kit is the Ding Epoxy Repair Kit.
The right clothing for every tour: the Stand Up Paddle clothing
Like any other outdoor sport, SUP is also affected by the outdoor and weather conditions of the respective landscape.
You must therefore adapt the right SUP clothing to the existing environmental conditions, such as:
Season and air temperature
Strength of solar radiation
Water temperature
In general, SUP clothing should protect you from cold and sunburn or even sunstroke, but also offer as much freedom of movement as possible so that you can paddle undisturbed.
So how do I properly protect my body in SUP?
The right SUP clothing for your body
In summer, when the weather is nice and the water temperatures are warm, clothing must protect you from heat build-up and sunburn. In general, you can travel in summer wearing regular swimming trunks.
For upper body clothing, however, we recommend that you wear a UV or Lycra shirt (so-called Rashguards) , especially for longer tours.
These dry quickly, but also protect you even better from the sun than the best sun cream. You should also wear some type of headgear and sunglasses (which you should not be able to lose if you fall into the water) for longer tours in summer.
For longer SUP tours, as well as in winter or cold conditions / water temperatures (e.g., such as whitewater tours), wetsuits protect the body from cold and wind chill.
The colder it gets, the more important it is to wear neoprene shoes, gloves, and a hat.
As an alternative, if you traveling in changing, not exactly midsummer weather, you can also wear warming arm and leg covers, like one would use for cycling.
Additionally, you should pack the following garments in your drybag:
warming arm and leg covers such as those used for cycling.
Rainwear or wind stopper jacket
Cap
Dry replacement clothing
Floating Sunglasses (e.g. from Floats)
Bonus SUP – Tip:
We have also put together a detailed description of the ideal SUP clothing for you. Check it out here our SUP Clothing Article!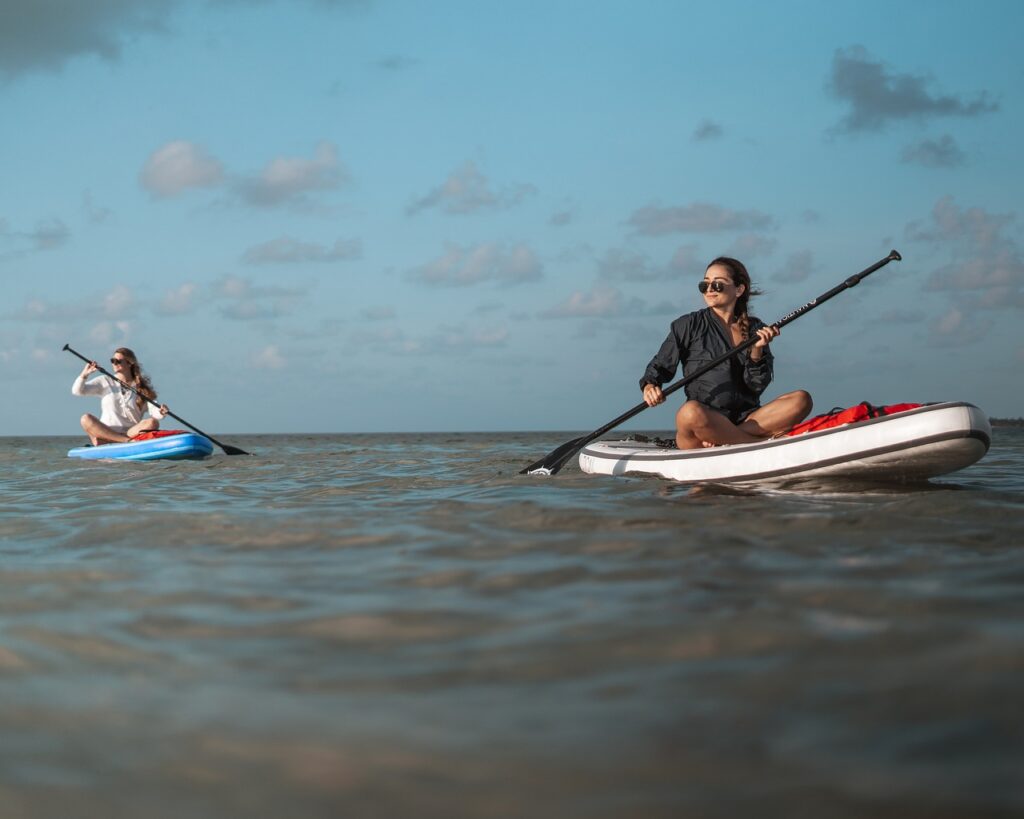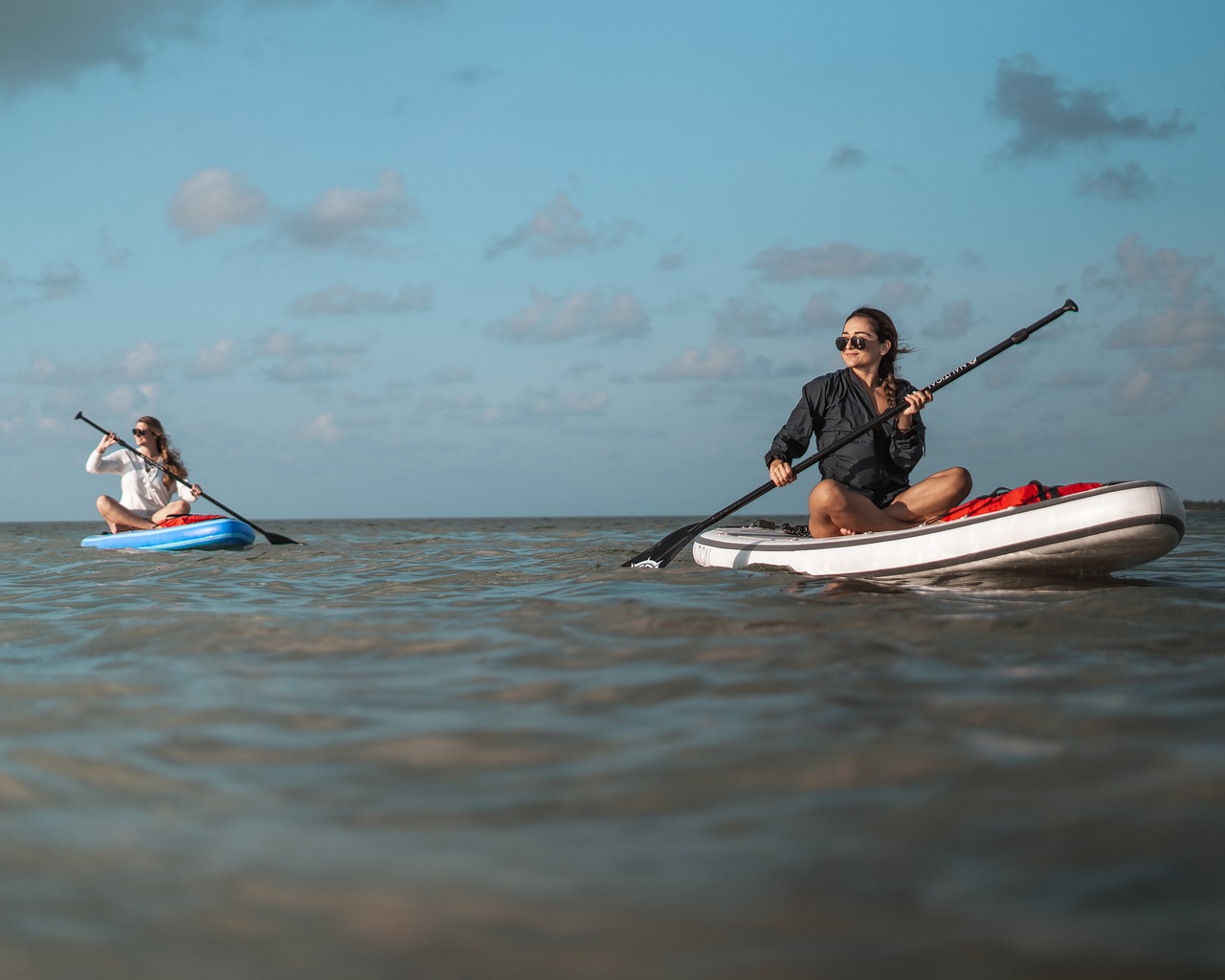 Are shoes needed for SUP?
You only need shoes when either the water is cold (below 20°C) or the seabed is rocky or has other sharp objects. Basically, you can do without sturdy shoes in summer on short SUP tours. High-quality SUP boards have deck pads, which are heat-insulating and have non-slip surfaces. On longer tours, in cold water, and of course in winter, you should wear sturdy neoprene shoes.
Stand Up paddle accessories: final checklist
Our final checklist will help you put together your personal Stand Up Paddle Set with the most important questions and tips. This allows you to make the right choices on the Stand Up Paddle Board Accessories you really need.
Answer the following questions to determine which equipment makes sense for you and which does not:
Do I want to go paddling in calmer waters and without any pressure most of the time?
If so, you can rely with confidence on the large selection of all-round board sets. In this case, we recommend generally that you use an inflatable Stand Up Paddle Board. If you have very specific ideas (e.g., SUP Wave, long tours, race, yoga, 2 people, etc.), we recommend that you look at our board overview and our Buyer's Guide to become knowledgeable.
Make sure that your Stand Up Paddle set includes at least the following:
The equipment you must find in the Stand Up Paddle set are: SUP paddle, SUP pump, backpack, and safety leash.
Ideally the set should contain the following additional equipment:
Drybag and repair kit
If I am interested in using the SUP seated or as a kayak:
Here you can buy a set that includes a seat and a double-side paddle.
Do I own a life jacket, e.g., for longer tours?
The farther you get away from land during your tours, the more important it is for you to wear a life jacket. In addition, if possible, you should make sure that someone is watching you from the beach who can quickly get help in an emergency.
Additionally, life jackets are an absolute must for children!
Do I have the necessary clothing for the tour?
In summer and in warm water, we recommend swimming trunks, UV or Lycra shirt, sunglasses, and, if necessary, headgear. If you are traveling in cold water or in winter, you will need a wetsuit or even a dry suit, neoprene shoes, and neoprene gloves, a cap, windstopper jacket, and rain cover (in a dry bag).
Would I also like to experience a new tour or do I always tour in the same place:
If you want to explore new areas, we recommend using a SUP route planner app for your region.
Our top selection: affordable Stand Up Paddle Sets
As mentioned at the beginning, here you will find our recommendations for the Stand Up Paddle Boards and SUP Sets for every budget. Here we will help you to find the Stand Up Paddle Board and Stand Up Paddle Board Accessories which fit best to your personal need.