Making all those adventure memories on your stand-up paddleboard last forever can happen if you capture them with your GoPro camera. This is where a camera mount will come in handy, so you can record the footage without the need for your hands and in top quality.
In this article, we will take a closer look at the types of mounts that can be used with your stand-up paddleboard. There are many different ways you can use the camera, and we will look at those that can be attached to the board as well as the alternatives .
If you want to know more about the ways to capture the epic moments on your paddleboard, keep on reading.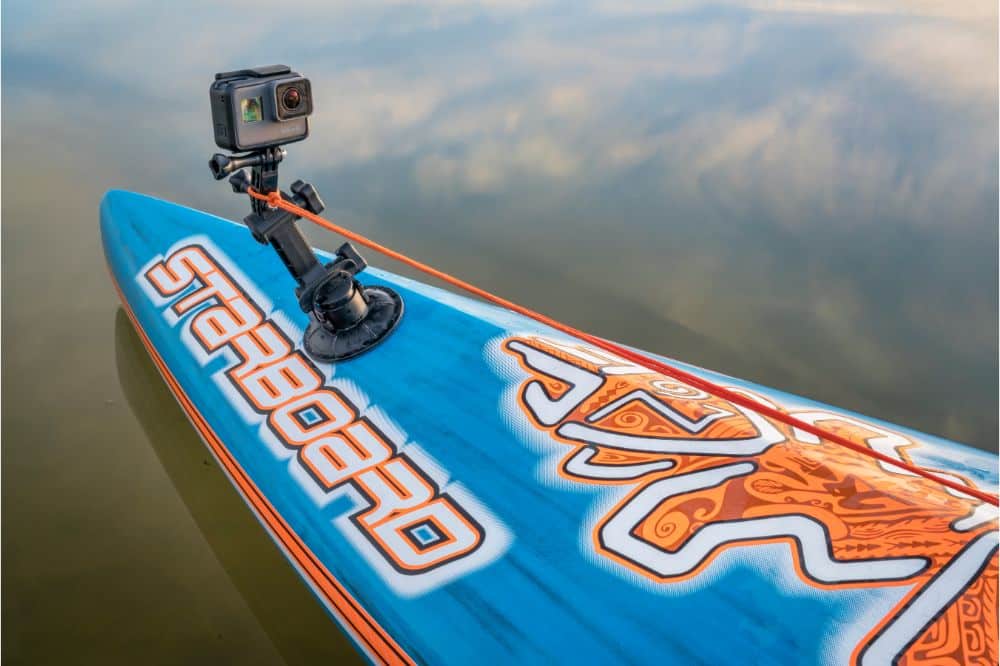 What Is a GoPro Mount For Stand-Up Paddle Boards?
GoPro mounts are used to mount those special waterproof cameras made by the same company on your stand-up paddleboard. The purpose of these mounts for cameras is so you can capture those epic moments you have while riding your paddleboard.
The footage, also known as point of view or 'POV', provides friends with live-action videos of you and your paddleboard adventures. It is also important to have the footage so you can relive those moments when you rewatch them at a later stage.
Let's look at the different types of mounts available to capture your paddleboard adventures from different angles and points of view.
Different Types Of Gopro Mounts For Stand-Up Paddleboards
While there are many more types of GoPro mounts available, we will take a look at the five most popular ones used by paddleboarders. You can watch this Youtube video to see the many different GoPro mounts for stand-up paddleboards and how to use them.
Here is a quick summary of the most popular mounting options for GoPros on a Paddleboard:
Quick List of Stand Up Paddle Board GoPro Mounts
1. Suction Cup GoPro Mount

2. GoPro Handlebar And Paddle

3. MountBite Mount And Floaty

4. Headstrap Mount

5. Chest Strap Mount
Suction Cup GoPro Mount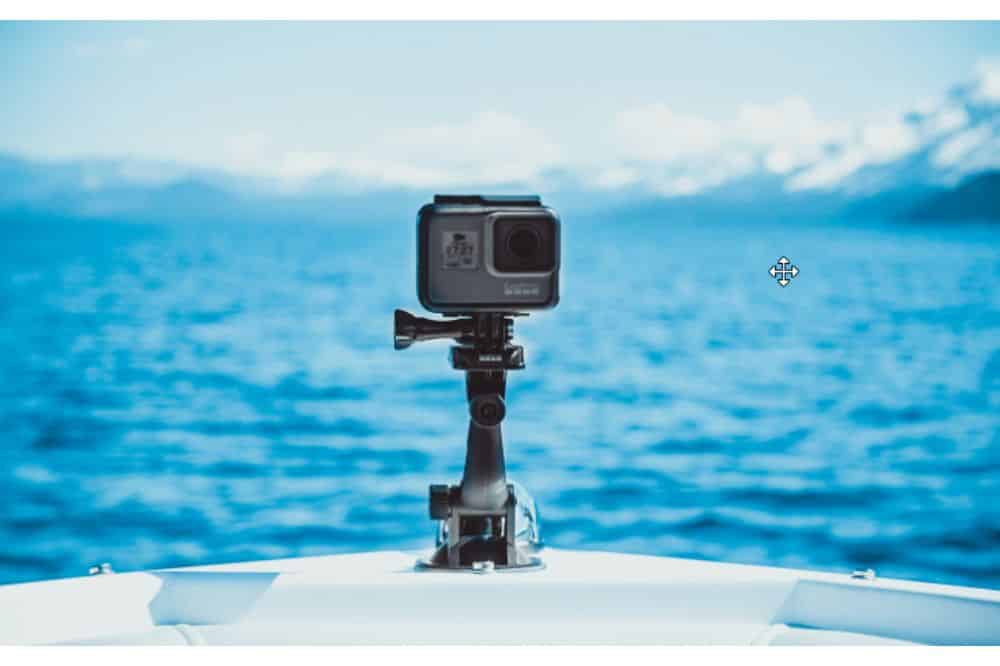 The suction cup mount can be attached to almost all surfaces and is ideal for use on stand-up paddleboards. You can attach it to the surface of the nose of your paddleboard to get the best point of view action.
You simply dunk it in the water; it has a more powerful suction when it is wet and will stick firmly to the surface. Then you just mount the camera on top of it and you are ready to ride the waves while capturing all the action.
Many people prefer this type of mount because you have a full view of the board and the wave rider. It also allows you to have both your hands free for paddling while you capture great live-action selfies.
These types of mounts are ideal to use with inflatable stand-up paddleboards. If you are looking to buy one of them, look at this versatile GoPro mount that can be used on your paddleboard.
GoPro Handlebar And Paddle Mount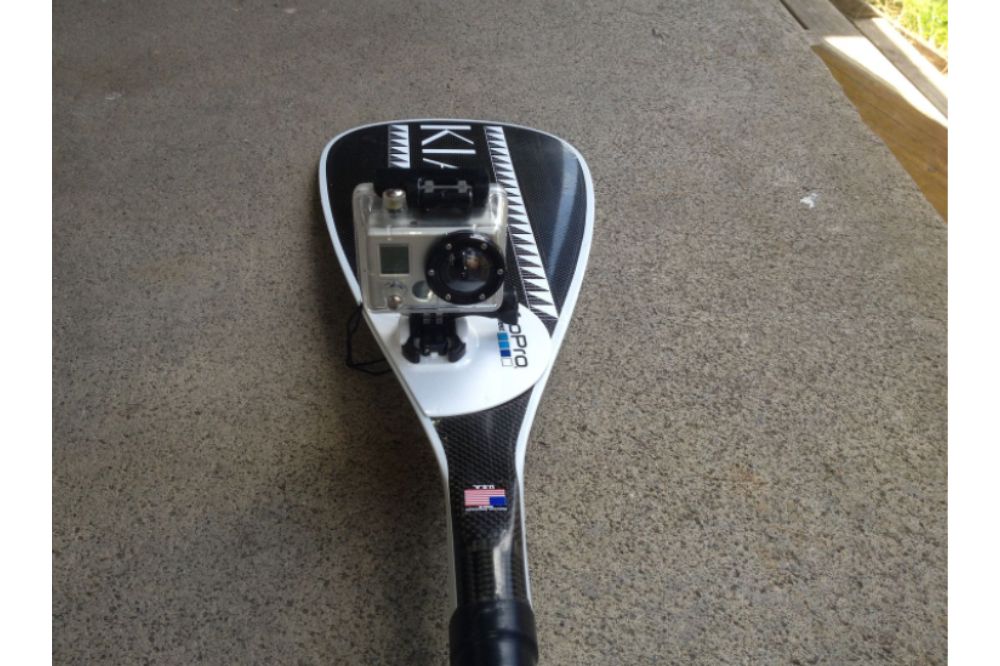 This type of mount is great for instantly turning your paddle into a selfie stick and providing you with action footage. You can point the camera at you or point it away to show a view of every movement of the paddle.
With this mount, you will be able to have photos and footage from many different angles all around the paddleboard. You can easily attach it to the end of the paddle with the easy mounting option in only a few seconds.
You have a 360-degree viewing angle with this type of mount for your camera and different secure positions. This type of mount is favored by many paddleboard riders and can be used to capture many different action shots.
You can find one of these types of GoPro mounts here.
GoPro Bite Mount And Floaty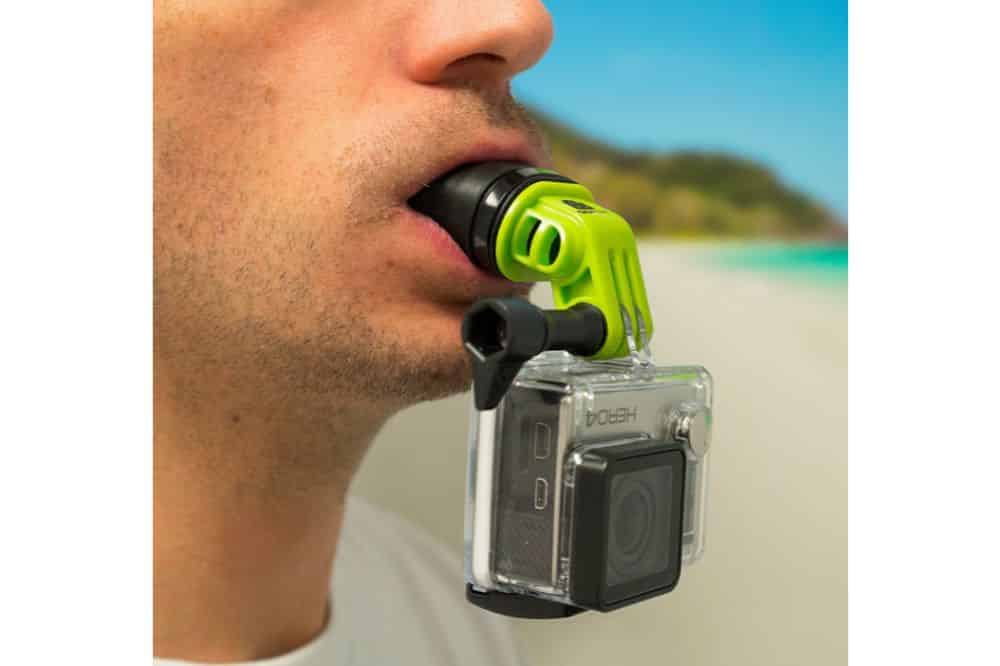 This easy mount comes with a mouthpiece you can stick in your mouth to keep it secured while your hands are free. 
A floaty sleeve also comes with it to put the camera in and keep it secured. It will make the whole mount rise to the surface and float on the water if you somehow lose it in the water. You can also attach a tether and hang it around your neck to ensure it does not get away from you.
You can also use this type of mount for my different points of view pictures and even for underwater footage while swimming. It is easy to secure the camera in the floaty and have it ready to use in seconds.
Find a good one that is compatible with Hero5 to 7 here and one that works with Hero8 here.
Headstrap Mount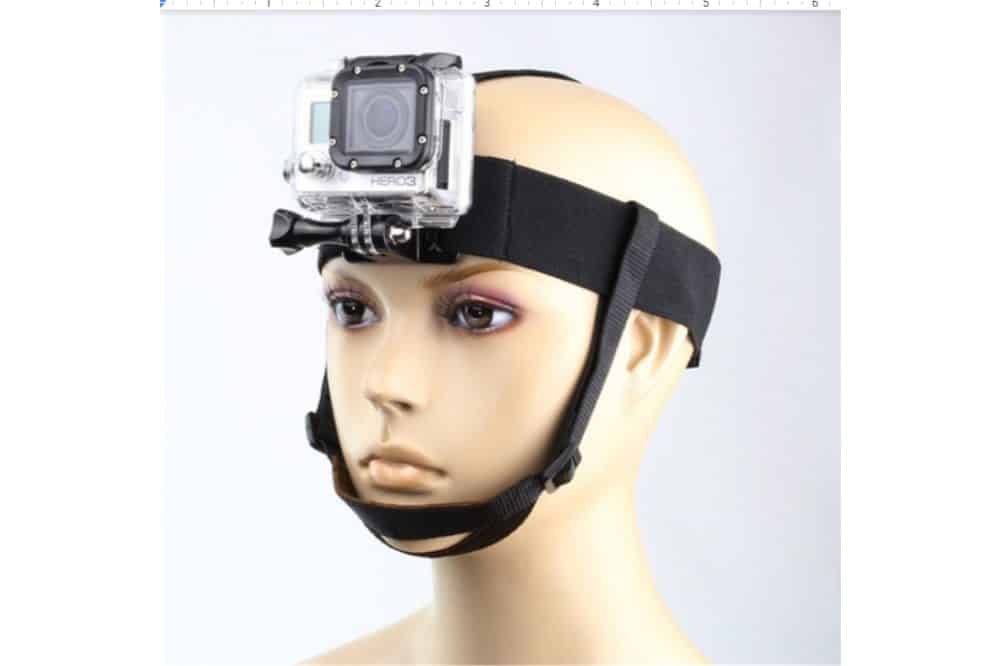 Another great mount for GoPro devices is the head strap. This mount is compatible with all Hero versions and has a floater, so you can easily spot it if it falls in the water.
This type of mount is securely attached to your head. The camera can be mounted in front of your head, so you can use it for great forward point-of-view shots and footage.
It is a great way to have footage for everything that happens to you on your adventures, even when you fall in the water. The camera will capture everything you see and wherever you turn your head to look.
Find a perfect GoPro mount here that can be used to capture all those epic moments out on the waves.
Chest Strap Mount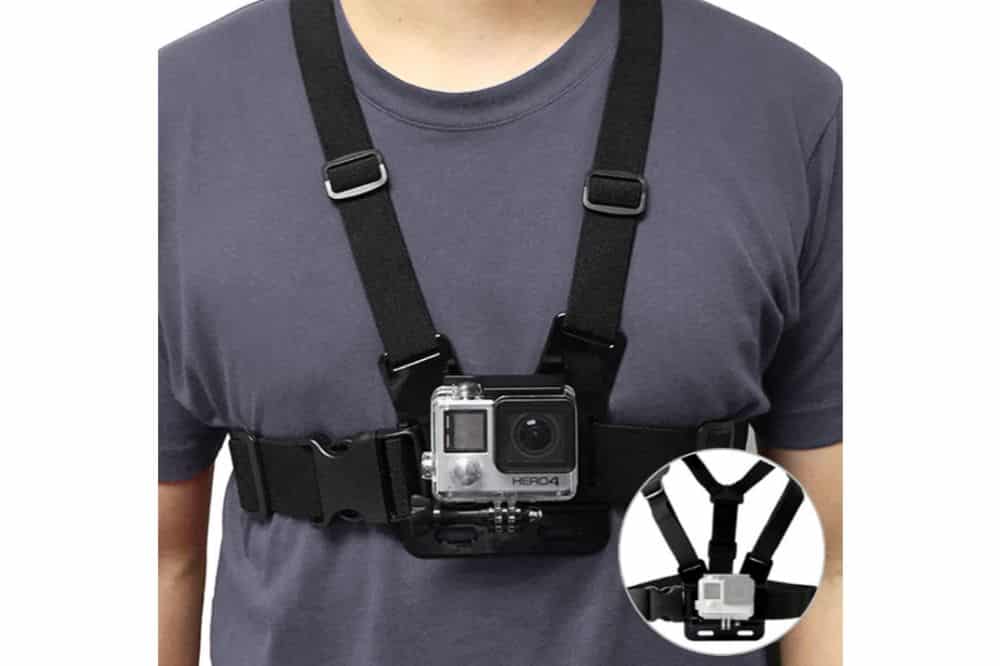 This mount works the same way as the head strap but it is just strapped around the chest to secure it in place. This one also provides you with a hands-free option and a view of everything your body is turned to.
It may not be as versatile as the head strap mount but it still provides excellent forward shots and footage. This mount is strapped around your torso and has straps that come over the shoulders to be properly secured.
This type of GoPro mount can also be used for great underwater images and videos. You can find a chest strap GoPro mount here if you are interested in getting one for yourself.
Summary
These GoPro mounts are the ones that are mostly used and favored by millions of stand-up paddleboard riders out there. It does not matter which one you choose; any of them will provide you with great memories of your paddleboard adventures.
Go ahead and get one that suits your needs and style, and capture those epic moments on the waves.
Go here and get to know what's the best GoPro Cameras for watersports!!!