If you are new to this type of adventure and sport, you have probably asked the question: what is SUP camping? The easy answer is this:
SUP camping is when you travel to remote sites for a day or more on water and over land. So you need a Paddleboard which allows you to trek on the water for several days with your tent and supplies.
You will travel with only the necessary equipment and gear on your paddleboard to any outdoor site. This means that you will have to sleep wherever you can find a safe and secure spot.
You can do this alone or with friends and family members, as long as you are out there where few people go. Here we will look at all you need to know about SUP camping boards, so let's get to it!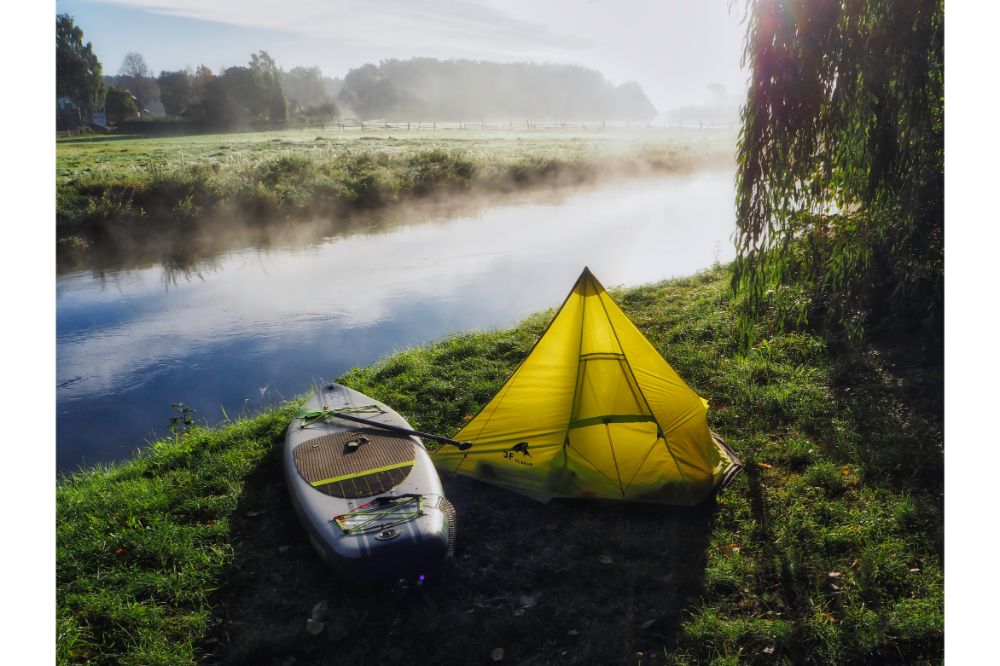 What Are SUP Camping Boards – What Makes a Board Great For SUP Camping
SUP board camping can be done with any type of paddleboard, but some boards have certain features which make them better for SUP camping. You can learn which features make a board best suited for SUP camping in this article.
A SUP camping paddle board should be built in such a way to allow you to trek on the water for several days with your tent and supplies. They are shaped between a racing board and all-around paddle board and are wide enough to pack your provisions. So it is important to know that a great Camping board should be a bit faster than an all-around board but more stable than a Raceboard to give you a sturdy and safe ride for long distances.
There are certain features that make a camping paddleboard ideal for trekking on the water for a couple of days, and they are:
Shape: Firstly the deck of a hiking paddle board should not be curved extensively and should have a much sleeker and flatter surface.
Hull Design: The bottom part of a good camping or trekking paddleboard is V-shaped (displacement hull) to make it travel faster through the water. Also a pointed nose makes it easier to travel long distances without too much effort. With the camping paddleboard, both the stern and bow should be more pointy to cut through the water easily.
Width: A camping paddleboard however should be a bit wider than a racing board, so you can easily store your gear on top of it and have a more stable board for longer tours.
Load Capacity: Make sure that your paddleboard can easily carry a load of up to 132 pounds (60kg) above your weight for all your extra gear. Check out this size chart to find the right size for you.
Volume: High-volume boats also float easier, so typically your SUP board should have around 250 liters or more. This feature also increases the buoyancy so you can maneuver the board easier on choppy waters.
Length: The length of your paddleboard is also important because a longer board will go faster in the water to cover long distances. So if you want a board for SUP camping, choose a board which is on the "longer side" according to the size chart.
Attachment points for gear to the front and the back are a plus point to distribute the gear load evenly. A few rubber D-rings and bungee cords are a good idea for long treks on the water for a more secure attachment.
Fin: A flexible fin is also a good option, but not a must-have, for your camping paddleboard for when you need to paddle on shallow water.
Weight and Board Type: Be aware that lightweight materials will make the paddleboard much lighter. This makes an inflatable paddleboard a better option for this type of Stand Up Paddling. If you do not want to use an inflatable board, your board should have convenient handles for easy carrying.
To find out more about the best features for a SUP camping board go here for all the features.
Materials Used In The Manufacturing Of Camping Paddleboards – What You Should Know
Hard paddleboards for touring are mostly made from bamboo and other lightweight woods to make them much lighter. Fiberglass and carbon fiber are also used.
But even though fiberglass and carbon fiber are very durable materials, hardboards are relatively sensitive to impacts. Therefore manufacturers need to take great care to reinforce them.
It is important to make sure that if you use a hardboard for camping, it is strong and reinforced in the right areas. This will make a huge difference between a good camping trip and a damaged paddleboard when you are out there.
On the other side, most inflatable camping paddle boards are made from a very strong and tough PVC material and drop-stitch technology. This makes this type of board more durable and allows it to withstand the wear and tear of the rough handling it will get.
This is done by stitching two layers of material together with polyester threads and then an air-tight coating is applied to both sides. This method makes the stand-up paddleboard strong enough to withstand the inflation pressure and rigid enough to stand on.
We recommend using an Inflatable SUP board which is designed for long distance travel for camping. They are lightweight and can be deflated for long overland travels, so that you can easily store them in a backpack or travel bag. Plus, they are very robust and durable, which is vital for SUP camping
However, if you choose an inflatable SUP board, never forget to take a hand pump with you to remote areas where there will be no way to charge an electric pump.
Types Of Paddle Boards
Several different types of stand-up paddleboards can be used for different paddling applications. In most cases, you do not want to have a special paddleboard for each usage, so you need to know the different types of boards and choose one which gives the best blend on the different needs you have. Below, we give a short overview of the different types of paddle boards and what those boards are made for. 
Standard All-around SUP
A good all-around SUP can be used for a wide variety of paddling options. This type can even be used for camping trips if you have the experience to use it in different situations.
However, this advantage is also somewhat of a disadvantage: These types of boards are good for almost all usages, but only to a certain degree. So if you want a board with more clear orientation regarding its properties (e.g. speed, maneuverability, stability, etc.), then you should look into the more specialized types of boards.
For SUP camping you should always consider a board that has the right features to travel faster over longer distances. One that is designed for camping purposes will be faster and easier to manoeuver in different situations.
So as a conclusion, a lot of all-around boards are a great choice for SUP camping tours.
A great all-around SUP Board, which is definitely also a great choice for most of the SUP campers, is shown below!
More information about all-around SUP Boards can be found here.
Racing SUP
These types of SUPs are designed for speed with a much longer body to increase the speed at which they travel. They are available in two categories, sprinters for use in shallow water and ones used for coastal waters. In this article you'll find the most important things you need to know about the Racing SUP Board type.
However, due their length and slim shape, they are only a feasible option if you already have experience in Stand Up Paddling.
Touring SUP
These paddleboards are built for long-distance rides and come with a sleek design to increase overall speed. They are not as long as your racing boards but are made with lightweight materials for easy carrying.
So if you prefer to have a faster board at the expense of a little bit of stability, a Touring SUP is a good choice for SUP Camping too.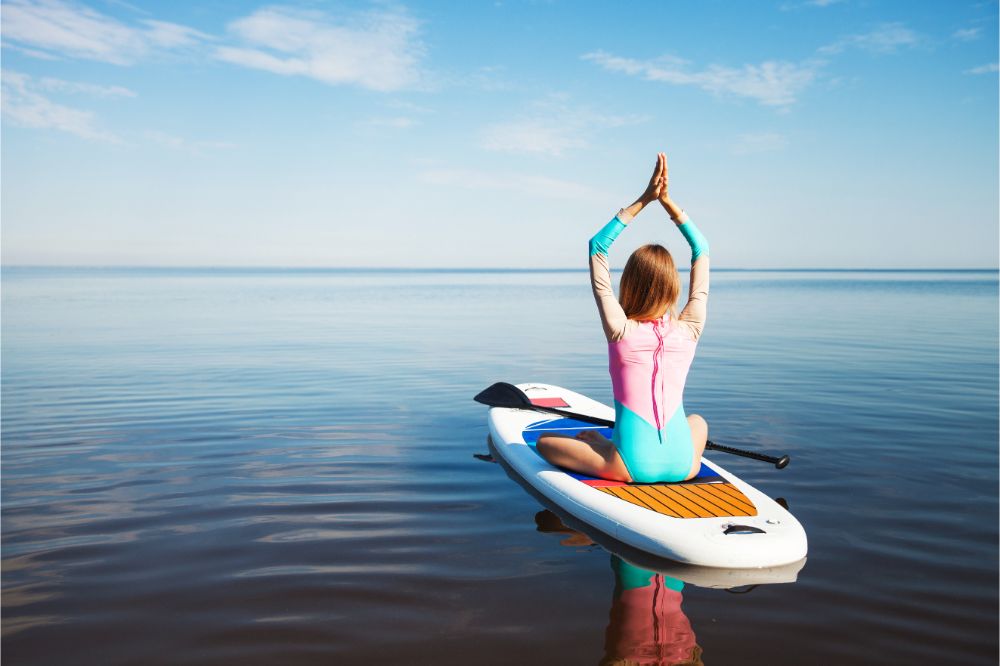 Yoga SUP
These boards are very much like the all-rounder SUPs but with a very soft and comfortable deck that can be used for yoga practice. They are typically also a little wider than a normal all around board.
Due to their shape, they are not the fastest boards. However, there are good crossover options, such as an all around SUP which can also be used for SUP Yoga. These boards are definitely a good option if you also want to do a leisure camping tour from time to time.
If you are interested in more information about Yoga SUP Boards, check out our SUP Yoga Board overview or the SUP Yoga Board selection.
SUPs For Children
These boards are smaller and lighter to make it easier to maneuver on the water for smaller people. However, they normally have a typical all-around shape. 
You can find much more information about Kids SUP Boards here on coolwatersports, e.g. a selection of great Kids boards and the most important information about Kids SUP.
Downwind SUP
The boards are difficult to maneuver, so they are best suitable for those with a lot of paddle boarding experience. These boards come with a rocker added so you avoid nose dipping or pearl diving, when you try riding a wave.
They are designed this way so you can easily maintain speed while avoiding diving with the front end into the water. These boards are only advisable for more experienced paddlers.
Wild Water SUP
The whitewater SUP is designed to withstand the wild waters of fast-flowing rivers, so they must be sturdy and very durable. They are also quite shorter and wider than your standard allround SUP boards so you can ride the rapids much easier.
If you are looking for an SUP camping board, you are likely not going to choose this option, but if you are considering getting into wild water SUP'ing, keep this board in mind.
Can You Walk With a Paddleboard?
Depending on the paddleboard you use, it will be easy to carry your paddleboard over short travels. While hard camping paddle boards are made from lightweight, durable materials, they are quite heavy and you may get tired carrying them.
Furthermore, the large size of paddleboards will also make it difficult to travel on land where there are a lot of trees and undergrowth.
Therefore, if you plan your tour with some passages over land, inflatable paddleboards or iSUPs are the best option, as you can easily deflate and store them in a backpack. But you need to remember to take a pump and a storage bag with you. You should definitely choose a good quality double action pump. If you don't want to pump manually, you could also choose a high-quality electric pump, but then you may want to consider a solar charger or lightweight battery pack.
An Inflatable trekking paddleboard together with a good quality and lightweight double action hand pump is going to be your best option. This will allow you to travel light and save time when you need to inflate the paddle board again.
A Good Stand Up Paddleboard For SUP Camping
The BlueFin Cruise Inflatable Stand Up Paddleboard
This BlueFin Cruise board is available in a range of sizes to make it suitable to be used by different sizes of people, even children. This complete package has everything you need for your camping SUP, even a very comfortable seat.
The long body will help it move faster, while the wide surface provides better stability and a lot of loading space. It will easily carry around 300 pounds, including the paddler, to make it a versatile paddleboard for camping trips.
High-quality materials and craftsmanship it is made of, makes this a durable option to have with you on a camping trip. 
More information about Paddleboarding
On coolwatersports.com you can find much more helpful tips and information about Stand Up Paddling. Surf around and learn everything you need to know e.g. about the Paddling Technique, SUP clothing or the most important accessories and much much more.