When it comes to skiing, the right apparel is essential. Whether you need to stay warm, look stylish, or keep dry, the right clothes can make a huge difference in your skiing experience. You can maximize your comfort and performance on the slopes with the right clothing. In this blog, we'll explore the best options to wear for skiing and why they are the optimal choice.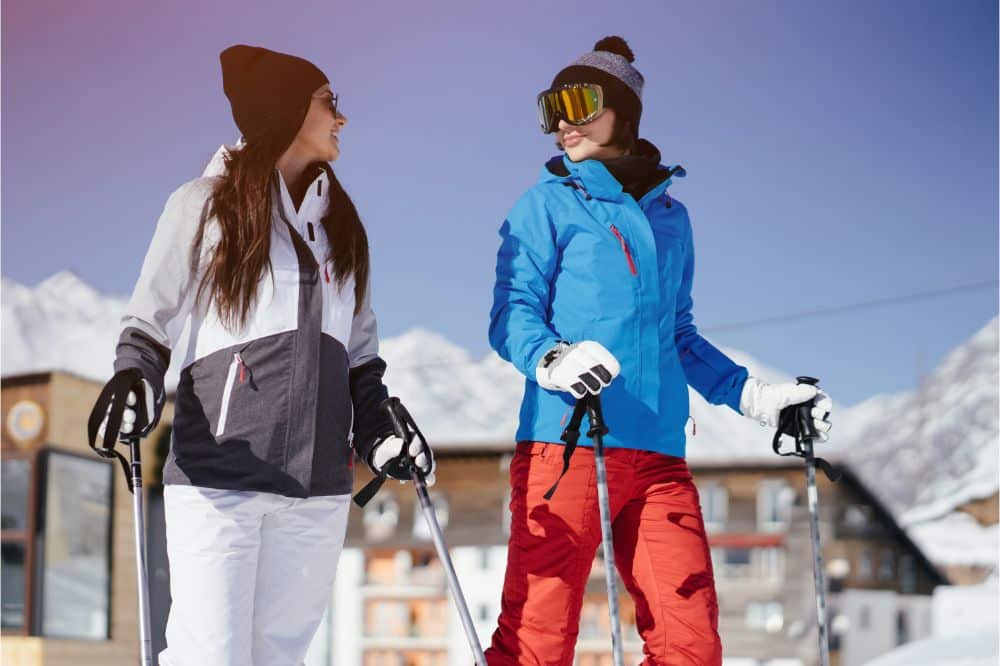 How to Layer Clothing for Skiing?
Whether you're a beginner or an experienced skier, the most important thing to remember is to layer, layer, layer! Layering your clothes is the best way to ensure that you can adjust your warmth level as the weather and activity levels change. Moreover, layering helps you stay out on the slopes longer and fully enjoy your experience.
Make sure you achieve the right layers according to your body type, or you may find yourself too hot or cold. Always choose items made of moisture-wicking materials, such as polyester, merino wool, and nylon, as they will help keep you dry and comfortable while skiing. Here is detailed information on how to layer clothing for skiing:
First Layer
A base layer is the first layer of clothing you wear when getting dressed for a day of skiing. It is made of a material that will wick away moisture, keeping you dry and comfortable. A base layer should also be snug-fitting but not too tight so that it doesn't restrict your movement, and a heat cushion close to the skin is created. It's usually made of thin, lightweight, synthetic material, such as polyester or nylon. You can also opt for a lightweight wool base layer for extra warmth.
Always remember the first layer will mainly keep you dry and give you a first insulation basis. Also, the functional underwear should be made of a highly stretchable, 2-layer fabric, whose inner side, close to the skin, absorbs sweat from the skin and transfers it to the outer side of the fabric. It must be thick enough to hold a warming air cushion directly against the skin.
Thermals are an important part of a good base layer. They are usually made from a material that dries much faster than woolen or cotton pieces, which is important when you are out in the cold and potentially sweating. Make sure to choose a thermal that fits well to do its job properly.
Mid Layer
The mid layer is the second layer or the main insulation layer of clothing in a ski outfit. It means that a warm "under"-jacket or down jacket should be used to keep the wearer warm when temperatures drop. The insulation layer should be lightly lined to work with the outer jacket to take over the insulation function. Look for garments with high-loft insulation and sealed seams for maximum insulation.
Moreover, this layer needs to be wind-repellent so that, even during the descent, the outer jacket is partially open without the cold air blowing directly onto the skin. The middle layer is usually permeable to water vapor, so the wearer does not overheat. In very warm temperatures, removing this layer or replacing it with a thin vest is possible.
Outer Layer
On top of that, opt for a waterproof or breathable outer layer, such as Gore-Tex, to ensure that you stay dry and warm even in the harshest winter conditions. A waterproof shell will keep you dry in the snow and help regulate your body temperature. Get a jacket that is designed with sealed seams and waterproof membranes.
Since jackets with windproof or waterproof membranes are not really breathable, the jacket should have sufficient ventilation openings (underarm zipper, 2-way front zipper, sleeve cuffs, snow skirt) to allow heat and moisture to escape. It should also be lightly lined to provide insulation in combination with the mid-layer.
In addition, look for a jacket with multiple pockets to store your accessories, as well as a hood to help keep your head and ears warm. Ski pants are also essential for keeping your lower body warm and dry, so make sure you choose a pair that fits well and has reinforced areas for added protection.
Accessories to Wear While Skiing
Often, skiers overlook the importance of accessorizing. The right accessories are essential for your skiing experience, so here is what you should consider wearing when you're hitting the slopes.
Goggles
Protecting your eyes from the sun's rays, snow, and debris will significantly improve your experience. Choosing the right pair of ski goggles is critical for a successful skiing trip. Look for a pair of goggles with a wide lens and UV protection to protect your eyes from the elements.
Helmet
Helmets are an important safety accessory for skiing. They provide extra protection for your head, face, and neck and can help reduce the risk of serious injury should you have an accident or fall. Look for a helmet specially designed for skiing that is lightweight and well-ventilated.
Gloves
The right pair of gloves can make or break your skiing experience. Look for gloves that are waterproof, breathable, and provide thermal protection to keep your hands warm and dry. Avoid gloves that are too tight or loose, as they may cause blisters or discomfort.
Socks
Socks are another essential item of clothing when skiing. Look for a pair of socks designed to provide insulation, thick enough to keep your feet warm, and made of breathable material. Avoid cotton socks, as they may cause your feet to become cold and wet.
What to Look For in Your Skiing Clothes?
Skiing is a sport that demands both comfort and protection from the elements, so what should you look for in your skiing clothes? Here's what you need to consider when choosing your skiwear:
Insulation
Layering is key when it comes to skiing. You'll want to find a combination of lightweight and technical layers that will keep you warm and dry. Look for base layers made of materials like wool or synthetic fibers that wick moisture away from your body. You may also consider a mid-layer of down or synthetic insulation for extra warmth on colder days.
Waterproofing
Ski jackets and pants must be waterproof to keep you dry during long days on the slopes. Look for products with waterproof ratings, such as those rated 2,000mm or higher. Try to find jackets and pants with taped seams to protect you further from the elements.
Breathability
While waterproofing is important, don't forget to ensure your skiwear is also breathable. Look for items that are made of materials like Gore-Tex or eVent, which will wick sweat away from your body.
Fit
Skiwear should fit close to the body but not too tight. It should be comfortable enough to move in but not so loose that it'll bunch up and impede your mobility. Look for items with adjustable straps and cuffs to give you a more customizable fit.
Ventilation
You'll be doing a lot of physical activity in your skiwear, so it should have some ventilation features. Look for items with vents in the underarms, side panels, and center back to help keep you cool on warmer days.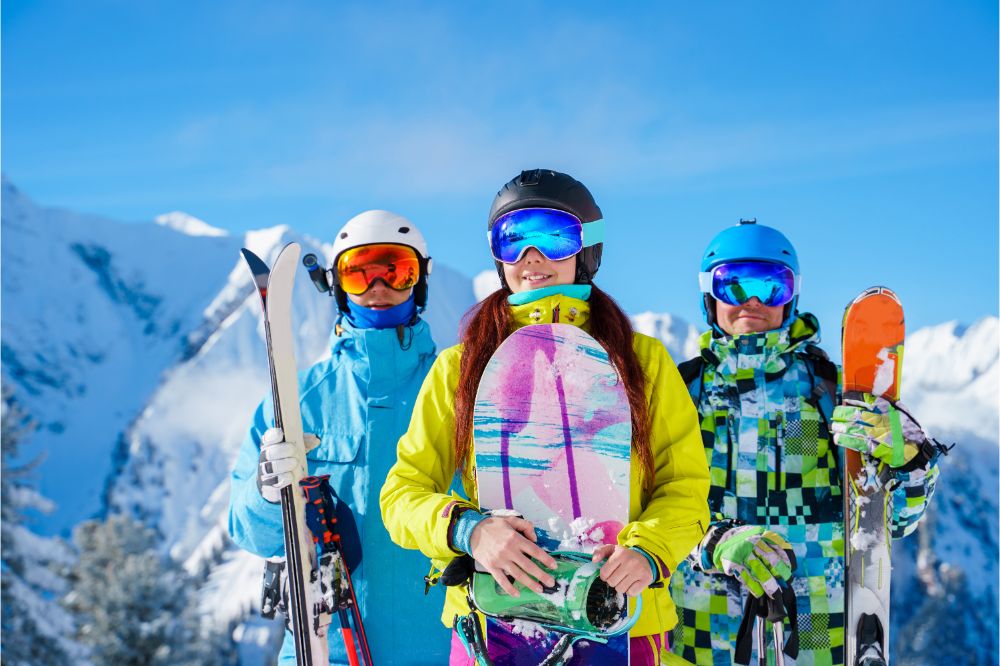 FAQs
What should you not wear while skiing?
First, avoid wearing anything too loose or baggy. You don't want your clothes to get caught on anything or get in the way while skiing. Secondly, avoid wearing anything too warm. You'll be exerting yourself and generating a lot of heat, so you don't want to overheat. Also, make sure your clothing is waterproof. Wet clothes will not only make you cold, but they can also weigh you down and make it harder to ski. Avoid wearing jewelry or accessories that could fall off or get lost while skiing. It is best to keep things simple and safe while enjoying the slopes!
Can I wear a puffer jacket while skiing?
Puffer jackets are not as breathable as other jackets, so you may get sweaty if you wear one while skiing. If you decide to wear a puffer jacket, ensure it is well-fitted and has no loose fabric that could catch on to something.
Why should you not wear cotton?
Cotton does not wick away moisture like other fabrics, making you cold and uncomfortable if you get wet. Moreover, cotton is not very durable, making it more likely to tear or damage.
The Bottom Line
All the abovementioned tips will help you stay warm and have a safe and enjoyable skiing experience. By choosing the right clothing for skiing, you can ensure you're prepared for any conditions you may encounter on the slopes. So gear up and get out there – the slopes are calling!