When you're out on the water having a good time there will inevitably be some form of sunglasses in your care. After all, it's hard to see anything with the blinding rays of the sun blocking your vision. But many water activities are also very active and this also means that there's a chance that those sunglasses may make a trip into the water.
For years this meant that you had lost your sunglasses, but many companies have begun designing floating sunglasses. There are a lot of great options but below we're looking at some of the best floating sunglasses available today.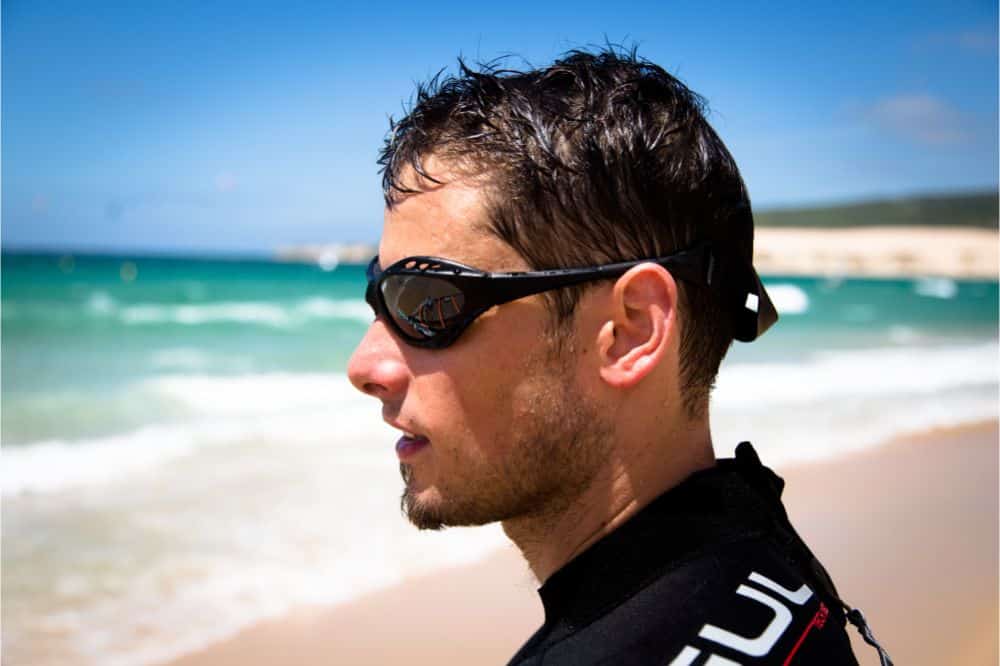 Floating Sunglass Reviews
Maivnz Polarized Fishing Glasses
Review
Main Features
Lightweight and flexible TPX frame
UV polarized lenses which filter not only UVA but UVB and UVC rays as well but still provide amazing clarity
Frame is designed to block the sun from the sides as well resulting in great visibility and comfort
The first floating sunglasses on this list are crafted with a TPX frame and a triacetate cellulose lens set. These lenses are coded for UV protection and polarized to improve visibility even on the brightest day. The UV polarization used on these glasses will filter not only the UVA but UVB and UVC rays as well. In regards to the TPX frame, the material is lightweight and flexible making it a great choice for any outdoor water activity or sport someone is getting into.

The entire design of these floating sunglasses gives the person wearing them a lot of great benefits that they can take advantage of. Oftentimes polarized sunglasses can offer a little bit of a darkening effect, but these sunglasses are a little different. When looking through the lenses there is an amazing amount of clarity which allows you to see better into the water or just in general.

On top of that, the protection from the sun is not only through the lenses but the frame itself is designed to block the sun from the sides giving the person even better visibility as well as comfort. Along with this, the size fits a wide variety of heads and because of all these wonderful features, the value you get for the price tag is well worth it.

That being said, these sunglasses do have a few issues that should be addressed before any decisions are made on investing in them. The polarization is nice and offers a great level of visibility, but it is easily scratched when cleaned even by cotton. On top of this, there have been several people that have found that the lenses sit very loose in the frame and can easily find their way to being popped out.
Pros
+ Sunglasses offer amazing clarity

+ Model is designed to block sun even from the side

+ Size is nice and fits even the largest head

+ Price versus value is very good
Cons
– Polarization is easily scratched when cleaned

– Some have found the lenses are a little loose in the frame





WindRider Polarized Sunglasses
Review
Main Features
Specifically designed for water activities
Lightweight and highly durable frame
Polarized UV protecting lenses which are water and oil repellent and very scratch resistant
The next polarized sunglasses not only float but come in multiple colors both in the frame as well as the lenses. Crafted with a plastic frame and composite lenses that are polarized and coded for UV protection, this pair of sunglasses has been specifically designed for those that enjoy water activities.

The frames themselves are crafted with lightweight material that is both durable and comfortable for long wear. But the lenses of these sunglasses are where a majority of the features shine. The polarized lenses are crafted to reduce glare and are water and oil repellent as well.

Of all the features that offer the most advantages, the lenses and all of the work that went into them have to be the greatest benefit. When someone is out on the water they are going to be in the sun which means having UV protection is vital to the protection of their eyes as well as their comfort.

Along with this, depending on what water activity they are taking part in, objects may be dropped, and having lenses that can protect themselves will help extend the life of these sunglasses. For those that may be out on the water windsurfing, having sunglasses that are not only anti-glare but do not fog can prevent a tragedy from occurring.

Now that doesn't mean that these glasses are perfect. In fact, there are a couple of drawbacks to choosing them. For those that enjoy kayaking and surfing, the fact that the glasses do not come with a retainer (even though they are made to float) could be an issue. On top of that, the polarization, though amazing for clarity and protection of your eyes, does tend to make everything a little darker no matter what color of lenses you choose.
Pros
+ Sunglasses are crafted with a lightweight material providing high comfort

+ Designed with technology that offers 100% UV protection

+ Crafted to be resistant to both scratches and impacts

+ Anti-glare lenses do not fog vision when on the water
Cons
– Polarization does tend to darken everything a bit

– Not outfitted with a retainer






MALIDAK Floating Sunglasses
Review
Main Features
Composite frame made out of TPX material and lightweight design
Polarized, UV protecting lenses desinged to be anti-glare providing great visibility
Lenses available in three colors and can very easily be changed out
These sunglasses are designed with a composite frame and triacetate cellulose lenses. They're available in three colors and each comes with a spare set of lenses that can easily be changed out. The lenses themselves are polarized and coated for UV protection. They are also designed to be anti-glare and protect the wearer from UVA/UVB rays. The frame is designed using a TPX material and a hollowed-out design in order to ensure they float when coming in contact with water.

The last thing anyone wants to do when out on the water is to lose a pair of sunglasses and have to go the rest of the day squinting to see what's going on. So the construction of these sunglasses with the hollowed-out interior makes them a great option to reduce the chances of this happening. The addition of the spare lenses is also an amazing value proposition as it means you don't have to stick with the colored lenses that are embedded in the frames when you get them.

It also means that if the lenses become scratched or smeared for any reason, then they are easily replaced without any extra cost. Also, the process of changing lenses out is super simple and doesn't take much time. For those looking for polarization that will improve their visibility into the water, these glasses are perfect.

Even with all that there are still some issues that need to be addressed and could be improved to elevate these glasses even further. The first of course is an aesthetic flaw and that is that there is no all-black option, and the color selection is very limited in general. Along with this, there are some that feel that when sweating, because of the material used in the frame, the glasses tend to slip off the face easily.
Pros
+ Sunglasses float easily, decreasing the odds of losing them

+ The model comes with a set of spare lenses

+ Polarization is excellent and allows for deeper visibility into the water

+ Changing the lenses is simple and quick
Cons
– There is a limited color selection when looking at these sunglasses

– Some find that when sweating the frames tend to slip off the face easily




Hornet Watersports Polarized Floating Sunglasses
Review
Main Features
Sporty and sleek design
Polarized and mirror coated lenses for UV400 protection against UVA and UVB rays
Lightweight design with high comfort and great floating ability
These floating sunglasses from Hornet watersports offer a lot of the same benefits as other floating sunglasses but with a sportier, sleeker design. The lenses themselves are polarized and mirror coated for UV 400 protection against both UVA and UVB rays.

These lenses also are designed to reduce glare and protect your eyes, allowing for better visibility when out on the water. When it comes to the frames, they are crafted with durable materials. The overall design though is made even more amazing by the air chambers included in the frame which is how the glasses float.

What makes these sunglasses so amazing? The first thing that comes to mind is the comfortability of wear. With the use of these amazing materials and the fit of the glasses themselves, they not only fit a wide variety of facial shapes, but they also make daily wear more comfortable which also increases usability.

Of course, if someone is looking at performance, the polarization and UV coating used on the lenses have to be at the top of the benefits list. The high-quality coding shields the user from a high level of UV rays and that coupled with the wrap-around frame gives the user 100% protection all day long.

Overall, durability does need to be something that is looked at when investing in a new pair of glasses. This might be where this pair of floating sunglasses lacks a little bit. Not only have some found that the lenses seem to be less than durable but also the frame's durability has come into question as well.
Pros
+ Design offers super comfortable wear

+ Overall frame of the glasses fits nicely on a wide range of facial shapes

+ The frame wraps around fully for complete coverage

+ Polarization and UV coating ultimately shields the user's eyes from the sun
Cons
– The material used does not feel as durable as other models

– Some find that the lenses on these sunglasses seem to be less than durable






Cressi Ninja Buoyant Sunglasses
Review
Main Features
Wide range of colors available both for the frame and the lenses
Different sizes available to ensure a perfect fit
TAC polarized, mirror coated lenses which not only provide a high degree of UV protection but are also hydrophobic
Glasses provide very high value for a low price
Variety and versatility are both words that can be used to describe these floating sunglasses from Cressi. These glasses come in a wide range of colors both in the lenses as well as in the frames themselves. Not only that but people can choose sizes which will allow for a more perfect fit. The glasses themselves are a composite of a polycarbonate frame and a polarized mirror-coated lens. The floatable frame is crafted with a lightweight durable material. When it comes to the lenses, they utilize a TAC polarized hydrophobic lens.

Starting from the materials used in the frame to the lenses fitted within that frame, everything about these glasses is made with high-quality materials. The materials used offer these sunglasses a lightweight frame that is both comfortable as well as durable. After the frame is constructed you then turn to the lenses which are not only coated for optimal protection from the sun's harmful rays but also coated so that they are shatterproof.

On top of that, these glasses come with a hardcover case as well as a cleaning cloth so that you can keep them at their peak performance at all times. Because of all these things combined, it is easy to see why many feel that the value you get for such a low price is amazing. These are definitely a great choice for anyone that is working within a tight budget.

The inclusion of a hardcover case and a cleaning cloth is nice, but it does lack a few things that a person looking for a floating sunglass might want. For instance, the unit is not crafted with a retainer cord. This may mean that it's easier to lose in the long run. Also in regards to durability the glasses themselves and lenses are durable, but some have found that the coating on the lens tends to wear off quickly.
Pros
+ These glasses are perfect for those working on a tight budget

+ Glasses come with a hardcover case and a cleaning cloth

+ Materials used in the construction of glasses are premium grade and durable

+ Lenses used in glasses are designed to be shatterproof
Cons
– No retainer cord is included with the purchase which limits its versatility

– Some have found that the lens coating tends to wear off rather quickly





Final Thoughts about the best floating sunglasses
For those that have a tendency of losing their sunglasses when enjoying water activities, having a pair of floating sunglasses is essential. After all, how many times do those glasses slip off and find their way into the water? The models that are reviewed above are easily some of the best floating sunglasses on the market.
Summarizing, from a pure price- performance point of view, we like the Cressi Ninja Buoyant Sunglasses the most.
So if you like the design, there is surely no reason not to choose them.
More useful information
Discover more useful information about different watersports here on Coolwatersports.com!
We show you what you really need to know!