Combining the classic design of windsurfing boards with the more modern design of stand-up paddleboards, a WindSUP board gives the boarder a ton of versatility. With the ability to carry equipment as well as utilize the board in multiple different activities, it is no wonder that this type of board is becoming so popular.
With popularity on the rise, there are tons of great options on the market. But it can be hard to decide which one is the best for you with there being so many WindSUP boards to choose from. So below, we will take a look at five of the best WindSUP boards that you can invest in today to see what they have on offer for you. Let's get right to it!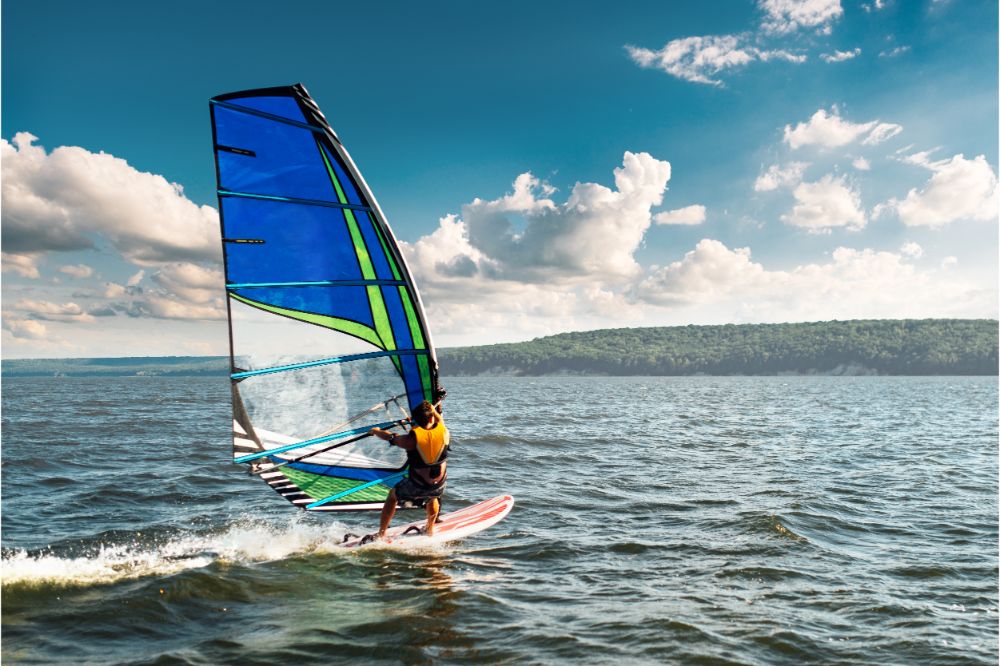 Best WindSUP Boards
Z-Ray Inflatable Stand-Up
Review
The first board on the list is from Z-Ray and comes in two different models. The W1 measures 10′ and the W2 measures 10'6″. When it comes to the weight, you are looking at 264 pounds with the W1 and 320 pounds with the W2. Each of these models is crafted with premium-grade PVC fabric.
Specifications
MODELS: Two Models available (W1 & W2)
TYPE: Inflatable SUP Board
SIZE: 10′ x 30" x 6" (W1) & 10'6" x 32" x 6" (W2)
WEIGHT CAPACITY: 264lbs
MATERIAL: High Quality PVC with Drop Stitch Technology
PRICE: approx. 580$
RATING: 3.6 / 5
Features
Two-central fin system
Paddle, Sail, Mast, Pump and Backpack included
Good EVA anti-slip Deckpad
Several D-Rings and integrated bungee cord
Great All-around SUP Board and Windsurf Board for light to moderate wind conditions


The board itself is crafted with multiple D-rings and a two-central fin system. The portability is amazing as well, as it is designed with two heavy-duty carry handles. All of these design features are nice, but there is so much more to this paddleboard.

Though the core design is something to really admire, it is the additional features that make this board stand out. Only one word can describe this board – versatile. The overall design allows the individual who invests in this board to enjoy not just windsurfing but also activities like touring and yoga. Part of the reason for this board's versatility is the wider width which gives the models enhanced stability. In addition to the stability, the durability also contributes to the increased value of this board.

Then there is the sail! It is sturdy and well-crafted and can easily be installed and taken down, thanks to the piece's design. The portability is quite handy as well.

Though there is a lot to love, this board still has a few issues. Many have found that the board does not stay inflated for as long as they would like. On top of that, it is also a bit pricey compared to other options. So though this board is perfect for beginner windsurfers, they might find their budget doesn't allow them to enjoy all these amazing features.
Who is this Board for?
Though anyone can easily use this paddleboard, the person that will get the most from this board is the new windsurfer. The extra care to craft a board that offers elevated stability will allow the boarder to work on their skills without worrying about too many falls.
Pros and Cons
Pros
+ Sails are durable and easy to pack away

+ Crafted with high-quality materials for improved durability

+ Versatile SUP that can be used for multiple activities, including when surfing and touring

+ SUP is crafted to be incredibly stable
Cons
– Some may find the price tag a little on the steep side compared to similar options

– Issues with the length of time the board stays inflated

– Leash and Repair Set is not included



Freein SUP Board
Review
The next board is crafted with a two-in-one design perfect for anybody with a little experience that likes to both windsurf and tour. The board offers a weight capacity of 270 pounds and is crafted in military-grade materials. This fabric uses a double-layer drop stitch design and is used in a third layer along with the rail bands.
Specifications
MODEL: Windsurf Aqua
TYPE: Inflatable SUP Board
SIZE: 10′ x 33" x 6"
WEIGHT CAPACITY: 270lbs
MATERIAL: Double layer military-grade laminate PVC
PRICE: approx. 420$
RATING: 4.7/ 5
Features
EVA top with anti-slip
 2-1 design (windsurf and SUP )
 33" wide SUP provides maximum stability
Special sail base setup
Accessories included: adjustable aluminum paddle, dual-action pump, detachable fins, adaptor, and backpack


When it comes to the top of the board, the rider will be able to take advantage of an EVA top that is crafted with anti-slip features. Along with a special sail base setup, there are a plethora of other features that give this board a leg up over its competition.

For riders looking for a board that is not only versatile but also stable, this model from Freein is a good option. Designed with a 33″ width, this board is perfect for a variety of activities. On top of that, the board is also designed with a thickness that helps with the volume and buoyancy, which also helps with the board's stability. The multiple accessories heighten the board's versatility that this bundle comes with, including that handy dry bag.

However, there are some issues that need to be addressed (though even if you do have a problem, the board does come with a three-year warranty). For instance, the board is crafted with a high-quality aluminum frame, which will add some weight to the piece.

This could be a problem for some that may want an easy to transport option. While it does have a decent weight capacity, it may not be enough for some. This is especially true if you ride tandem or use your board to get to hard-to-reach places for whatever outdoor activities you like to do.
Who is this Board For?
If you're an intermediate boarder looking to have one board that can be used for many different activities, then this board is a good choice. In fact, because of the stability and all the accessories that come with this board, it is an excellent option for those looking for more bang for their buck.
Pros and Cons
Pros
+ Board comes with an amazing bundle of accessories that improves the usability

+ Even at higher weights, the board remains stable

+ Unit comes with a three-year warranty for peace of mind

+ Accessories are easy to transport thanks to the dry bag included in the bundle
Cons
– Some may find the board to be on the heavy side

– Not crafted for a very high weight capacity







vidaXL SUP Paddleboard
Review
This board comes in a couple of different color combinations and is crafted with high-quality materials. The core of the board is made using PVC, EVA, and aluminum fabric. When looking at the design features included in the build of this board, you will see there are several that stand out.
Specifications
MODELS: Available in two colors (blue and white)
TYPE: Inflatable SUP Board
SIZE: 129.9″ x 28.3″ x 3.9″
WEIGHT CAPACITY: 220.5 lbs
MATERIAL: PVC, EVA, aluminum, fabric (100% polyester)
PRICE: approx. 320$
RATING: 3.8/ 5
Features
Puncture-proof and UV resistant
High-pressure screw valves (easy and quick to inflate and deflate)
Two pre-fixed fins and one removable fin
Accessories included: Oar, Sail, Removable fin, High-pressure hand pump with pressure gauge, repair kit, and Carrying bag

The board is crafted with two fins that have been prefixed into the board, along with one removable fin. Along with this, the board includes high-pressure screw valves that help make the inflation and deflation of the board easier.

For those looking for an easy-to-travel board, the vidaXL model could be a good choice, as the use of aluminum and PVC in the build gives the board a lightweight feel. But even though it is so light, that in no way takes away from the balance of the model. This makes it not only portable but super stable as well. Adding to the stability and comfort, of course, is also the fact it is crafted with a wider body.

In addition to all of that, the board is designed with protective technologies for punctures and UV rays' harmful effects. The sun's UV rays can weather outdoor equipment leaving them prone to weakening and breaking, which is never good, especially when out on the water.

Though this helps with the overall durability of the board, there might be a couple of drawbacks to investing in this board. The first is that it is designed to be used in light waves. So for heavier waves and more extreme water conditions, you may find this a poor choice. Also, the lack of ankle straps could be an issue for some.
Who is this Board For?
This board is an all-around good choice, whether you are just starting out or have been using a paddleboard for a long time. Because of the fins, the control of this board is super simple. It is also wider than the others, which increases the stability. The width makes it a great choice thanks to the comfort of use for those that like to do a little touring.
Pros and Cons
Pros
+ Low Prize

+ Board is crafted to be lightweight and well-balanced

+ Model comes with bungee cords for easier storage

+ Crafted with puncture and UV resistant technology for better durability

+ The wider board makes it more comfortable to use over longer periods
Cons
– Board is not designed with ankle straps

– Lower Overall Quality compared to other options, however, at a significantly lower prize








BIC Sport Air SUP
Review
A lot of people get into stand-up paddleboarding because they fell in love with the idea of riding the waves. This probably means that some want a board that looks a little bit more like a surfboard. This model from BIC offers that and so much more.
Specifications
MODEL: BIC Wind SUP available in three colors
TYPE: Inflatable SUP Board
SIZE: 126" x 33" x 6"
WEIGHT CAPACITY: 200 lbs
MATERIAL: Drop-stitched reinforced PVC
COLORS: White, Blue, Green
PRICE: approx. 810$
Features
Ultra-light construction, ASA Polymer outer skin for durability and resistance
Embossed EVA deck pad
UHMW internal stringer and a rail construction
Ergo-Grip carry handle for ease of transport
Fiberglass reinforcement (improved stiffness and performance
The Sport Air is designed with UHMW internal stringer and a rail construction that utilizes a double layer for improved durability. Crafted with the ability to convert from a standard paddleboard to a windsurfing board, the unit is also designed with an extra fin in the center of the board. But those are just some of the design features that make this a great choice.

One of the most important things when it comes to a board, especially for Windsurfing, is the grip. This board is outfitted with an EVA deck pad that helps improve traction. On top of that, the embossed pad is also thick, which helps elevate the comfort of the ride. Perhaps after traction, the most important thing for a board is stability. The board is crafted with both a rocker profile and improved stability, which allows for better balance and more versatility of use.

When speaking of versatility, one has to look at the inclusion of the center fin. Utilizing this allows for improved windsurf, which elevates the board's usability. That being said, the board is not perfect, and a few issues could cause some to opt not to go with this board.

Many of the boards out there come with a plethora of accessories, but this board, unfortunately, doesn't. Therefore you should expect to have some additional expenses to get the SUP Accessories you'll definitely need. But maybe the biggest issue is the price tag. Those that may be working with a limited budget may find this factor to be the most detrimental feature of the board.
Who is this Board For?
This board can be used for many different activities, but thanks to the paddleboards build, it is more suited for certain activities than others. The traction on the top of the board and its width makes it great for those paddleboarders that like to not only windsurf but do a little SUP yoga. It's also great for cruising or doing tandem rides in small waves.
Pros and Cons
Pros
+ Crafted with an EVA deck for improved traction

+ Designed with both a rocker profile as well as excellent stability for more versatility

+ Board is made using a special technology for improved durability

+ The design includes a center fin for improved windsurf
Cons
– Board does not come with as many accessories as many of its competitors

– Those that are working with a tight budget may find the price tag too high





Red Paddle Co. Sport SUP
Review
The last board on the list is a durable, lightweight model that is outfitted with many outstanding features. Crafted with MSL material that makes it ultra-durable and low in weight, the board also includes a high-pressure construction. This board can withstand up to 25 PSI, which gives the board a more solid feel.
Specifications
MODEL: 10'6″ Ride MSL in two colors (blue and purple)
TYPE: Inflatable SUP Board
SIZE: 10'6" x 32" x 4'7"
WEIGHT CAPACITY: 240 lbs
MATERIAL: MSL
PRICE: approx. 1,300$
RATING: 3/5
Features
Adjustable Cargo System – one adjustable bungee strap and two flat elastic straps
Lightweight and Durable MSL material
Moulded iFin System
Premium Accessories (Titan II Pump, All Terrain Backpack)
5 Year Warranty included


The design includes a one-of-a-kind flat three-bungee system to help keep any gear firmly where it is supposed to be. To finish off, the board is designed with several tubular handles that are both comfortable to grab and easy to carry.

This board is designed to be a versatile model that allows you to do everything from touring to windsurfing. The ease of control and high-quality build makes this just as easy for a beginner to use as it is for a more experienced paddler. With an excellent weight capacity of 240 pounds, the unit can withstand whatever you need to do and be stable and lightweight for easy transport.

Maybe the most unique thing about this model is that the company opted to design it with a speed tail design. This, of course, reduces the drag coming off the board and improves the speed, which is perfect for those looking for a windsurfing board.

Though the board does come with a high-quality pump and many other amazing features, there are still some things that could be better. Though having battens to prevent sagging of the board is a great idea, the fact that they have to be installed by the boarder is very challenging. The last issue is one that is pretty common, and that is the cost. Though you get what you pay for those just starting out, the price tag on this board may seem a little bit too much.
Who is this Board For?
No matter your level of experience, this board has a lot of significant advantages. It is perfect for beginner or mildly experienced boarders that are still trying to perfect their control capabilities. For the more advanced rider, it's optimal because it offers elevated performance.
Pros and Cons
Pros
+ The overall design of the board makes it viable for use no matter your experience level

+ Board only weighs 22 pounds, so it is easily transported

+ Crafted with a speed tail that reduces the drag of water, improving the speed

+ Comes with a high-quality pump that is easy to use
Cons
– Beginners may find the cost of entry to be a little too much for them

– Battens of the board are not built-in and can be difficult to insert





Final Thoughts
All of the boards looked at above all excellent all-around SUPs that can be used to windsurf easily. Along with this, though, many of them give you versatility which will help make the boarders expenditure well worth it. But which one is the best overall?
When looking at all the factors together, we think the board that will give boarders the most is the Red Paddle Co. Sport SUP. Though there are a few issues with the board, none affect the performance overall. The board is built to be transported easily and gives the bearer plenty of options for its use. On top of that, it is designed for speed and control, which are two factors most windsurfers are looking for in a paddleboard. 
In the end, for those who are hobbyists or looking to advance themselves into a more professional basis, having an inflatable windsurf board can help in many different ways. Not only are they more transportable and easy to store, but they are very versatile. The models above offer a wide range of options and are well designed, making them some of the best WindSUP boards.
More Information about Stand Up Paddle Boarding
Here on Coolwatersports.com you can find much more helpful information about Stand Up Paddling.
So if you have a specific question about importan SUP Accessories, SUP Board Types or how to Stand Up Paddle correctly – we've got you covered!