Bodyboarding is fun for all ages, but it can make your end-of-the-day shower rough when you are chafing and sore. If you have ever taken a warm or hot shower after a long beach day, you know that the hot water will find all the areas you chafed and stings. So, what kind of clothing should you get to prevent that?
The best clothing for bodyboarding is swim clothing that covers arms and thighs. Long-sleeve swim shirts, rash guards, and swim shorts will help prevent chafing and sunburns. Chafing is caused by skin-on-skin or sand-on-skin rubbing so covering more skin will make bodyboarding more comfortable.
Bodyboarding is great to do by yourself or with friends and family, but what makes bodyboarding clothing different than swim clothes?
What Do You Wear on a Bodyboard?
When you take your bodyboard into the ocean, you are putting the board between you and the water, and you will lay on the board with your chest, stomach, and upper thighs rubbing against the board. After a while of fun, you will have some irritation but it's small, so you simply ignore it until you are done swimming and bodyboarding for the day.
Then, you take a shower at home and you realize that your arms, chest, stomach, hips, and thighs are red and sensitive to the touch. Also, the tops of your shoulders, your upper back, and the back of your legs are burned, even though you applied sunscreen a few times. What happened?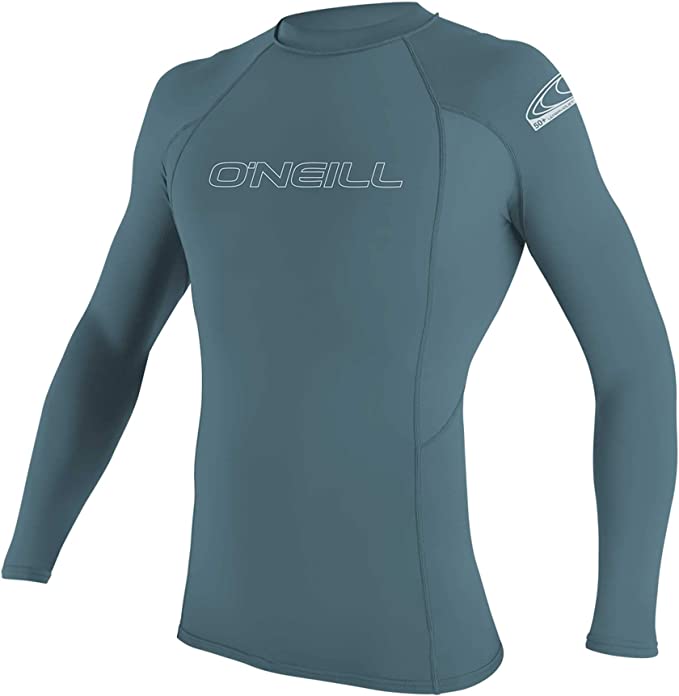 Well, you wore the wrong clothing! You or your kids likely wore regular swimsuits that don't cover all of the spots that make contact with the board, and you got so rubbed that it will take a few days for those irritating spots to not sting. If you have experienced this or seen this happen, then you know the pain. To prevent this from overshadowing your beach trips, get the right bodyboard clothing.
You will need and want to cover your arms because they will rub against the bodyboard and your body. You will want to cover your mid to upper thighs because the front of your thighs will rub against the bodyboard, and your legs will rub together will all the swimming and walking. You will also want to cover your torso because your body will rub the body board. But, even worse, your board will likely have bits of sand on it, or the inside of your suit will have sand in it, so the board will rub that sand on you and cause chafing as well.
These are the main places to cover and the reasons why. So, now you simply need to get the right swimwear. For kids, it is easy to get your boy's and girl's swim shirts that are long sleeve. You can also get a wetsuit for your kids. They have versions that are short sleeves (still cover shoulders) and shorts, long sleeves and shorts, and long sleeves with the bottom going down to the ankle.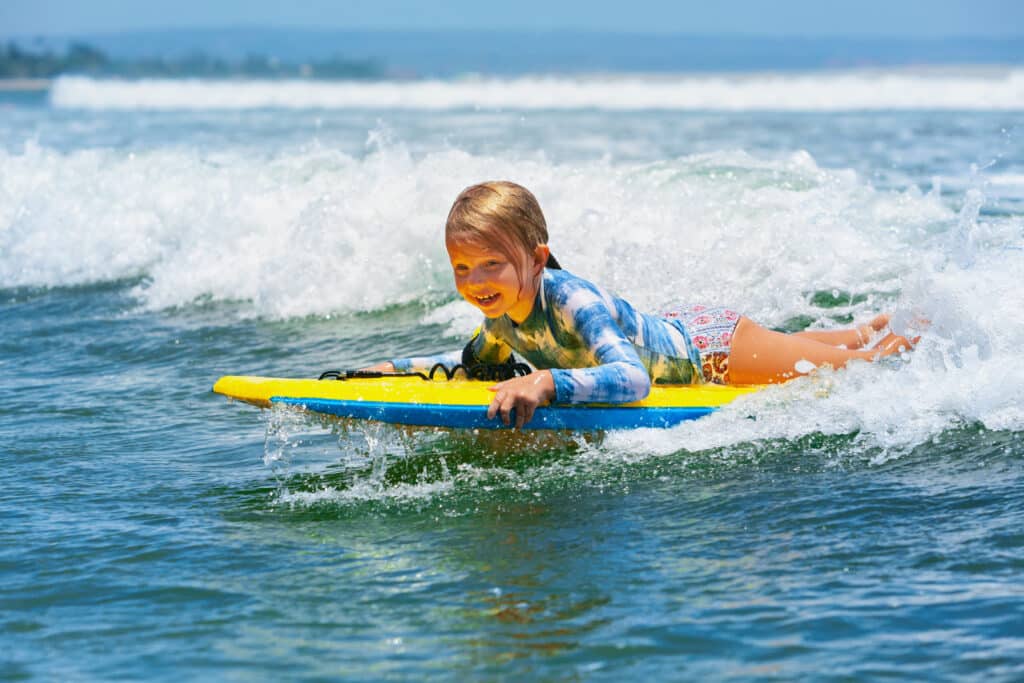 Any of these will be great, and the thickness will be great for protecting against chafing and the sun. Plus, you can have your kids wear the wet suit while they bodyboard, and they can take it off and wear a regular swimsuit when they play in the sand.
For adults, you can do the same thing. You can have a wet suit, but you can also get some spandex swim shorts to wear over a one-piece, bikini, or under men's swim trunks. There are many options for swim bottoms. You can find different lengths and styles to match the swimwear you already have. You can also get a wet suit top. It is like a swim shirt but made out of wet suit material. Adults can also find other options for swim shirts and rash guards that they like. (Source)
For adults, it is nice and convenient to have a swim top like a rash guard that they can wear in the water and take off while they are out of the water. Whether you are tanning, watching small children, or simply do not want more material on you when sitting in your beach chair, there are many reasons to have a top you can take on and off.
A selection of quality Rash Guards can be found here!
Difference Between Bodyboarding Swimwear and Regular Swimwear
The main difference between bodyboarding swimwear and regular swimwear is the style and material. The style of regular swimsuits is very fun and pretty, but not always functional. Women's and girls' swimsuits can be bikinis, tankinis, and one-piece suits with cut-outs, so there are many ways to get burned or get chafing from those suits.
For men's and boys' swimsuits, they typically wear swim trunks and it is optional to have a swim shirt on top. This leaves a lot of space for chafing and burning on the chest and back, which is not fun. Also, swim trunks are not tight around the thighs, so the shorts can float while you are wearing them and they can expose you to more sunburns and chafing.
To prevent this, wear tighter shorts underneath that will stay in place and block your thighs from rubbing too much. And, you can buy a swim shirt for while bodyboarding. Keep in mind that a regular swim shirt can ride up on you while you use the bodyboard, so getting a stiffer material that doesn't roll up like a wet suit top or rash guard top will work best.
For women and girls, you should get a one-piece swimsuit that covers your stomach fully. You can also look for ones that won't be too revealing in the back so that you can be comfortably sporty without having to worry about fixing the back of your suit. Depending on how much you like to bodyboard, you may or may not want to get shorts to wear, but adding shorts and a swim top will make bodyboarding the most comfortable.
There are so many options for swim clothes that work for being sporty in the ocean, and when you bodyboard there is a lot to think about with sunburns and chafing. But, knowing what specific areas to protect and cover will make your beach experience the best and most enjoyable because you will prevent rashes and injuries.
Conclusion about Bodyboard Clothing
It is well worth the money to invest in a good quality Rash Guard or Wetsuit when you plan to go Bodyboarding regularly as they prevent chafing and sunburns. Therefore you should definitely have a look at our Selection of Quality Rash Guards. Another good option is to just wear a wetsuit, which you should favor especially when the weather or the water is cold.