Getting on your paddle board and navigating the still and relaxing waters is a lot of fun. Unfortunately, most people, especially beginners, opt for purchasing the paddle board and leaving out other essential SUP accessories. As much as it can still be exciting, there are some benefits that they miss out on that will transform your paddling experience.
This review highlights some cool additional accessories that prove to be functional and practical, or just fun accessories, as for example the waterproof speakers. These products, therefore, are not only functional but make your paddle board adventure unique and stylish. We have made an extensive list below to review these accessories that make life with a SUP much easier, funnier, and cooler. So without further ado, let's jump right in and see what these cool paddle board accessories have on offer for you.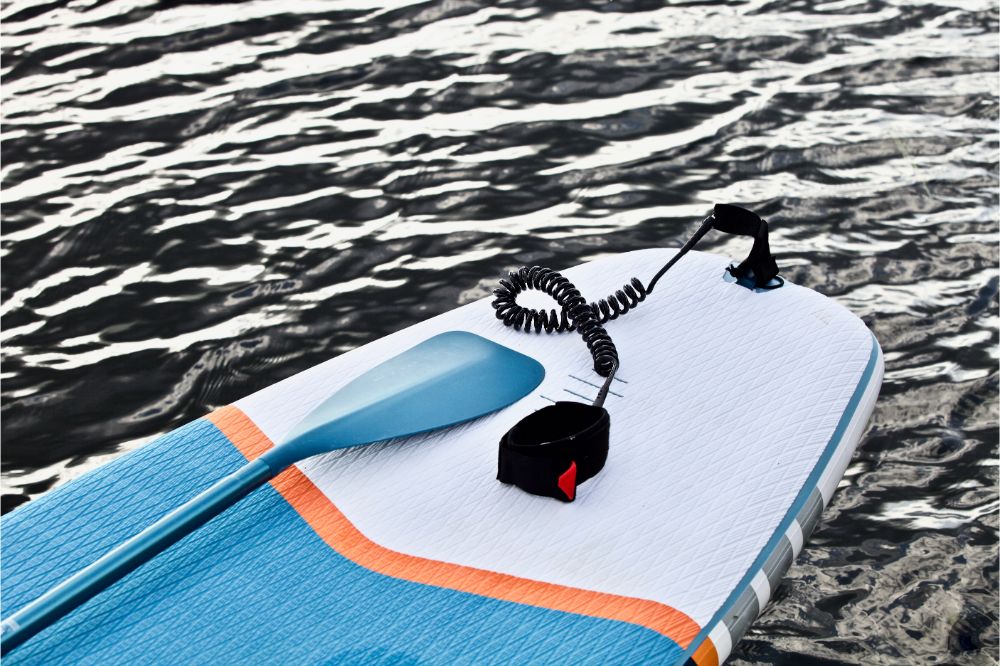 Cool Paddle Board Accessories
Here are some stylish and cool yet very reliable paddle board accessories worth knowing about.
Waterproof Bluetooth Speakers for Paddle Boards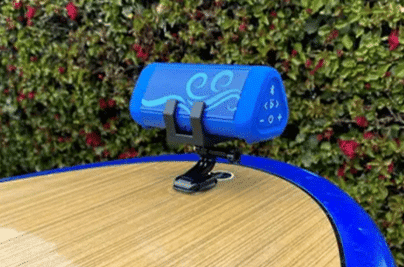 If you're a music enthusiast, it's time to take music with you on and off the water with a multi-purpose Bluetooth speaker. These speakers are 100% waterproof and still produce full-range sound abilities that keep you entertained throughout the expedition.
Our pick is an IPX7 waterproof speaker that can be submerged up to 1 meter deep.
This special edition speaker produces superior sound and you can play for up to 20 hours on a single charge. It also has an advanced antenna design with Bluetooth 5.0, providing excellent wireless range and fast connectivity.
SUP Cooler Bag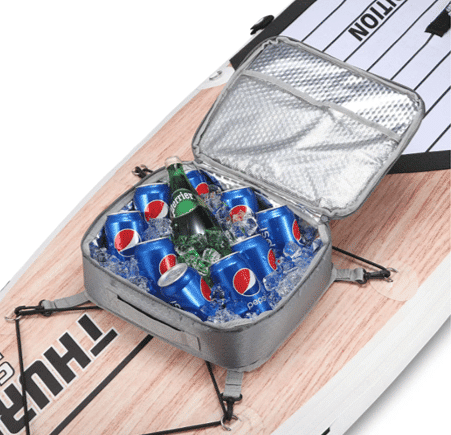 A SUP cooler bag is a must-have accessory for those going on a day-long excursion or when you do such forms of Stand Up Paddling like SUP Fishing or SUP Yoga. This cooler bag ensures you stay full and refreshed with food and drinks. The cooler bag easily fits 10 cans or an equivalent amount of food.
The Thurso Surf SUP Cooler bag ranks definitely amongst the best products.
It has triple-layer construction that acts as an insulation foam to keep food and drinks cold. The cooler bag is water-resistant and the interior features a mesh pocket, hooks, and D-rings to help you organize your essentials.
SUP Cooler Box
Unlike a SUP cooler bag, the main benefit of getting a SUP cooler box is that you're guaranteed your food and drinks stay intact, thanks to the hard shell and sturdy construction. A SUP cooler box effectively keeps your drinks ice cold and this large cooler box holds up to six cans as it has typically a better insulation than cooler bags. It also provides plenty of space to pack your whole day's meals.
A cheap and cost-effective version is to take just a normal cooler box and use some additional straps to fix it to your SUP. One which we like is the Coleman FlipLid Cooler which provides a volume of 5 liters. This is not a lot, but enough for some drinks and a small lunch.
You'll love everything about this cooler box, from the ergonomically designed handle to the EZ-clean lid. The flip cover features reversible hinges that allow it to act as a mini tray table.
Furthermore, the bail handle makes it convenient for one-handed portability and it is a must-have accessory for any fisherman. You can also choose to get a SUP cooler bag to provide more storage space for your wet clothes and other accessories.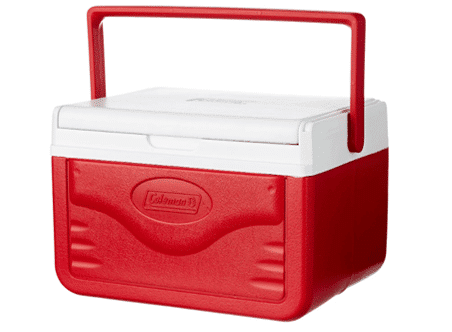 If you want to have more cooled storage space, you should opt for a Cooler Box which was developed especially for the usage on a Stand Up Paddle Board. They make it much easier to fix it tightly and correctly on your SUP Board.
One of the best products you can find in this category is the 25 liter iRocker Roto-Molded Cooler. It definitely provides everything you need for you SUP adventure, but it will also cost you a little more money than the Coleman.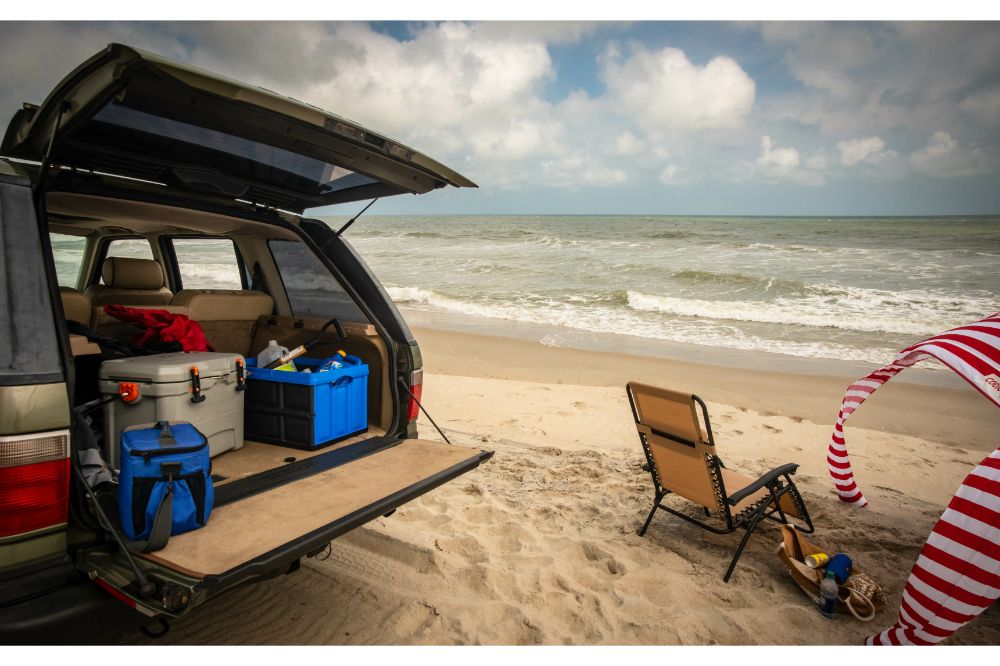 SUP Anchor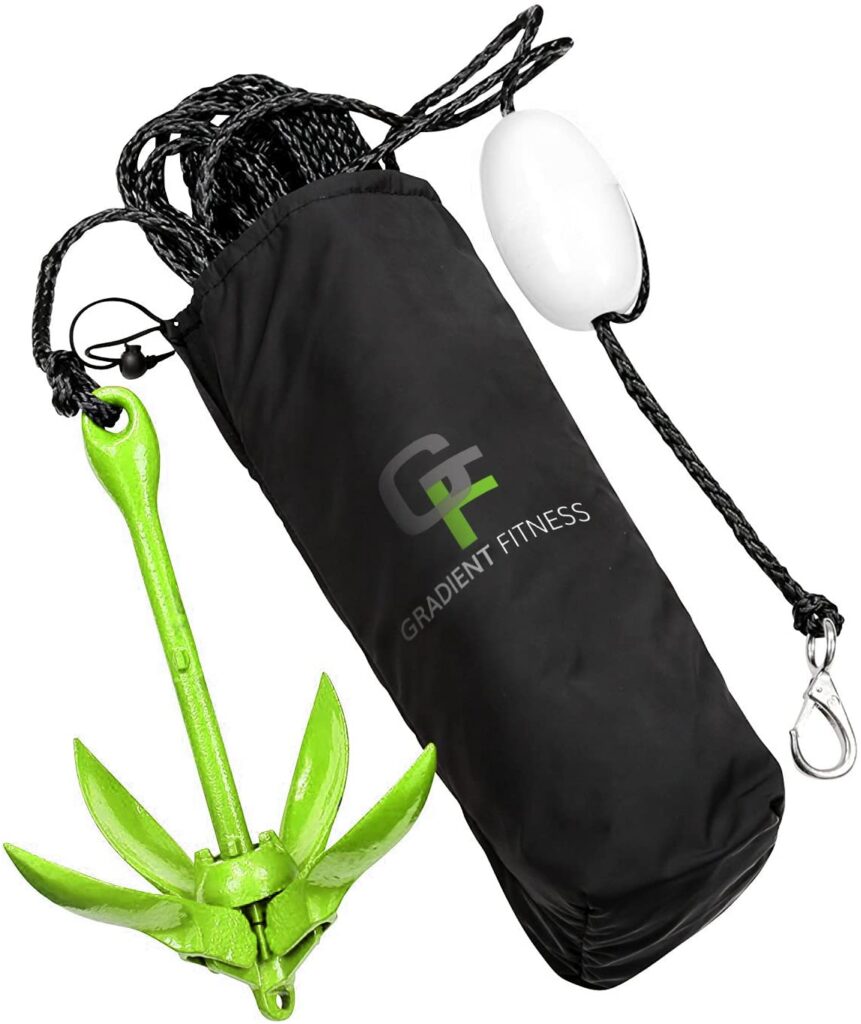 Getting a SUP anchor is the best way to relax in still water and practice yoga or fishing. Our pick today is a light and compact anchor that easily withstands harsh currents.
One of the best products here, especially for calmer conditions, is definitely the Gradient Fitness SUP anchor.
This 3.5-pound four-fluke foldable SUP anchor is lightweight and easy to transport. And you not only get a high-quality anchor which will stay on the ground no matter if it is rocky, scrawny, murky or rugged.
You furthermore get a cushioned drawstring travel bag, a 24 feet long maritime-quality line, a floating buoy and a stainless stell clasp hook for fast and easy couplings.
The anchor has been created for the great outdoors. And if you're dissatisfied, you still have a 90-days-money-back guarantee.
Cool Paddleboard T-Shirts and Hoodies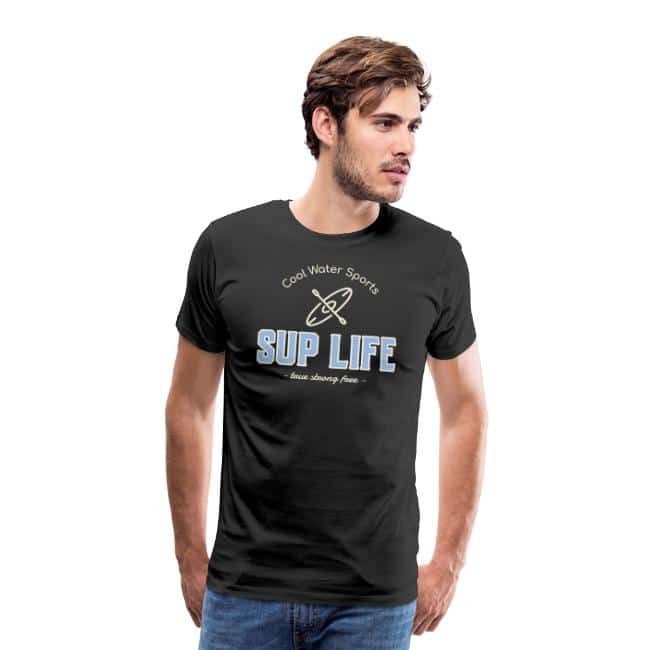 A good paddling outfit gives you more confidence and makes it easy to navigate through harsh currents. How about getting the stylish SUP hoodie sweatshirt or T-Shirt with a really unique design?
Besides going out on a SUP, Bodyboard or just spending time on a beach, we really love to design T-Shirts, Hoodies, Sweatshirts and much more – all centered around our beloved sports.
So if you look for an opportunity to support our work and additionally have a great surf look, visit our own store!
Do you know what's best?
You can even download all our SUP Designs and the use them on every print-on-demand platform of your personal preference! Just download the design, upload it on platforms like Redbubble, Spring or Spreadshirt and customize every item you want!
Carry Straps
Do you need a soft and durable paddle board shoulder pad that makes it easy to transport your board to the beach or car? If yes, there are recently updated SUP-NOW carrier straps made from 100% metal hardware.
It features a triple padded shoulder pad made from soft and durable NEOPRENE. In addition, the two Velcro straps are strong and meet industrial-strength standards. These two features are responsible for carrying the paddle weight on your shoulder.
Action Camera Holders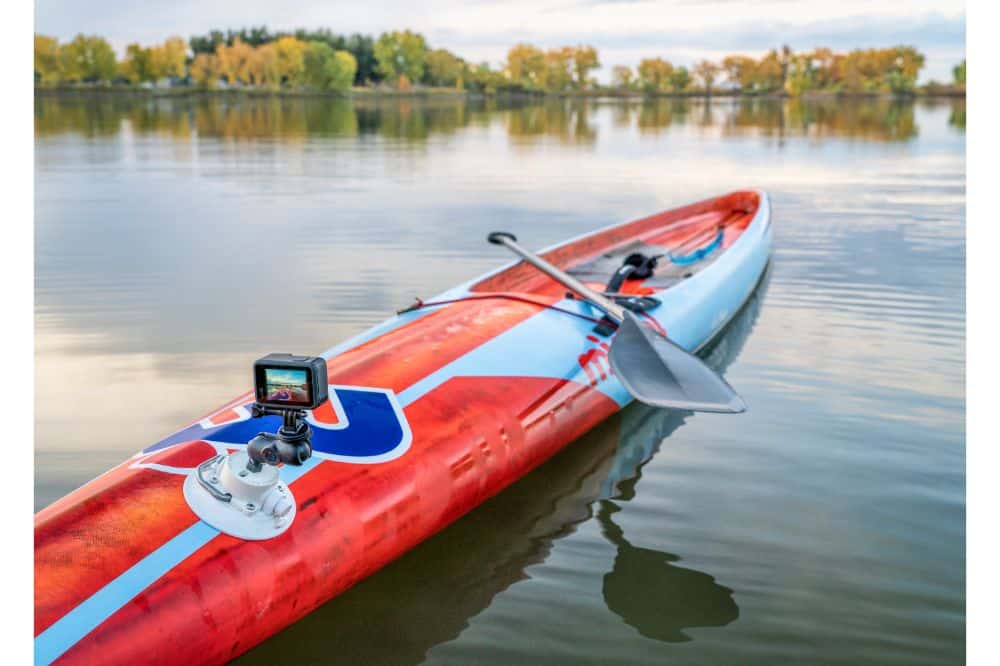 Most of us own cameras but how effective are they for our paddling adventures? Is there any better way to capture these memories with an action camera mounted on the board, totally hands-free?
The GoPro paddle board mount is the ideal suction device to secure your camera as you relax or cruise around. This mount is made from non-rust metal and features a standard M8 thread that is easy to attach. In addition, some boards have built-in lines to connect your camera action easily. There are a variety of different action camera mounts which you could consider as well as their ideal position. That's why there's a special article about the best Go Pro Camera Mounts to help you pick the ideal choice for you.  
If you lack the ideal camera for these adventures, try the GoPro Hero9 camera, which has automatic stabilizing functions, a digital lens, and other full waterproof features. In addition, this trusted action camera captures 12MP pictures, 1080p live streaming, and 4K video capture. For more in-depth information about the best Go Pros for SUP check out this article.
Paddle Board Motor Fin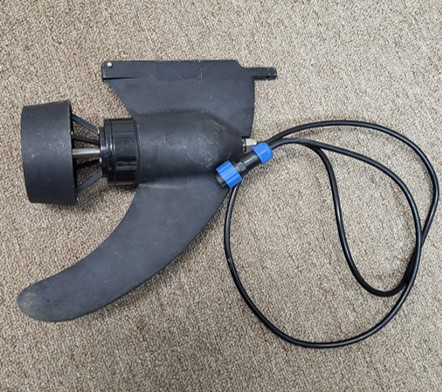 Getting a motor fin is one of the best ways if you want to go on longer tours with as little personal effort as possible. With a motor fin you can go around 5mph on your SUP without paddling yourself.
E.g. the Efin SUP motor fin works effectively on most inflatable boards using a standard fin box, furthermore you can have adapters for slide-in or flip lock fin boxes. Its construction is sturdy, durable and of course completely waterproof. The fin is powered by a battery which runs between 2 to 5 hours, depending on the speed you choose on your wireless remote. Finally it has a magnetic safety leash, which shuts down the motor if you once fall off your board.
Floating Sunglasses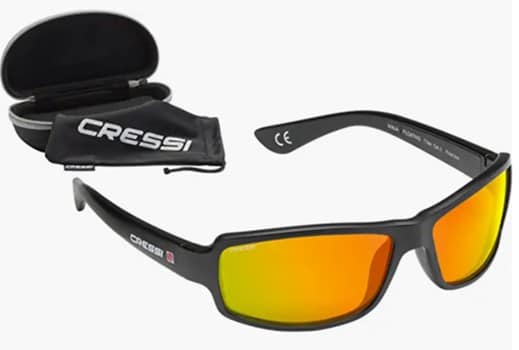 Stay stylish and protect your eyes during your paddling escapades by wearing these floating sunglasses. The Cressi Ninja sunglasses are featherweight, have medium keyhole style frames, and can float instantly. Furthermore, these buoyant glasses are designed to reduce glare.
The glasses have polarized hydro precise optics rates and are rated for 120 hours of continuous exposure and saltwater. In addition, there is no need to worry about your vision since the lenses protect against scratches, cracking, and fingerprints.
If you want to learn more about different models of floatable sunglasses, check out our Best of Sunglasses for SUP!
SUP Cart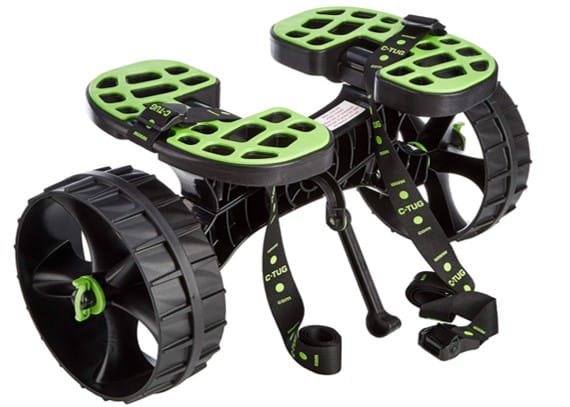 The easiest way to transport your heavy paddleboard to the most challenging terrains is by getting yourself a SUP cart that is built to last. The C-TUG cart has a rugged appeal and incredible strength to get the job done. It consists of non-corroding polymers and stainless steel reinforced axles.
You'll love how easy it is to assemble the board and the process requires no tools to get you going. It also dismantles in seconds and the paddle rests comfortably on the rubberized pads during transportation. This way, it is possible to maintain your paddle board's smooth and appealing finish.
SUP Electric Pump
There's no need to waste your valuable time and energy spending hours inflating your paddle board using hand pumps. An electric pump saves you time and energy, and there's no better option than the affordable Awesafe Compressor pump.
Thanks to the two-stage pump and the pressure selector with a digital valve, it takes just a minute to inflate your board. This pump fits easily and can also deflate your SUP in seconds.
Hey: it is definitely more stylish to inflate your board with the push of a button than doing it the old school way…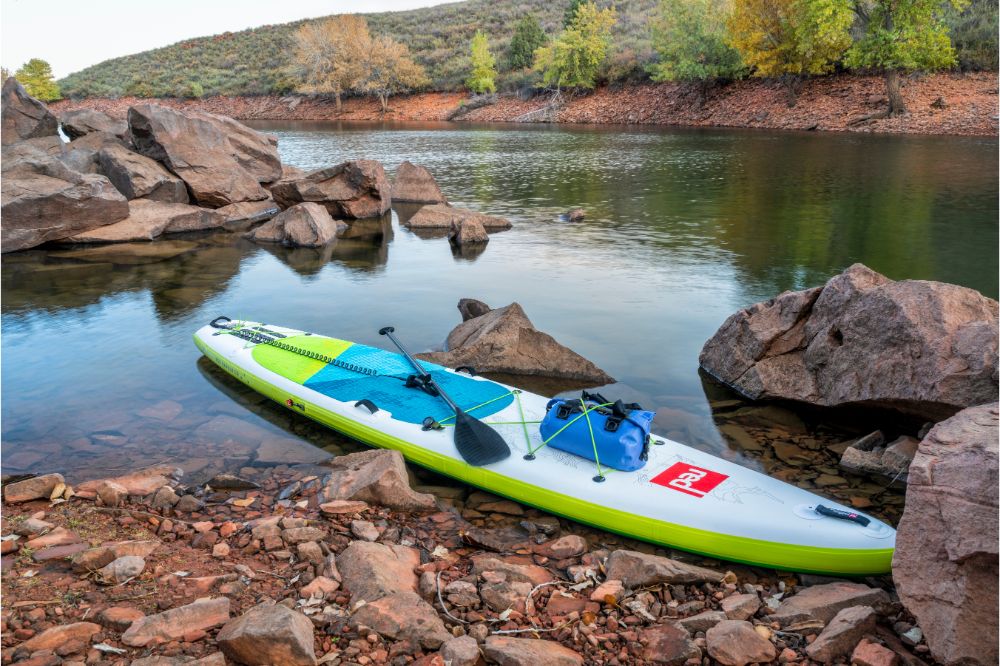 Water Filter Bottle
You don't have to worry about where your next drink will come from with the Katadyn water filter bottle.
This filter removes 99.99% of germs, bacteria, and heavy metals. It is a collapsible 1.0L flask that is compact and filters up to 1,000 liters of water. Furthermore, it has an EZ-clean membrane that is easy to clean and prevents back flushing.
Definitely a great accessory, especially for long SUP tours or SUP Camping.
Paddle Board Lock
Secure your paddle board anytime you take a break from the still water currents using the DockLocks lock. This product has a patented anti-theft security system that prevents anybody from stealing the board. It is easy to use the lock to secure the paddle board to any stationary object nearby.
Furthermore, it is made of weatherproof marine-grade stainless steel. You'll also love its versatile property that allows you to secure more than one board.
SUP Board Lights
Lighten up your paddle board with the LED navigation lights that make the experience appealing and functional. The four LED lights in this set for instance feature three lighting modes: flash, steady, and strobe.
These pieces are also weather-resistant, making them ideal for any adventure. It is also easy to install them using a practical screwdriver.
Waterproof Phone Cases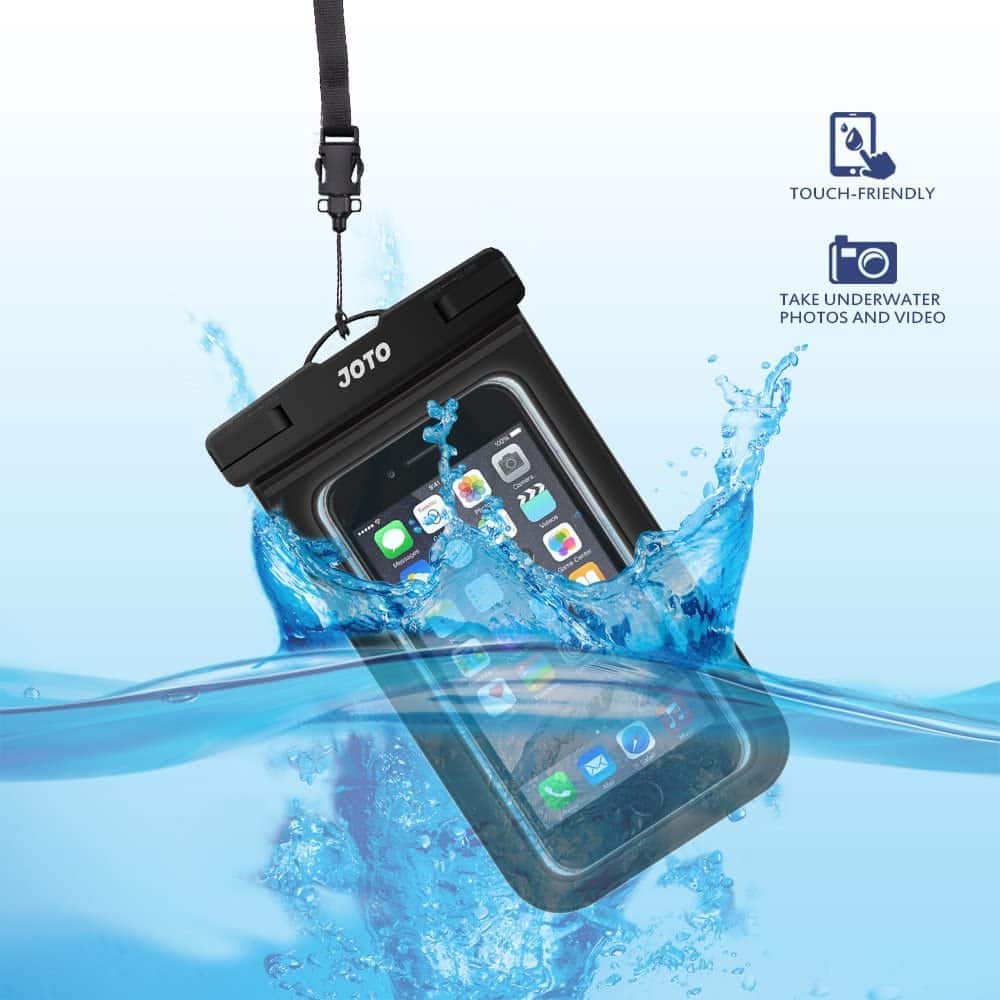 The Migeec waterproof phone case keeps your mobile phone dry and functional during your paddling sessions so that you never miss an opportunity to take some cool pictures and post them right on the spot. This case is IPX8 certified, keeps your phone safe up to 30m underwater, and is easy to open and close.
It is a multifunctional case since it has clear front and back windows that make it easy to receive calls and take videos. In addition, this waterproof case is compatible with phones up to 6.9 inches.
Drybags and Dryback Rucksack
A dry bag is an ideal accessory that keeps your clothes and belongings safe and dry from the water currents. The perfect dry bag is waterproof and durable. The HEETA dry bag is made from thick, wear-resistant material, making it easy to adapt to all environments.
This product also features adjustable shoulder straps to make it convenient to transport your essentials. It is also transparent, making it easy to find items. In addition, there are various sizes and colors to choose from.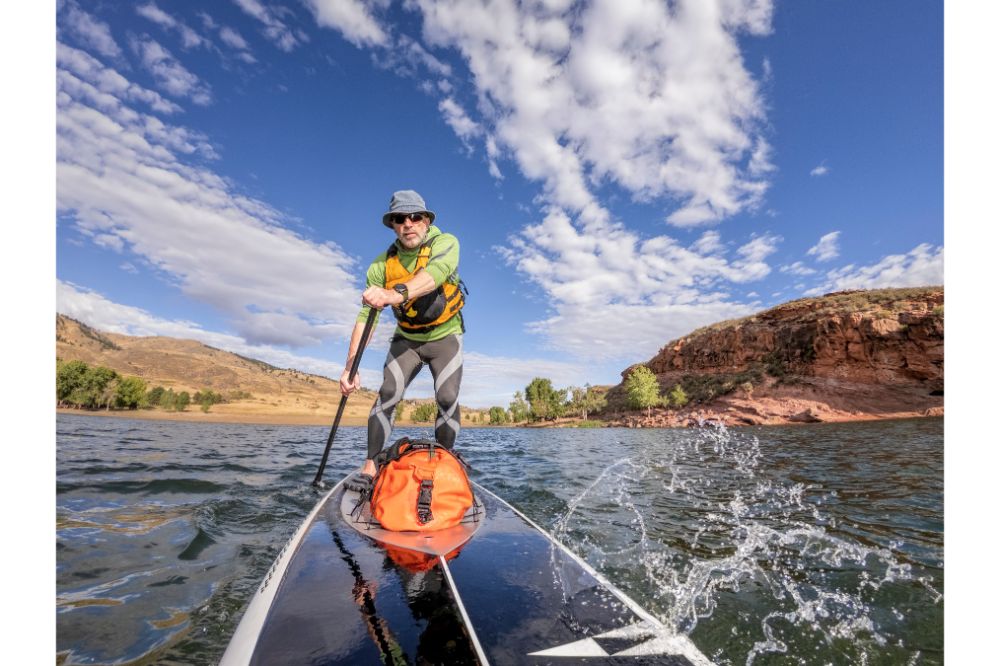 SUP route planners
The importance of planning your paddling routes cannot be overstated especially when you paddle in a new area. And there is no better way to do that than through the My Route Planner app. This application makes it easy to find real-time directions on the navigation course with a few clicks.
Furthermore, voice and real-time alerts help you plan a day before and reach your desired destination. Use this app to plan your routes and identify exciting spots to try.
Floating Marine Binoculars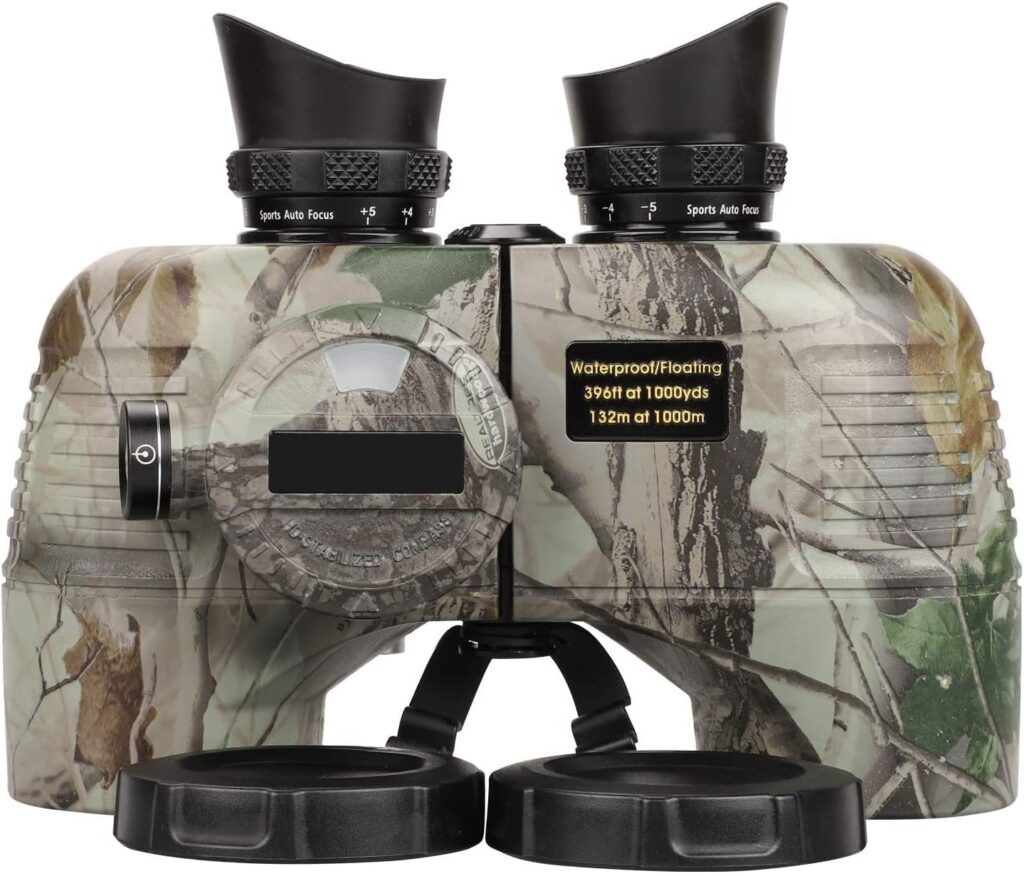 Never miss out on any exciting activity during your adventures with the marine-grade Hooway binoculars. This SUP accessory has a 7x magnification and 50mm objective lens that is bright and clear. In addition, it is completely waterproof and floats on water.
Thanks to the Porro prism system, you'll love how these binoculars provide clear vision in foggy conditions. This system offers a wide field of view and produces bright and crisp images.
There are many other unique features, such as the non-slip rubber armor that absorbs shock and promotes a firm grip. In addition, there is a tripod adapter fitting that makes mounting easy and increases stability.
SUP Wind Sail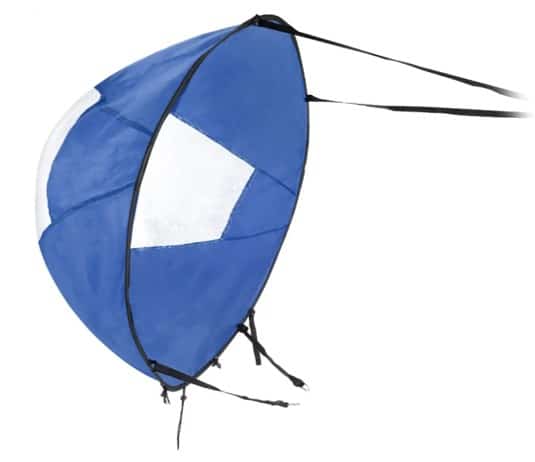 The SUP wind sail is a great little sail to move you along on a day's steady breeze (and if you're not a fan of a motorized fin). Dyna-Living is a quality wind sail made from solid polyester taffeta that makes it sturdy and durable.
The wind sail features a wide viewing angle and a clear window that allows you to view the items behind the paddle. This accessory is easy to use and its compact design makes it the ideal addition to any paddle board.
This sail offers protection from the sun by weakening strong ultraviolet radiations. Its compact and lightweight properties make it easy to store. Furthermore, its foldable nature makes it versatile. There are metal carabiners that secure the sail to the paddleboard. The SUP Foil Sail is the more sporty version, which not primarily shall saves your energy, but provides fun by adding another "Challenge" to one's paddle routine.
SUP Wing Sail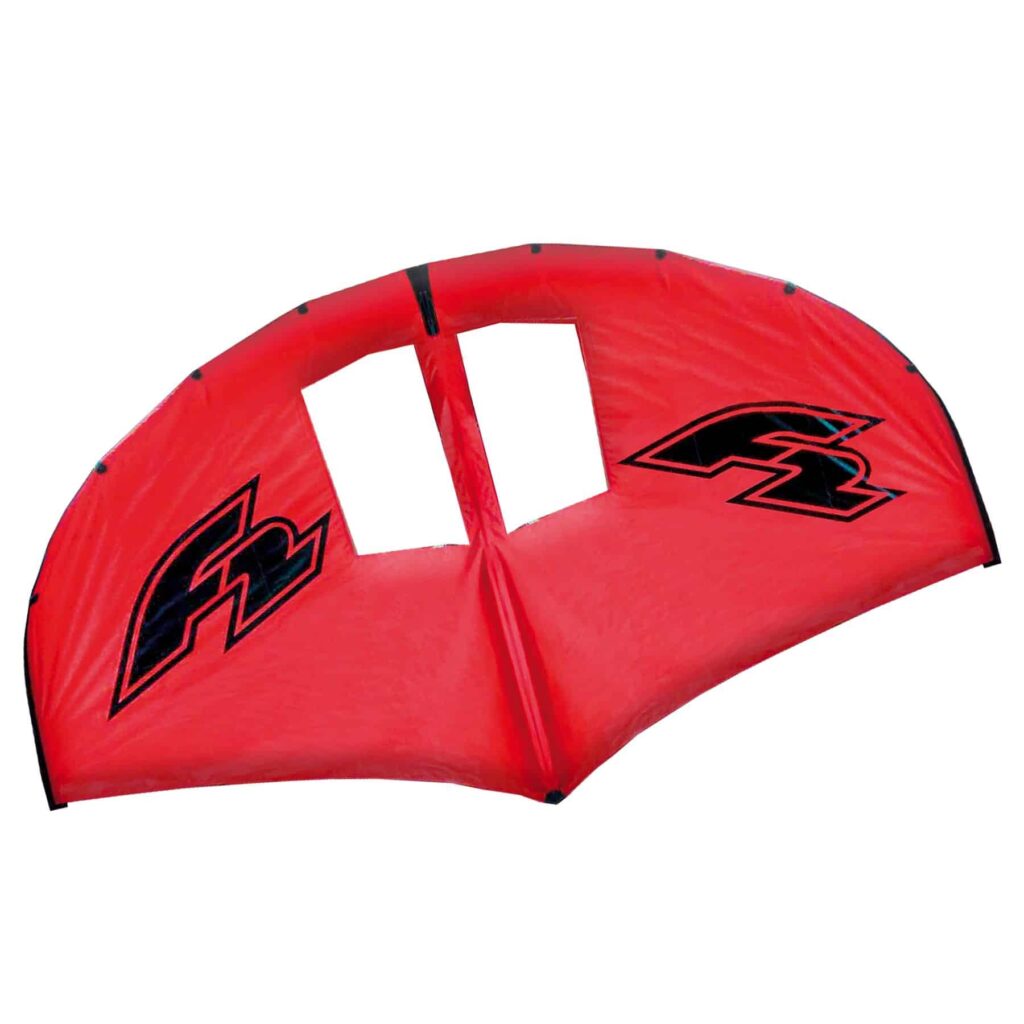 Have you ever had the situation that you were on the beach, ready for a nice tour with your SUP and then the wind picked up and got too strong?
If yes, you know that this can be a little frustrating. But there is a cool solution for situations like this: take a SUP Wing with you!
The first steps on a SUP with a Wing Sail are astonishingly easy: just stand on the Board and hold the wing in front of you and the wind will start to carry you away.
By the way: starting out with a Wing Sail on a Stand Up Paddle Board is just perfect if you one plan to go into SUP Foiling, which is the latest trend within the Stand Up Paddle Community.
So get yourself ready!
SUP Windsurf Sail with adapter
A great way to increase the versatility of your board is by using it also as a light-wind Windsurf Board. That way, you can decide right on the spot if you wanna paddle or if you want to enjoy an easy light-wind session.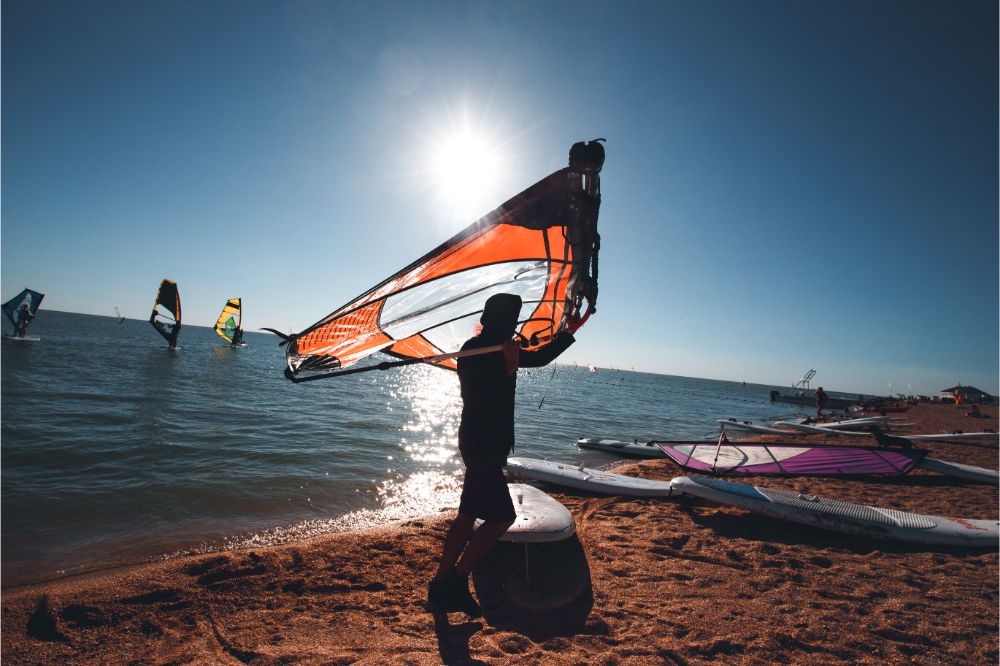 The SUP windsurfing package is an excellent choice for beginners because of its versatility, and durability, and gives you lots of options. This inflatable SUP windsurfing sail is lightweight and compatible with most boards. In addition, its compact and lightweight nature makes it possible to collapse and fit in your small bag.
This sail has an adapter that makes it easy to install and enjoy navigating the cool lake breeze. Once you secure this sail on your paddle, it generates a firm grip and stays put for the whole ride. In addition, it is weather-resistant making it the right companion for any setting.
But remember that no paddle board will ever reach the performance of a real Windsurf board. Also, you have to consider that there are essential paddle board features to take note of if you wish to use it as a WindSUP.
Conclusion
Paddling is a fantastic experience that can be enjoyed by the whole family and it can be more fun if you include some of those functional or just funny and stylish accessories. Above are some necessary and cool paddling accessories that will transform your every trip to your favorite trail.
Apart from their appealing property, most of these options are functional and practical.
So, get yourself these items to upgrade your paddle board.