There's nothing like getting out into the great outdoors and enjoying some time on the water. There are many great activities to do on the water, but one of the most fun is stand-up paddle boarding. There is a wide range of different styles of stand-up paddle boarding, including downwind paddle boarding.
Here we want to dive in more deeply into Downwind Paddle Boarding and show you everything you should consider when you think about starting with this cool type of Paddleboarding.
So without further ado – let's get started!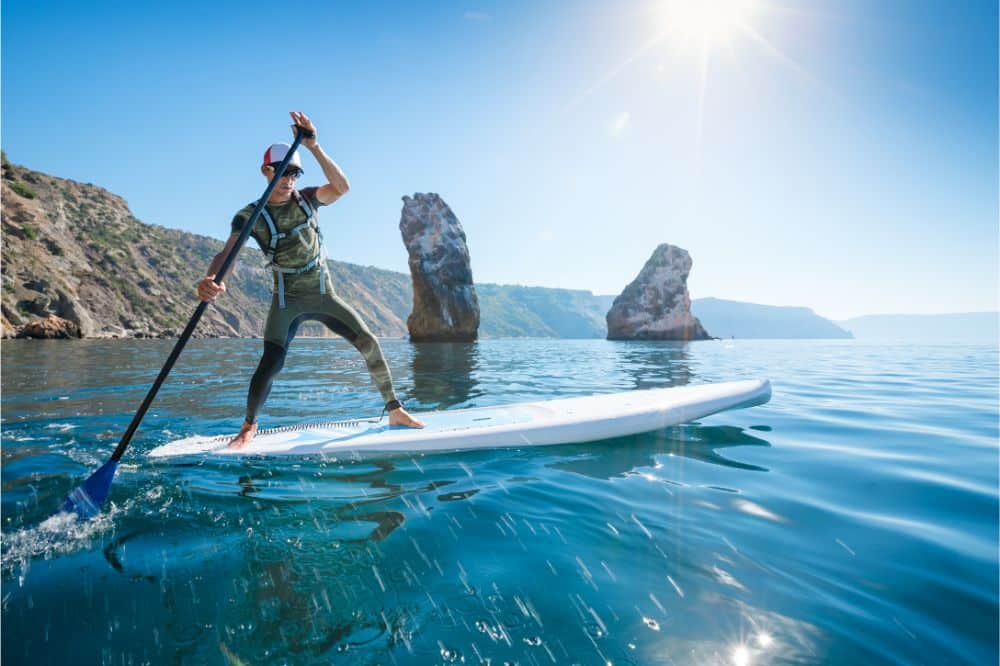 This type of paddle boarding utilizes strong winds and swells to allow the paddleboarder to move from one place to another. In other words, when down winding, you will be utilizing the wind and the waves to ride the surf. So it's kind of a long-distance surfing board combined with a stand up paddle board.
Unlike simple paddle boarding, this type requires more experience and fitness. Along with this, anyone looking to downwind needs to be really up to date on what's going on with the weather and the currents of the area they're looking to surf. The knowledge needed also includes having a good understanding of proper places to start and land.
When it comes to down winding, the gear is also very important. Though you don't need a special board for down winding, there are boards that are better designed to give you a better experience. And as always, if you're really into it you should think about buying a specialized downwind board, as it is purely optimized to give you the best experience possible.
Most downwind SUPs are designed with a long, narrow body and have plenty of rockers. Rockers are the upward curvature that is found at the end of the board. That means there is both a tail and nose rocker. The rocker is important for downwinding because it helps the board keep from diving underwater, giving the user the ability to have better control and speed.
Downwind paddle boarding can be a fun way to spend the day, especially if you have more experience as a paddle boarder. But before you get out there on the water, we wanted to take a deep dive into downward SUP and all the knowledge you need to help you be successful with your new foray into down winding.
What is a Downwind Paddle Board?
In a nutshell, a downwind SUP is designed to incorporate aspects of a race board and a wave stand-up paddle board. This is so that the paddle boarder can get as much as possible from the swells at high speeds.
Certain features should be present when looking at the basic design of a downwind paddle board. There are definite similarities; though every board may have a different design, the core ideas will remain the same. Downwind paddle boards tend to have a longer and narrower outer deck build. The longer board helps improve the tracking capability of the boarder when flying across the water. They are between 12' to 18' long, whereas the most common length is about 14'.
But unlike other types of SUP, a downwind paddle board will have a more prominent scooped bow, so that they do not get stuck in the waves. In other words, it'll be designed with a curved rocker nose. This allows for better maneuverability and not get their nose stuck between waves.
Those looking at "real" Downwind Boards are investing in a specialized model unlike simply choosing a board from the wide range of other types of SUP boards.  This type of paddle board is typically only used on the ocean and requires a bit of experience. Also, unlike some other types of SUPs, the boards are not designed to carry things.
There is a plethora of options even amongst those that are created for downwinding. There are options that have a much less drastic shape that are not only good for downwinding but also for touring as well. That being said there are those that are also solely designed for downwinding (these may be often marketed as "coastrunners"). 
Coastrunners are created to maximize the boards performance in the key features for downwinding. That means if you're someone who only is looking for a SUP to download it might be advantageous to choose a "coastrunner" preferably crafted in a lightweight carbon.
For downwinding, you should choose some amazing carbon accessories like the WOOWAVE Floating Paddle Board Paddle. (If you'd also like more suggestions on the best SUP paddle, check out this article.)
Some Downwind Paddle Boards to consider…
There are many great models out there that you can choose from if you are looking to downwind. But there are always options out there that stand out among the crowd. We thought we'd give you a few suggestions that might set you up for success in your new excursion.
Though there are many options, as we said above, paddle boards offer a wide range of features and come in different styles, including inflatable, giving new paddle boarders a good amount of choices.
There are a lot of options out there but for those downwinders that are just starting out, we have chosen a couple of great options. These models will not only get the beginning rider what they need but are versatile. We have also chosen two coastrunners boards that are perfect for those looking to stick to downwinding and nothing else.
Capital Sports Downwind Cruiser
This model is an inflatable paddle board that comes with a complete set to get you started on your downwinding adventures. This means it has a paddle, leash, backpack, and a pump with the board.
The board is designed utilizing high-quality aluminum and has a weight capacity of 210 pounds. It is a cruiser shape and is crafted with a high-quality PVC high-pressure chamber and vertical sound mesh for improved balance and buoyancy. The cruiser shape of the design allows for good speed and maneuverability.
This model is a great choice for anyone that is a novice when it comes to downwinding but is looking for a board that is a standard SUP design too. 
This is another inflatable paddle board that is crafted in a touring/race design. The board is crafted using a high-density laminated PVC, and an internal pro weave dropped stitch. The unit can hold up to 28 PSI and gives a stable and rigid SUP that is perfect for downwinding.
This bluefin SUP is crafted with an angled nose. One of the things we really like about this model is that it is designed with recycled materials, which means it is eco-friendly.
This is yet another great option for those out there just starting out in downwinding. Not only can you use this model for that bit also for touring as well.
This is a great choice if you're looking for a super stiff, lightweight, inflatable option for downwinding. It is crafted with lightweight material and a narrow deck for better maneuverability and speed.
The deck has fusion skin, and its overall weight capacity is 240 pounds. It utilizes a single US fin box design which allows for good maneuverability.
This is a great board that has a lot of features optimized for the downwinding experience.
This series of stand-up paddle boards are specifically crafted for open ocean stand-up paddle boarding as well as downwinding. It is crafted with high-quality rockers and rails for improved downwind capability. These stand-up paddle boards' noses utilize a rounded planning shape and have excellent surface texture displacement and glide.
Due to the full rails, the board also offers superior stability and maneuverability. All of this is why we think it is an excellent option for investing in a downwind SUP.
For someone looking for an awesome board that works well with downwinding this is a great investment. Unlike many of the other options, this board is not inflatable but rather a hard board which gives a completely different riding experience.
Downwind Paddle Board FAQs
Even though we've talked about what exactly downwinding is, what makes a good downwind board, and given you a few options, we know there are still a bunch of questions. So we thought we'd take a look at several of them in hopes it could help you with your decision-making process.
Is an inflatable board feasible for this type of paddle boarding?
When it comes to down winding, utilizing an inflatable board is most definitely possible. It is, of course, always suggested to use a hardboard rather than an inflatable because of stability and maneuverability. However, inflatable boards specifically designed for this type of boarding offer a wealth of great features, but cannot reach the level of performance in the waves as hardboards do.
Inflatable boards have perks, though, as the board's flexibility makes it far simpler to stick and follow the curve of waves. If you are looking for something that uses less use of a paddle then finding a board that lacks hard rails is not a good idea. Not having these features will mean you're going to end up steering more often with a paddle than other methods.
Can I use a downwind paddle board only for down winding?
A downwind board is not solely for downwinding. You can also use it as a racing or touring option, or even some leisure touring depending on the shape and your paddling experience. No matter what, if you're utilizing this type of paddle board, you will want to have a wealth of experience to understand core skills like navigation and maneuverability. Downwinding SUP boards are less stable than all-around boards and much harder to maneuver (especially the longer and slimmer versions), so you have to have a specific skill level to use a downwind board efficiently.
Who should invest in a downwind SUP board? This sentence is not correct…
The answer to that question is not as simple as one might think. You might think that anyone wanting to downwind should invest and though that might be the case there are some that will benefit more from the investment. This is because these types of boards due to their design require some more skills when it comes to paddling than others. Also, if you're looking for something you can enjoy other SUP activities with like touring you may want to invest in a more versatile board.
Investing in a downwind board is really only suggestable for the most part if you are looking to solely concentrate on that aspect of the sport. This may mean you want to check out the SIC or Bump Rider we looked at above. But overall if you want to invest in a good board for downwinding we suggest going more for a "coastrunner" especially if you live in a place with good swells. Also make sure you invest in high quality accessories like a carbon paddle and always stay safe. 
Downwind SUP Boards: Conclusion
When it comes to downwind stand-up paddle boards, are similar to race boards but utilize features from other forms of boards to improve their performance. If you're looking to get into down winding, you have to understand it is a challenging activity and needs experience. On top of that, investing your hard-earned money in some of these boards can be a big investment.
That means you want to ensure that you are experienced and able to handle the board, that there are swells close to you regularly, and that you are devoted to learning this new form of paddle boarding. We hope that our look at downwind SUP boards has helped you decide if this is the right sport for you, and if it is, it has helped you determine which board is a good fit for you.