Choosing the best clothes for your skiing trip can be tricky. Do you choose tight garments, thick clothing, or layers as the best option? It can be difficult to look stylish while skiing, but knowing how to layer your skiing clothes correctly is key for comfort as well as style.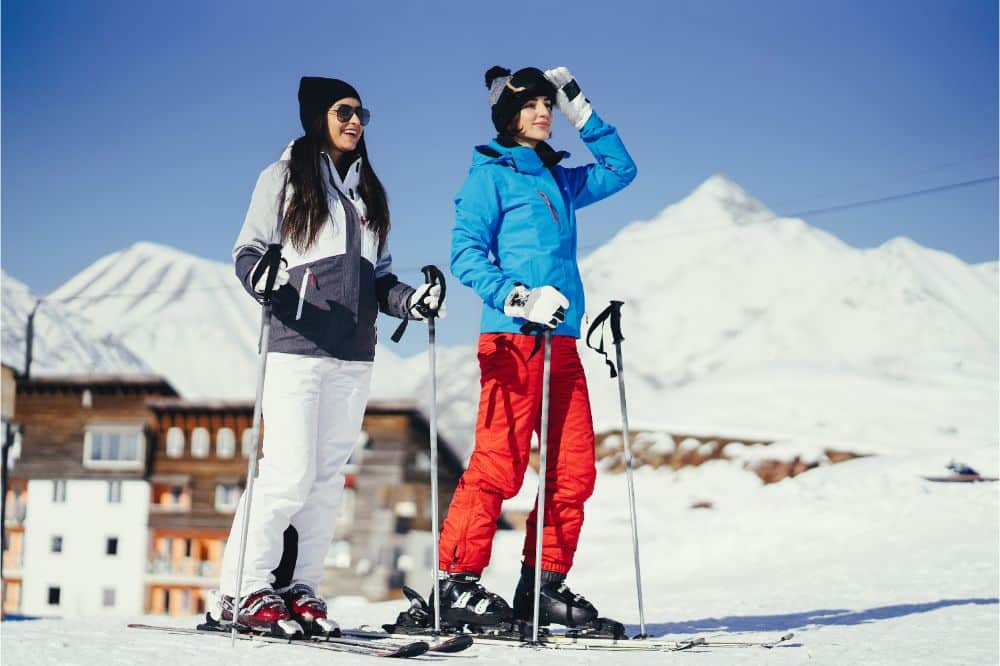 We've compiled a list of FAQs that often come up for those planning a ski trip, helping you choose the most comfortable, safe option in clothing and other ski gear.
Here are our top six FAQs about ski pants and other clothing designed for skiing.
Question 1: Should I wear something under my ski pants?
Answer:
This is a very common question; it is also a very important one. The answer is, Yes! You should most definitely wear something under your ski pants. Layering your clothing is best when skiing, and your outfit should consist of at least three layers to keep you warm and comfortable when on the slopes.
These layers are:
A base layer that consists of thermal or specially designed skiing underwear. Thermal underwear will help you retain your body heat without overheating or sweating. The best thermal underwear is made from wool and polyester, which is breathable but will keep the chill off your skin (insert according external links)[1] . Sweating can lead to you catching a chill, which could lead to hypothermia or other cold-weather health conditions.
A mid-layer consisting of a fleece top and warm pants. Jeans are not recommended as they are too tight and bulky. A good, fleece-lined pair of leggings will do well for skiing in any condition. Gloves, too, should be well fitting. Try on various pairs until you find the best fit that will not restrict your movement but are not so baggy as to prevent you from holding your ski poles.
A top layer of a thick skiing jacket, gloves, beanie, and sunglasses. Ski jackets are usually made using wool or down to keep you warm without sweating and should be wind-tight and waterproof. Ensure that your ski jacket is well-fitting, can zip closed, has a hood, and is thick enough to keep the chill at bay.
Question 2: Why do ski pants have zippers all the way up?
Answer:
The zippers on ski pants are designed to act as vents and ensure that there is sufficient airflow circulating through your pants. While it is essential to keep warm, you should not sweat while skiing as this can cause you to freeze. The zippers on ski pants allow you to open them as needed to regulate your body temperature when you are skiing.
Ski pants also have a mesh lining on their interior, which is ideal for comfort and regulating your temperature. The mesh lining will also prevent snow from getting into your pants while keeping you cool and dry.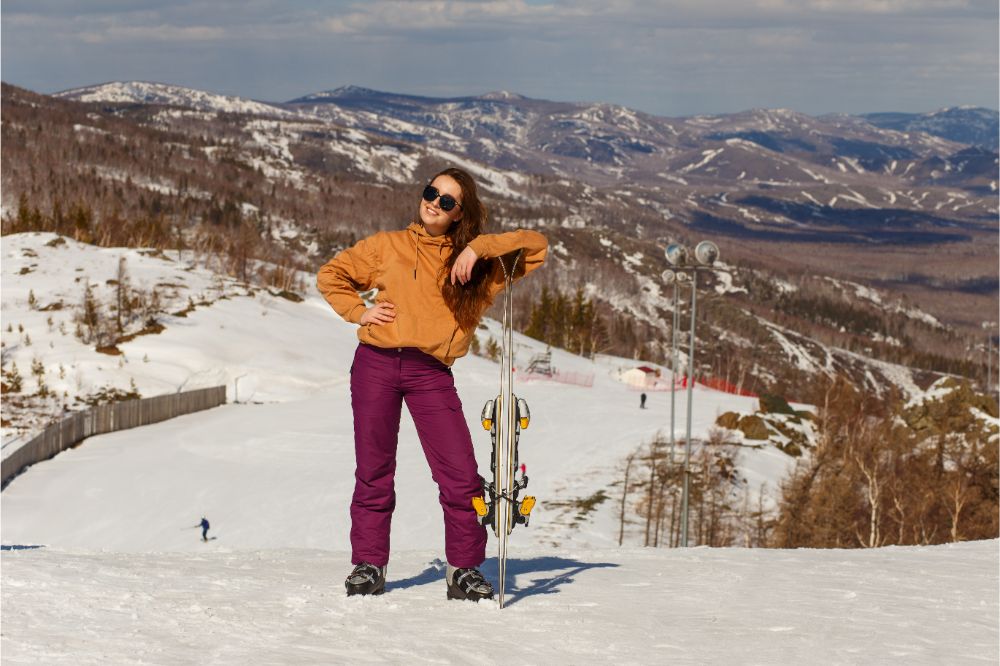 Question 3: Should I tuck my pants into my ski boots?
Answer:
This is a big no-no. Ski pants should never be tucked into your ski boots and are best worn over your boots. Tucking your pants into your boots can result in bruises, and you might just get that cold snow in your boots.
While we're on the topic of ski boots, it is also extremely important to ensure that you are wearing the correct socks for skiing. Choose a breathable fabric like wool or polyester that will keep your feet warm and dry while protecting you from blisters, sweat build-up, and even hypothermia. Carry an extra pair of socks in your backpack and change them if they get wet or damp.
It's better to only wear one pair of socks, because when you wear two, the socks may rub against your skin and cause blisters. However, to ensure you don't get snow or moisture on your feet, the boots have to be well-fitting. They shouldn't be too tight or too loose. Your toes should just touch the front of the boot when you stand up straight. If you don't touch the front, the boots are too large.
Question 4: Are jeans OK for skiing?
Answer:
This is another no-no. Ski pants are made using breathable fabrics that help keep you warm and dry. Jeans will get wet and cling to your skin, causing you to sweat profusely. This will cause you to get very cold. Furthermore, as jeans are not wind-tight, you will be very cold, even on warmer days of skiing. If you're not aware of the dangers of sweat while skiing, it is important to know that sweating can cause you to get cold and possibly suffer from hypothermia.
Choose ski pants made from a breathable, waterproof fabric, and ensure that they have vents and a mesh lining to keep the snow off your clothes and skin. Apart from the sweating factor of jeans, they are also not the most comfortable pants option for skiing and will make maneuvering rather tricky.
Question 5: Can you ski in just leggings?
Answer:
This is another firm no. Leggings might be comfortable and keep you warm if they are lined with fleece, but they will do nothing to keep you dry and protected from the snow. Leggings can be used as the base layer, but as we mentioned in question 1, you need to layer your clothing when skiing, and this should always consist of a base layer of thermal or skiing leggings or pants.
Choose breathable, warm fabrics that will help keep sweat off your skin, and wear ski pants to keep your leggings dry. These include wool, merino wool, polyester, or even elastane. You can purchase thermal leggings or underwear from most large retail or sports stores worldwide.
Question 6: Is it better to have tight or loose ski pants?
Answer:
Loose ski pants trump tight ski pants any day. While they might not look that flattering, loose ski pants allow you to layer your clothing underneath, ensuring that you are warm and dry. Tight ski pants might inhibit your movements, causing you to have less range of motion or maneuverability on those tricky slopes.
Ski pants should fit well on the waist to prevent them from slipping off or shifting while skiing but loose on the thighs and legs for extra comfort. If you are having some trouble finding the right size, a store assistant should be able to help you find the best fit.
Conclusion
If you're having difficulty choosing the best clothing for your ski trip, the handy FAQs above will help you know what to do and what to avoid when dressing for your skiing escapade. From how to wear your pants to the best fabrics for your base layer, our guide has got you covered and will keep you warm, comfortable, and protected while out on the slopes.
---