If you're looking for the best all-around skis with which you can ride some nice powder and have a lot of fun on groomed slopes too, all-mountain skis are your perfect choice.
The answer to the question if All-Mountain Skis are good for Freeriding is therefore clearly: Yes! Modern all-mountain skis are wide enough to be used for freeriding and have just the right amount of raise or uplift needed for that powdery snow, but still allow you to make some stylish carving turns on piste.
If you want to learn some more details why All-Mountain skis are good for powder skiing, what options you have amongst the All-Mountain skis but also what their limitation on- and off-piste are: read on!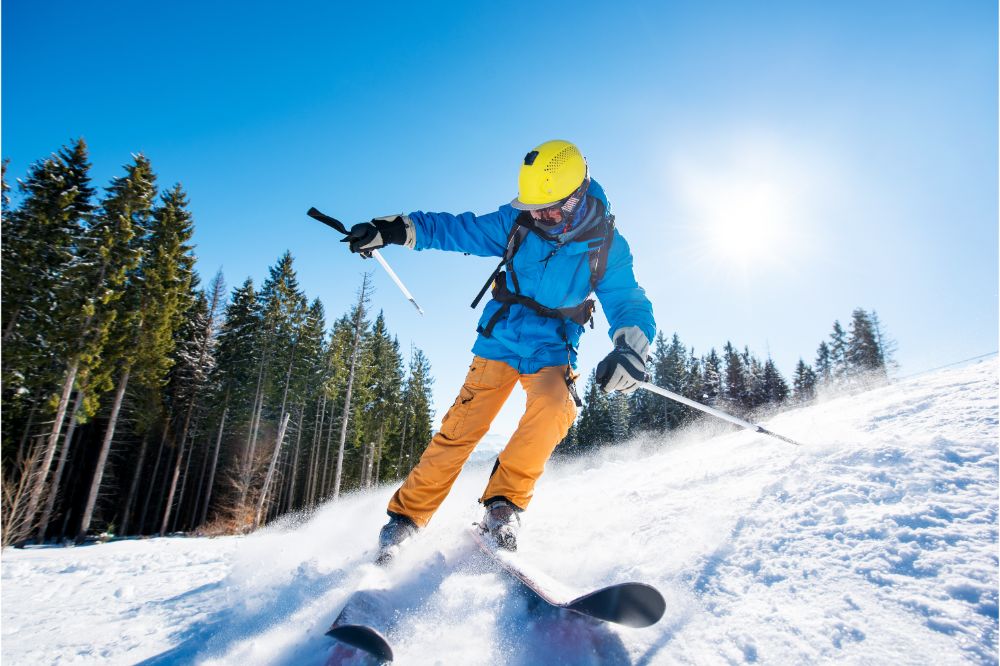 Let's take a more in-depth look at all-mountain skis and see why they are a great choice for freeride or powder skiing.
What are All-Mountain Skis?
All-mountain skis are great for, as their name indicates, skiing in any condition. From powder snow to those larger slopes, all-mountain skis are designed to be used with ease as they have a shape (relatively wide under the binding), flex (stiffer than powder skis, but less stiff than normal skis), and a turning radius which allow them to work smoothly on all different snow conditions.
The first all-mountain skis rose to popularity in the late 1990s and early 2000s (who doesn't remember the legendary Rossignol Bandit). Compared to those early all-round models, skis nowadays are wider (80mm – 95mm width under the binding) and have a shorter turning radius (approximately 15m – 22m), a development which is similar for all skis. A detailed definition and comparison to pure powder skis can be found here.

Some of the most popular products are the Rossignol Forza (best choice if you ride more on piste than off-piste), the more powder skiing focused Rossignol Sender or Salomon QST, and the great "in-between" model, the Völkl Kendo 88
When choosing all-mountain skis, it is important to consider the following factors.


Skier's skill level
Your skiing skill level determines the length of the skis you choose. Beginners should choose skis that come up no higher than chin height, while more advanced skiers will choose the length of skis according to the type of skiing they will be doing and the type of snow they will be skiing in. More information about how to exactly find the best length can be found in this article.
Type of snow conditions or type of skiing
There is a big difference between off-piste and piste skiing. Choosing skis for a particular type of skiing is necessary. However, the best solution if you want to do both without having multiple pairs of skis are All-mountain skis, as they provide the needed versatility.
However, the more experienced and skilled you are, the less important it is to always have the perfect type of ski. As a powder ski beginner, however, you will be surprised at how much easier you'll learn to ride on fluffy snow if you have a ski with a width of 85mm or more under your feet.
Construction of the skis
The construction of the skis determines both the quality and durability of the skis, depending on your budget. A wood or composite ski is both durable and versatile and is a budget-friendly option for skiing.
You can check out this great article on how to choose your skis based on the above factors to ensure the perfect fit.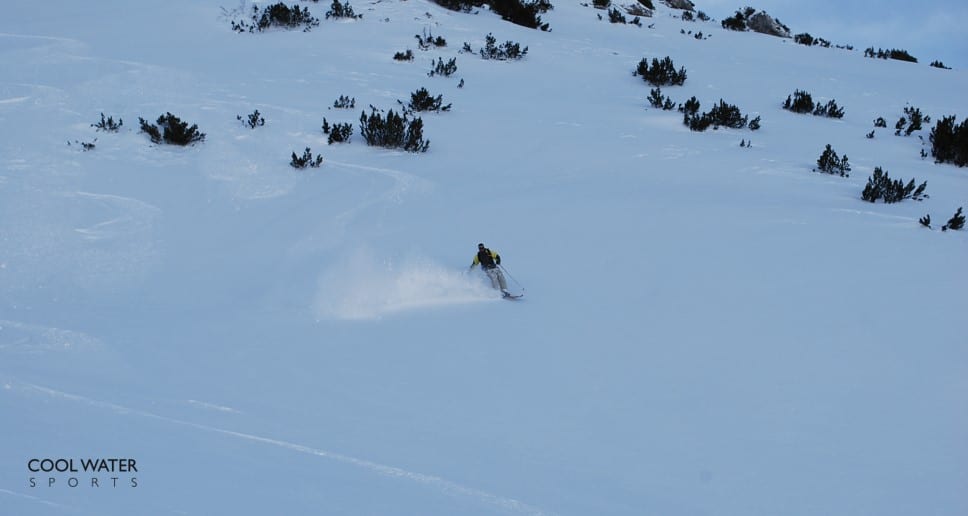 Why All-Mountain Skis are the Best for Freeride and Powder Skiing for most skiers
All-mountain skis are available for all skill levels and allow for even the most beginner skiers to enjoy their skiing trip both on and off-piste skiing. There are many pros to choosing all-mountain skis.
Here are just a few great reasons why you should consider all-mountain skis for your next powder skiing trip.
#1: Shape
Modern all-mountain skis have a wider shape that helps provide you with great uplift or raise for skiing in powder. Still, they have been adapted and redesigned over the years to create a ski which also provides a high or good level of control on hard and even icy snow.
The radius of the all-mountain ski is ideal for long, fast turns in powder and makes for easy maneuverability and some nice, medium range carving turns on a wide slope.
#2: Versatility
All-mountain skis can be fitted with normal or touring bindings. Thanks to the improvements made in the quality of touring bindings, you'll have a ski which is great for a day on the slopes or a freeride including a short hike. Versatility is key when choosing skis, and all-mountain skis are among the most versatile types of skis available on the market.
#3: Cost-Effectiveness
Quality All-Mountain skis aren't the cheapest skis, but if you plan to do various types of skiing, their advantage is that you can do everything with a single pair. Why spend money on more than one set of skis when you can use all-mountain skis? Unless you're a pro and need the best performance based on the snow conditions, all-mountain skis will do a good job.
#4: Twin Tips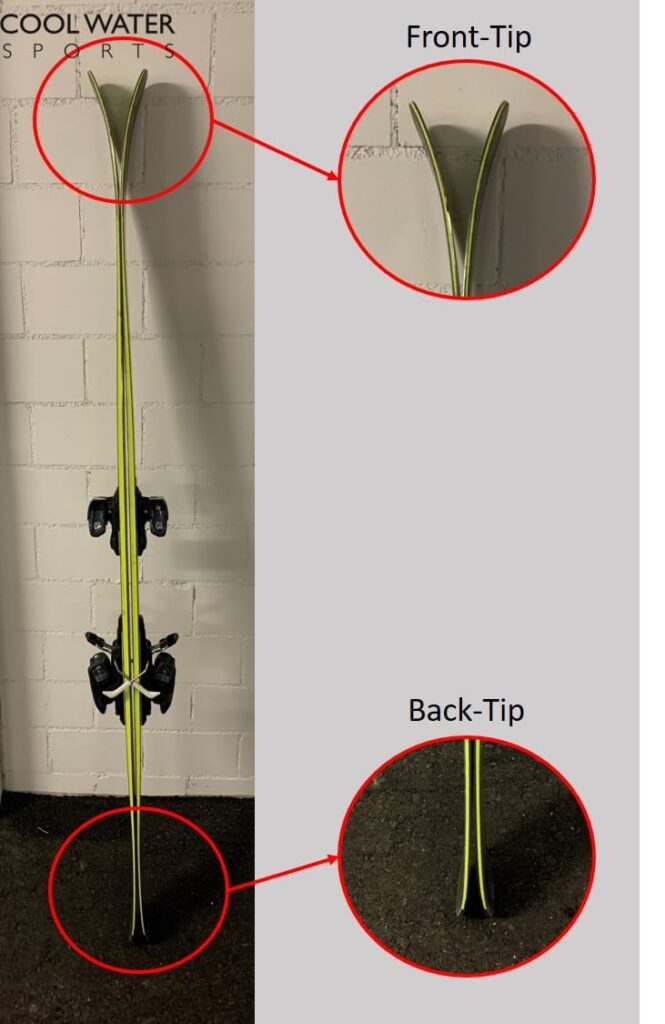 All-mountain skis with twin tips are available for those skiers who want to do a few over-kicks in the powder or on the slopes.
Twin tips or the back tip, respectively, give you that spray when making fast, quick turns in the deep snow. For some, the thrill of the spray is just as important as the skiing experience, making all-mountain skis a valuable and stylish choice.
These are, of course, only a few reasons why you should consider a set of all-mountain skis for your next skiing trip. Remember to keep the factors we listed above in mind when choosing your all-mountain skis to ensure that you are buying skis that fit you comfortably and will make for safe yet fun skiing on powder or the slopes.
There's Always a But…
While we have listed a few of the great reasons you should consider all-mountain skis, it's important to mention they won't have the same performance as skis designed for powder or freeride skiing. They also won't allow you to make razor-sharp turns on a hard slope like a carving skis will.
However, they are definitely a good choice for beginners and will make experienced and high-level skiers happy on 9 out of 10 skiing days.
Conclusion
All-mountain skis are among the most versatile types of skis and can be used by skiers of any skill level. Thanks to their shape and construction, especially the wider versions, they work super-well in powder snow.
If you're looking for a great set of all-around skis, all-mountain skis are your best bet and can be used for freeride, powder, and both on- and off-piste skiing.
Maybe you are looking for even more detail about how to decide which type of ski best suits your needs – then check out this article. Finally, an important topic: remember, that if you plan to go freeriding, you have, besides the skis, the basic freeride equipment with you and that you always plan a freeride tour properly.