Combining the ability to fly through the sky and riding those swells might sound appealing to many people with a little adrenaline addiction. The good news is that a foil stand-up paddle boarding is just that! 
In the spring of 2016, the first footage of a downwind SUP foil board was taken. Kai Lenny was filmed executing this ride. It didn't take long for people to catch on and for it to become a major interest for many.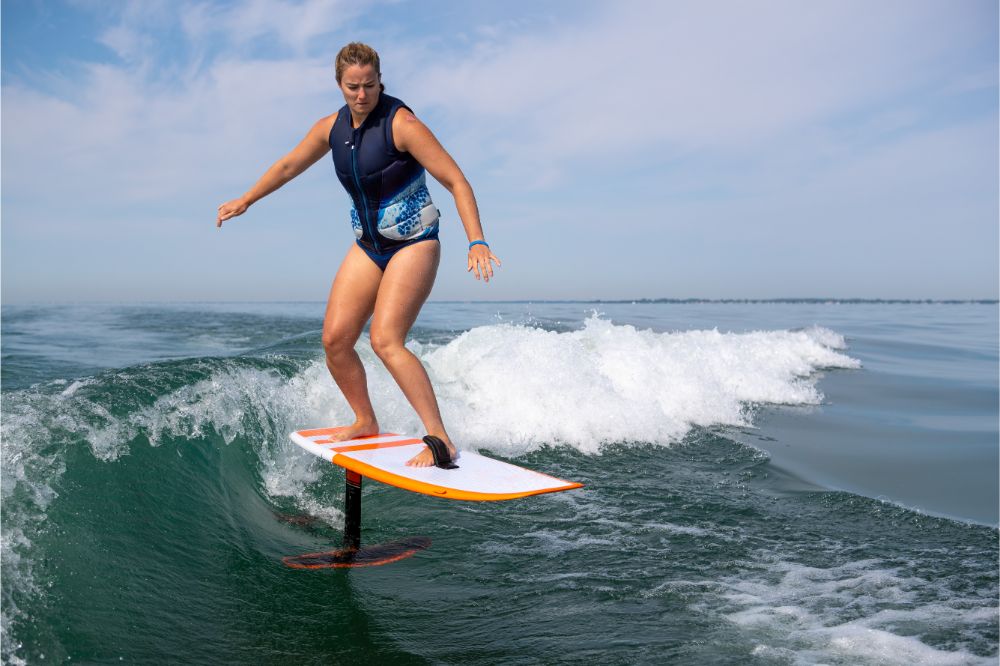 This new form of stand-up paddle boarding may be the biggest thing to happen in the sport for a while. Not only will it give you that feeling of surfing, but it imbues the feelings you get when you're flying. Because it is so new and has gone viral, many people have become interested in it.
That is why we'll take an in-depth look at this quick guide about everything you need to know about foiling boards. From answering the question "Can you foil board on flat water", to giving you a few suggestions on boards that might be a good investment, we want to show you as much as possible about SUP foil boarding so you can determine whether you want to take a leap into it. So let's get started by answering the simple question, what is a foiling SUP board?
What is a Foiling SUP Board?
Before one jumps into this new type of stand-up paddle boarding, it's probably best to understand what exactly a foiling SUP board is. On a basic level, this type of stand-up paddle board is simply a paddle board attached to a foil, an underwater aircraft that uses fluid dynamics to propel whatever is attached to it into the air.
Basically,  the speed of the foil creates a force to lift the board, particularly in the front wing area, which allows the foil and the board to lift off the water. The more speed the foil has, the higher up the foil boarder will be able to go.
It's key when using this type of paddle board to understand your center of gravity; otherwise, it may not work very well. Before we move on, let's look at a foil's actual composition. It comes with the two fins we discussed above, and it is designed with a mask attached perpendicular to the plank and fuselage.
In order for there to be better height, the boarder will need to start by leaning forward on the front leg. This will allow them to get more height when it comes to lift-off. If that is an uncomfortable stance, then the boarder will need to invest in a board with a shorter fin in the front to get more height. Each foil board is designed with two fins – one in the front and one in the back. Each fin has its own purpose. The rear fin offers stabilization, and the front fin is used for better lift.
Is SUP foiling in flat water possible?
When most people think about stand-up paddle board foiling, they automatically go to the main disciplines of down winding and SUP surfing. But not everybody lives in a place that has swells and open oceans. There are plenty of people that have to deal with lakes that have flat water. Flat water is not ideal for foiling, but over the past few years, many people have begun to create foiling boards for this specific type of water.
With so many people getting into it, more companies are producing foils for flat water. Though it's not as prominent as the others, great movements are coming in this field, and only time will tell what will become of SUP foiling on flat water.
Truly SUP foiling is not an ideal option when working with flat water, nor is it easy. However, we are going to look at a few options that might be worth giving a try.
Since SUP foiling on flat water is so new, we thought we'd also look at the more prominent disciplines to familiarize you with stand-up paddle board options.
Main Disciplines
Though we're sure there will be many other options that will become available, right now there are really only two main ones – down winding and SUP surfing.
Down Winding
Down winding is a very challenging foiling discipline. Typically, down winding without the inclusion of a foil is naturally more challenging than other forms of stand-up paddle boarding. It becomes even greater when you add in an understanding of the center of gravity and being in the air.
Traditionally this type of paddle board used for things like surfing is intended to be able to handle high speeds. Adding in the aerodynamic capabilities of the foil to that board means that the down winding stand-up paddle boarder is going to experience even higher speeds. 
SUP Surfing
The second big discipline is SUP surfing. If you Google foil boarding, you will find videos of surfing paddlers showing off their new foil boards. This foil boarding type is easier than down winding and more popular than foiling on flat water.
Especially as long as you have the right stance on the board and use the right paddle, you don't have to be as deep to utilize it. This type of board allows you to surf longer waves and glide easily thanks to the aerodynamic functionality.
Is an inflatable board feasible for this type of paddle boarding?
There are many types of inflatable paddle boards available, including ones designed to be used for foiling. But an inflatable board offers some challenges when it comes to this type of boarding. Inflatable boards are pumped up with air, which means they have air pressure inside. Even if they are filled to max capacity, there's always going to be a little bit of giving, reducing the ability of the foil board.
Many of the inflatable foiling boards have a shorter length and are more compact, reducing that give. Inflatable boards naturally sit on top of the water anyway. Coupled with the shorter length and narrower frame means that inflatable foil boards are less stable than other options.
Inflatable paddle boards are also crafted typically with a PVC outer layer which is not helpful when trying to create water release. That means inflatable foils are going to give a much lower lift than other options.
This material also means that the board, which is going to be moved around quite a bit, might take on some potentially damaging situations. But it is very durable, and therefore, though it's going to be moved around a lot and exposed to things that could cause issues, it should be able to stand up to the test of time.
As we said, there are inflatable options; it is feasible to use this when foil boarding. However, investing in a hard board might be a better choice if you want more maneuverability and stability. So though you can use an inflatable board, if you have the space and ability to store a hardboard, you will get more from it in the long run. Since we understand that is not the case for everyone, we have made sure to include some inflatable options in our choices below.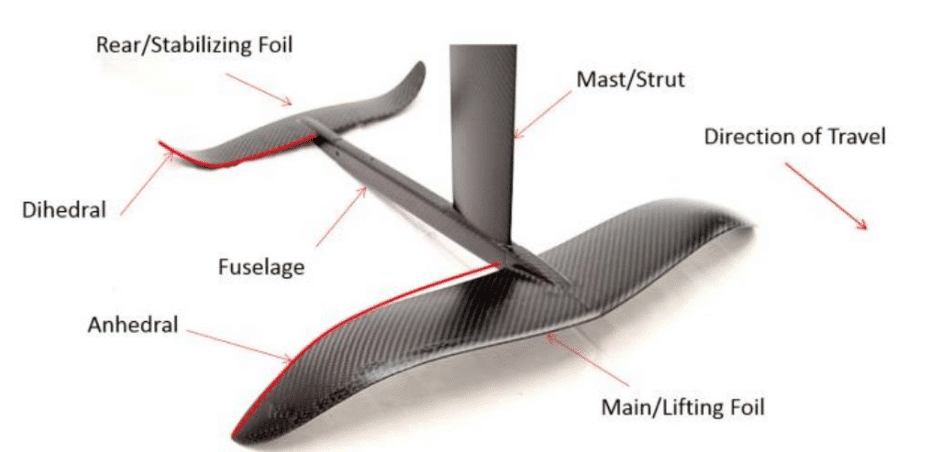 Can I put a foil on every SUP?
The trick is understanding whether a foil is compatible with your SUP. By understanding this, you'll be able to know which SUP boards would benefit or be able to support a foil. So what are the differences? The first and most noticeable is the length and size of the board. Foil SUPs are smaller (typically, they range from 4'8" and 5'6", and when it comes to volume, they range from 3' to 3.3").
The first thing to consider is the foil's wing size. With larger wings, you'll have more stability but lift at lower speeds. So if you're considering utilizing an inflatable SUP for foiling, a larger wing may not be the way to go. Another factor is the mast size. A longer mast is going to allow you to go higher but may be problematic for beginning riders. Lastly, you must know if the board you're looking at is compatible with it. 
Whatever foil you buy may not match the board you have. Typically, they go on in two ways: one with a Tuttle box and the other with a track mount. Understanding the features of choosing the right foil can help you determine if a board is compatible. In our honest opinion, not every board can be outfitted with a foil and have it be as functional as it needs to be. This means longer boards may not work out very well.
If you're looking to attach a foil to your SUP, there are a couple of things you need to really think about when it comes to this process. You need to make sure that your board is shorter than you might think. Typically about a maximum of 8 feet is good. Those that are involved in foiling tend to say that the shortest you can go is the best option.
Once you've picked the board, you will want to cut off the tail (which of course already rules out all the inflatable Stand Up Paddle Boards…). This will help the foil remain more stable and clear the path for installing the mounting system. Along with this, you're going to want to check the bolts to make sure it fits your board and add a new traction pad to the top so that you have a better grip.
So the answer to whether can you put a foil on every SUP is technically, yes. However, it's not suggested because a good foil would be a shorter board so that there is better stability and maneuverability. So we think that, if you really want to start with foiling, the investment in a dedicated foil board is really worth it. In the end, though, the decision is up to you.
And generally, we think that a hard board is the better choice, However, if you're looking for something that is a little more portable and easier to store, there are inflatable options that are a suitable choice too.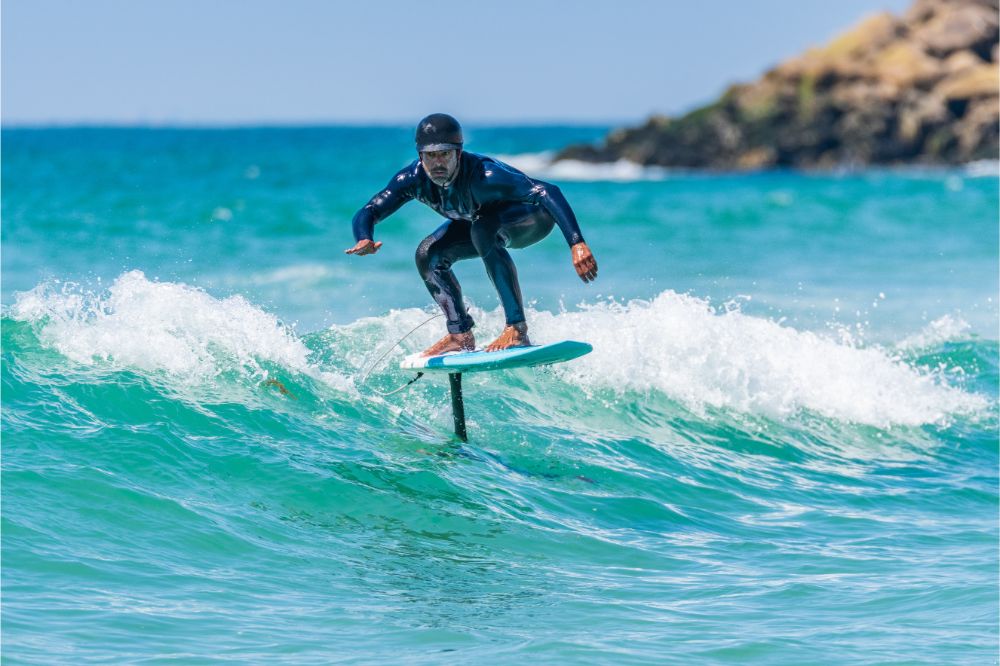 Some SUP Foil Boards…
Now that you have a good understanding of what SUP foil boards are all about and the sport itself, we thought we'd give you a few suggestions of boards that we think are absolutely amazing for this sport. Each of these boards has every aspect you need to enjoy your time on the water and execute an excellent ride.
As mentioned above, there are reasons to choose both options, but if you have no place to store them or transportation is hard, then an inflatable option is a right choice for you.
Here are the five boards we think you should check out:
The first board we're going to suggest is a true 4-in-1 solution. The rocker line and bottom shapes are made to provide SUP surfing performance when ridden with or without a foil and come with a quad fin setup equipped with FCS II Eco Fin boxes.
The unit features a PVC sandwich construction with a CNC cut EPS core and Kevlar reinforced rails. This is also part of the design in order to help with buoyancy and stiffness. All of that combines for a board with a faster take-off than others and is much easier to maneuver while in flight.
This may be a good option for those just starting out in foil boarding and those who want to have a versatile solution for SUP, wind- and kitesurfing. 
This next one is a 7-foot SUP that is crafted in a polyvinyl material. It is an inflatable option that utilizes a double air chamber construction for improved rigidity and safety. It is outfitted with three fins, all crafted in high-quality PVC and finished with a nylon handle for easier transportation.
What that means is this is a very lightweight option when it comes to foil boards that offer a stable flight and easy tail-off for an improved experience. When packed away in the bag, it is easy to store, which may be great for those looking for a foil board that is easy to travel with.
The lightweight design makes it easy to maneuver, so beginners may find it a good choice.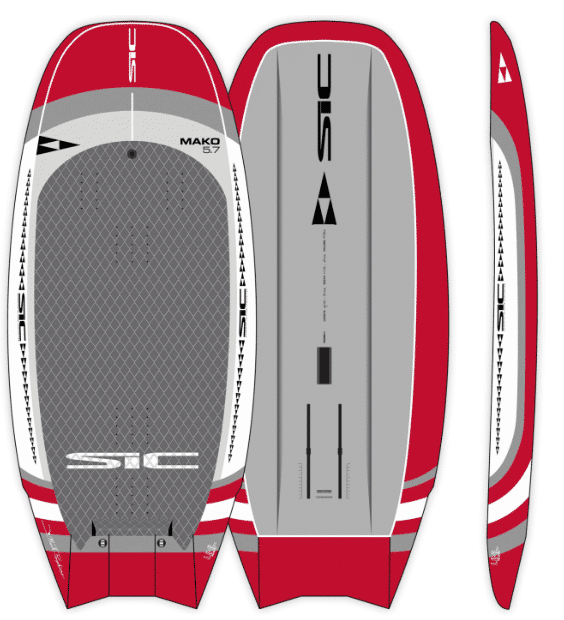 This foil SUP is a little bit longer than other options allowing it to gain more speed and be easier to paddle. Though it is longer than other options, it is also narrower than many and has a 10-liter volume when it comes to the buoyancy and ability to stand up to the paddler's weight. The nose itself is a sleeker design giving a more pointed end.
This paddle board is designed not only with an aft fin but also rail chines that help with stability and flow distribution. The rail chines can also catch a rail when you're handling a very steep turn, and the contoured deck helps with sensitivity for better responsiveness.
This board may be for more experienced boarders as it allows for more height. It might also make it a great choice for those boarders that want to get some tricks in. 
The next SCP foil is an option that gives a lot of versatility because there are two sizes available. This allows the boarder to choose the one that fits their skill level and weight. Crafted with a flat base design, this foil board offers a ton more stability and an easy rail-to-rail ride.
In order to mount the foil, it comes with a box that utilizes an ultralight 10-inch design with reinforcements for better trimming options as well as flexibility. The board also comes with two different foot strap position capabilities, which means you can also wind foil as well as wave sail. The unit itself is designed with a wide nose and a compact shape that offers even more improved stability. Finished with an EPS core, it is durable and lightweight, allowing for better acceleration.
This is the right choice for those that are new to the spot as well as those who are looking for more speed to ride some waves.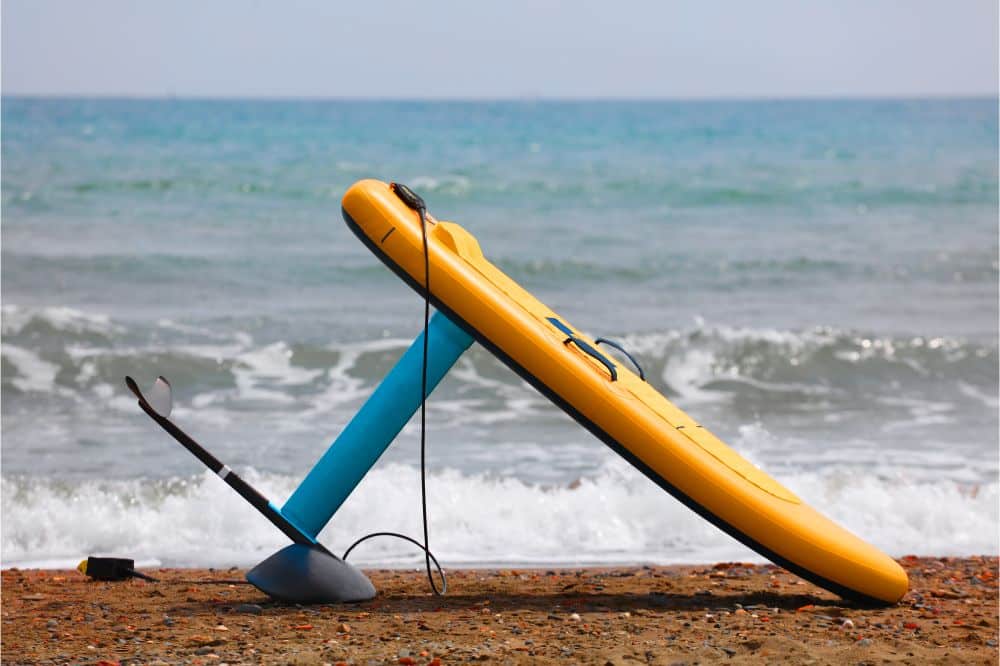 This inflatable foil board is perfect for intermediate boarders and those of average weight. It utilizes a double-layer woven construction, making it a very stiff option and easy to maneuver. This construction is also durable, which means it can stand up to the rigors of whatever you put it through. The boxes are reinforced to ensure that there is no sagging in the front of the foil. The handle is built into the nose, which helps it through the shore break for better maneuverability.
All in all, this board is crafted with a high-quality woven drop-stitch PVC and finished with an EVA pad. This means that it gives you ultimate comfort and responsiveness while allowing for good speeds and easy maneuverability.
This is a perfect option for those boarders that like to foil in rough water or are looking to do some pretty difficult rides as it is durable and has a lot of responsiveness.
The last board you should look at is a specialized wing foiling option. This unit is designed with a shorter length and is wider and thicker than most foils offer. Because of the overall construction, this board is perfect for flotation and gives an immediate reaction for an easy take-off. The deck itself is designed with a concave function, making it super simple to find the center board for better footing and balance.
That, coupled with the use of beveled rails and detail kick, makes this one of the best options for take-off and tight turns while in the air. It can go strapless if the boarder wants, or the strap can be attached in a centered or angled position. This means that you can utilize this to help create the best stance possible for a better experience. The board uses lightweight material and comes with a quick pumping system that allows the boarder to get onto the water quicker. The track boxes are reinforced, which gives them more durability and easier use.
This board is an excellent choice for those with a bit of foil boarding experience looking to elevate their skills.
Conclusion
A foil stand-up paddle board has been outfitted with a hydraulic system that uses aerodynamic flow. The intention is to allow a boarder to be able to fly while boarding in the water. This new aspect of stand-up paddle boarding is rapidly becoming one of the most popular options. Though it does take a lot of skill to manage a paddle board like this, it is outfitted with tons of fun and excitement.
When choosing a stand-up paddle board for foiling, you have to consider everything, including the wing size and the board itself. Ideally, you want a shorter board that is designed to be lightweight for better take-off from the water. We've got many great options above, and we certainly hope we've helped with any decision-making process you are going through.