Paddle boarding is fast becoming one of the most popular water sports in countries all across the globe. It requires little to no skill and is easy to learn, but the gear is important. 
From choosing the right paddle board to selecting the best clothing and paddle board trousers, the right gear can make a world of difference. But with all of the options available on the market, it can be challenging to decide what the best paddle board clothing items are.
An often asked question for instance is: Can I wear Leggings for paddle boarding?
The answer is simple: yes, you can. Just make sure that you use a pair of leggings made of a fast-drying material (e.g. nylon, spandex, or neoprene). Additionally, you should only wear normal leggings without neoprene when the weather and water temperature is warm enough. In colder temperatures, we suggest that you wear either just a drysuit or use the leggings under a drysuit.
If you now have more questions, we are going to help you get on your way! Let's explore some of the most popular trousers and clothing choices for paddle boarding and what to wear in different seasons and water types, no matter what your needs are.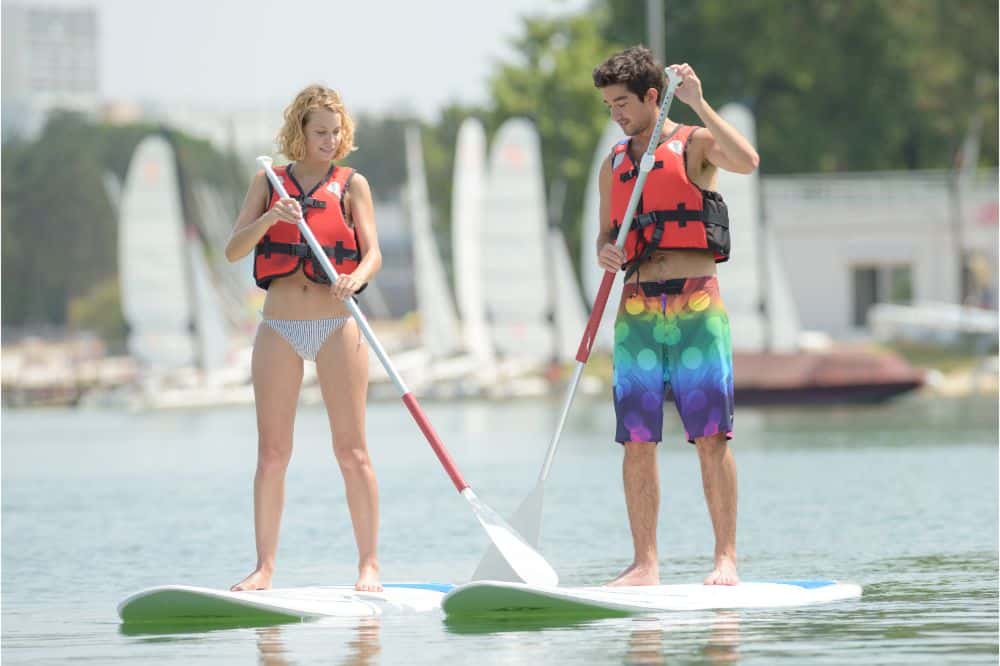 Different Types of Paddle Board Gear
Your choice of outfit for paddle boarding very much depends on the type of paddle boarding you will be doing, the water temperature, and of course, the season. 
The general consensus around what gear to wear for paddle boarding is largely dependent on the weather. Colder conditions are ideal for a wetsuit, drysuit, or a combined outfit, including leggings or trousers, a long-sleeved rash vest, and a jacket. The colder the weather, the greater the need to stay as warm and dry as possible, and this is where a wetsuit or drysuit is ideal. 
Warmer weather, such as that expected in Fall or Spring is a great time to combine different elements of paddle boarding gear. When the sun is out, you may choose to ditch a wetsuit and wear leggings or shorts and a rash vest. 
Weather is, however, not the only factor that comes into play when choosing an outfit for your paddle boarding activity. 
Here are the factors that you need to consider when choosing the best gear for paddle boarding:
Comfort
Fit
Quick-drying
Protection
#1: Comfort
Comfort is key when paddle boarding, especially for the more physical types of paddle boarding like paddle surfing or white water paddling and should be taken into account when choosing the perfect outfit. Most paddle boarders will opt for a wetsuit, leggings, and rash vest. These are designed specifically for water sports, stretch, and resistance and are, most importantly, comfortable. 
#2: Fit
Never, and I repeat, never buy clothing that is too tight or too loose if you intend to use them for paddle boarding. Paddle boarding requires the constant use of your arms, legs, shoulders, and torso, and clothing should be stretchy and not stiff. Furthermore, there is the chance that at some point you need to swim!
If you choose a wetsuit or leggings, ensure that they are the right size for your body type and will not restrict your movement in any way. 
#3: Easy to Move in
If you are going to be paddle surfing, the last thing you want is clothes that become heavy or restrictive when wet. Fabrics like polyester, lycra, cotton, and linen should be avoided, as they can weigh you down when you get wet and severely restrict your movement. Neoprene (the wonder fabric that wetsuits are made from), nylon, and spandex all have quick-dry properties and are the best for any water sports.
#4: Protection
A day out on the water paddle boarding, surfing, or fishing can leave you exposed to the elements. Choosing clothing with some form of UV protection can go a long way in preventing a nasty sunburn. The same goes for colder weather and water temperatures. While most fashion gurus recommend layering in the colder months, this is not always possible depending on the type of paddle boarding activity you will be doing.
For yoga and fishing, layering items is fine and can help keep you warm in the cooler months. But clothing needs to be comfortable and not restrictive for more physical types of paddle boarding like deep water paddling or surfing.
Trousers and a Top Vs. Wetsuits: The Showdown
Ultimately, your choice of outfit for any paddle boarding activity comes down to your preference and comfort. While some might be more comfortable in a one-piece such as a wetsuit, others might prefer to wear a long or short-sleeved rash vest and trousers, also available in various lengths and thicknesses for convenience and comfort. 
For warmer temperatures, a combined outfit is best, as it allows you to choose your paddle boarding gear based on comfort, weather, and water temperature. There is a wide range of rash guards you can choose from. Whether you prefer a long-sleeved or light, short-sleeved rash vest depends on your comfort, as well as the type of paddle boarding activity you will be doing. Click here to read more about the best rash guards that guarantee protection and comfort while you are paddle boarding. 
While some surfers or paddleboarders prefer a full-length wetsuit, it can become rather hot in the dead heat of summer which is why many boarders will switch to short or two-piece options. Full-length wetsuits are a great option to keep you insulated and comfortable and are super-stretchy to provide a snug fit that won't restrict your movement. 
The most common materials or fabrics used for paddle boarding clothes including SUP trousers are:
Neoprene
Nylon or Spandex
Lycra
Polyester
These are light, breathable, quick-drying fabrics with varying degrees of stretch. Neoprene is, however, still the most popular choice for paddle boarders around the world. But why? 
The Wonders of Neoprene
Neoprene is a lightweight polymer that makes wetsuits, rash vests, water trousers, and even booties for surfers, divers, and paddle boarders. It has a ton of benefits:
Neoprene is known for its comfort
It ensures a snug fit without being restrictive
Neoprene is quick-drying
It can be used in all seasons and water temperatures to keep you warm and dry
Available in different thicknesses
Available in a variety of lengths for comfort
Neoprene leggings are available as shorts, capris, ¾ length, and full-length options based on the wearer's comfort and preference. Paired with a rash vest, you are guaranteed protection from the harsh UV rays of the sun and the elements when the weather turns cold in the fall and winter. 
There are, of course, additional types of leggings that you can choose from depending on not only your skill level, but the weather, water temperature, and type of activity you will be doing. Leggings are available in:
Neoprene (as mentioned above).

Poly-spandex. Great for maneuverability and comfort. Leggings made from these materials can withstand salt and chlorinated water well and are especially durable. Poly-spandex leggings have the added benefit of holding color well and are available in a great variety of colors and designs.

Nylon-lycra blends. Comfortable, but not as warm or durable. Leggings made from nylon are slow drying, but are breathable and are great insulators. For the environmentally-friendly paddle boarders, nylon is the most "conscious" choice of materials to use. 
Depending on the weather and the type of waters you will be venturing into, there is also a wide range of water shoes available. For more on these and other accessories that can be added to your SUP, please click here. 
Where to Buy Your Paddle Boarding Gear
Technology allows you to order your paddle boarding clothes and gear from many online stores. In fact, most larger sports equipment and apparel stores have online stores that make shopping quick and convenient. 
However, if you are buying online, do note that it might be handy to know your exact measurements. Keep these close by when ordering your wetsuit, leggings, or rash vests, as these need to fit snuggly but not be so tight that they restrict your movement in any way. Also, consider your height and ensure that your wetsuit will cover your body sufficiently. Most wetsuit manufacturers have options for petite or tall customers.  
If you prefer in-person shopping at a store, you can ask a store assistant to help you with sizing, comfort, as well as the best materials or fabrics to choose from, depending on the paddle boarding activity you will be doing. Happy shopping!
What to Wear When: Season Edition
When the sun is out and it is a wind-free day, the last thing you want to do is put on a thick wetsuit that can leave you feeling stuffy and hot. While in winter, you have the urge to put on as many layers as possible to keep the cold air from your body, especially in the water. 
We have developed the best "What to Wear When" guide for what you should consider wearing for paddle boarding activities according to the seasons. 
Cold Weather: Winter and Fall
Depending on the type of paddle boarding you will be doing, you can layer items as you see fit. 
There are two general options for paddle boarding outfits in the colder months. A wetsuit, drysuit, or a combined outfit of leggings and a long-sleeved rashguard are ideal to keep the icy water off your skin. 
Here's what we recommend. For really cold temperatures you can combine a wetsuit or drysuit with:
Leggings
Boardshorts
A long sleeved-rash vest
A light anorak or windbreaker
Booties or water shoes
A beanie (either wool or neoprene)
Floatable Sunglasses
Sunblock on your face and hands
If you are paddle surfing, skip the boardshorts, windbreaker, and sunglasses. There are great wetsuits that include booties and a head covering or beanie to keep you warm and dry in even the coldest water and temperatures.
A combined outfit consisting of a wetsuit, drysuit, and a mixture of the items listed above is ideal to keep you warm while out on the water. 
While sunglasses might seem obsolete in winter, the water can still give off a glare. If you need more information about great sunglasses for SUP, check out our Floating Sunglasses Gear Guide. The same goes for sunblock. Water reflects the sun's rays, and you can still get a nasty burn if you don't protect your face. 
Warm or Hot Weather: Summer and Spring
While spring does not necessarily bring warm or hot temperatures immediately, it is certainly warmer than autumn or winter. It changes the need for all those extra layers for paddle boarding. 
It is important to remember that air temperature is not the only factor that should influence your outfit choice. Water temperature is also an essential factor to consider. While the air might be warmer, the water could be freezing, and this too will influence whether you choose a wetsuit, combined outfit, or a simple pair of boardshorts and a rashguard.
For warm or hot temperatures, we recommend the following:
Boardshorts, leggings, or short neoprene shorts
A short or long-sleeved rash vest
Sunblock
Sunglasses
Water shoes or neoprene booties
Warmer weather and warm water negate the need for a wetsuit. Choosing a good pair of leggings or board shorts and a rashguard is a better option.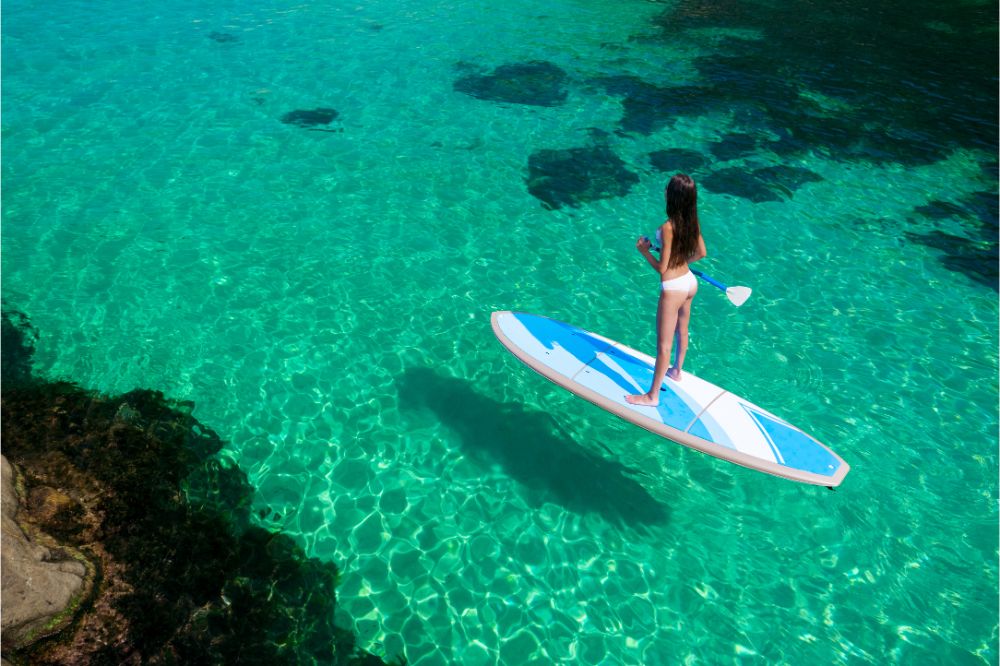 Why the Weather Matters
Getting out onto the water is a great way to relieve stress and has several health benefits. From weight loss to exercise and fitness, paddle boarding is a fantastic way to care for your health and wellbeing. 
When you think of water sports, you think of beautiful, hot summer days paddle boarding on a flat sea and enjoying the fresh air. But, for many pro paddle boarders, hitting the water is a year-long hobby and doesn't just stop when the weather gets cold. 
Dressing for the weather is important to prevent sunburn and heatstroke in summer and to prevent hypothermia in winter. 
Here are a few ways to choose the best outfit for your paddle boarding activity.
#1: Track the weather
There are tons of mobile phone apps that you can use to see the weather for the week at a glance, as well as by the hour for a particular day. Check wind speeds, humidity factors, as well as if any rain or sudden temperature changes are forecasted. Plan your paddle boarding trip and your outfit according to the day's weather. 
#2: Read the surf report
Join a local social media paddle boarding group or forum and take note of their daily surf report. Knowing the swells and water temperatures will likely help you plan your outfit accordingly. Also, take note of the tides and avoid ones that could be unsafe. 
#3: Always be prepared
Even though we can see the weather at a glance on mobile apps, we all know that the weather is never cast in stone and can change at any time. Always keep a spare change of clothes in your car, allowing you to change if necessary. There are quite a number of "optional extras" you can purchase to add to your paddle board.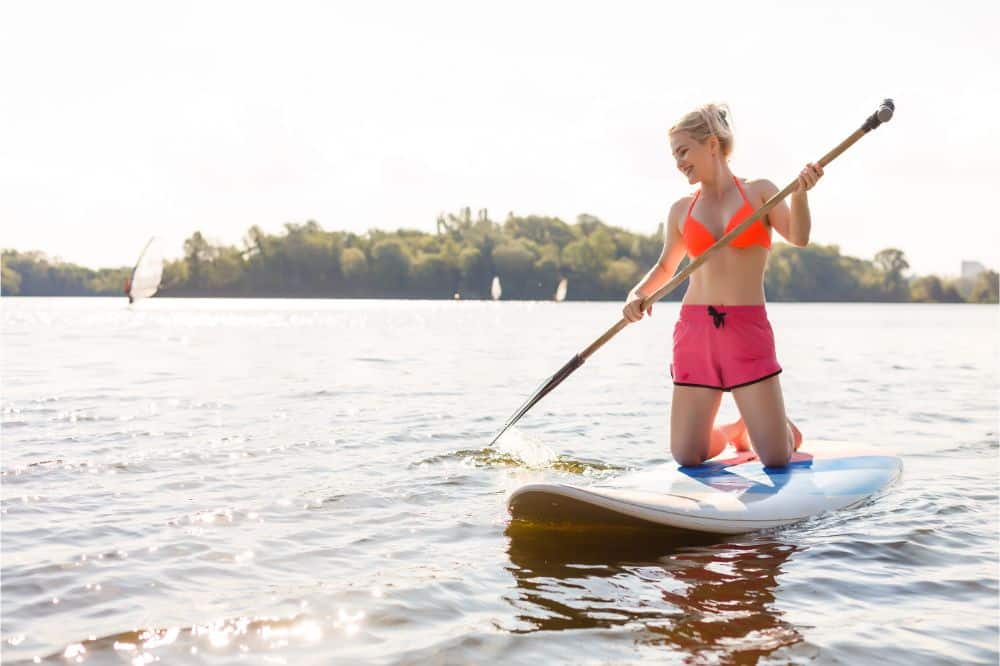 A Selection of Great SUP Trousers
Comfort, warmth, and most importantly protection from the elements are the most important factors that need to be considered when choosing clothing or trousers for paddle boarding. Let's take a look at some of the best products available for your next paddle boarding activity. 
Men:
It is often necessary to have different trousers for different weather and water conditions. Wearing a thick neoprene wetsuit or legging in warmer weather is not ideal. For warmer weather, a good pair of shorts is in our experience the best choice. Below you can find a a choice of type of shorts we like. These shorts we have suggested are quick-drying, flexible, and provide great protection while paddle boarding. 
For colder conditions, full-length neoprene trousers are recommended to keep the cold water off your skin. Generally you can apply the following rule of thumb: the colder the conditions (air and water temperature) get, the more you should opt for longer trousers and for neoprene.
Women:
Women, too, require the correct paddle boarding gear for different weather and water conditions. 
You can click on the links provided below to see our top choices for warmer and cooler weather conditions. Please note that these have been chosen for their comfort, quick drying abilities, and most of all for protection from the elements. 
Conclusion
While paddle boarding is not a fashion parade, looking good while being comfortable and protected is important to most people. There is a wide range of fashionable, stretchy, protective options available to choose from. At the same time, there is no rule on what you should wear when paddle boarding.
You should consider the weather, water temperatures, and paddle boarding activity when choosing your outfit. The guide we have provided above should come in handy if you want to try paddle boarding.