Are you looking for a high-intensity workout without all the joint impact and shearing tension that comes with heavy weightlifting or kettlebell swinging? If you are, then stand up paddling is perfect for you!
Stand up paddling is taking the water sports world by storm, attracting everyone from enthusiasts to casual weekend warriors. It's an excellent high-intensity workout that challenges major muscle groups, burns calories, and gives you an endorphin rush you might not get elsewhere.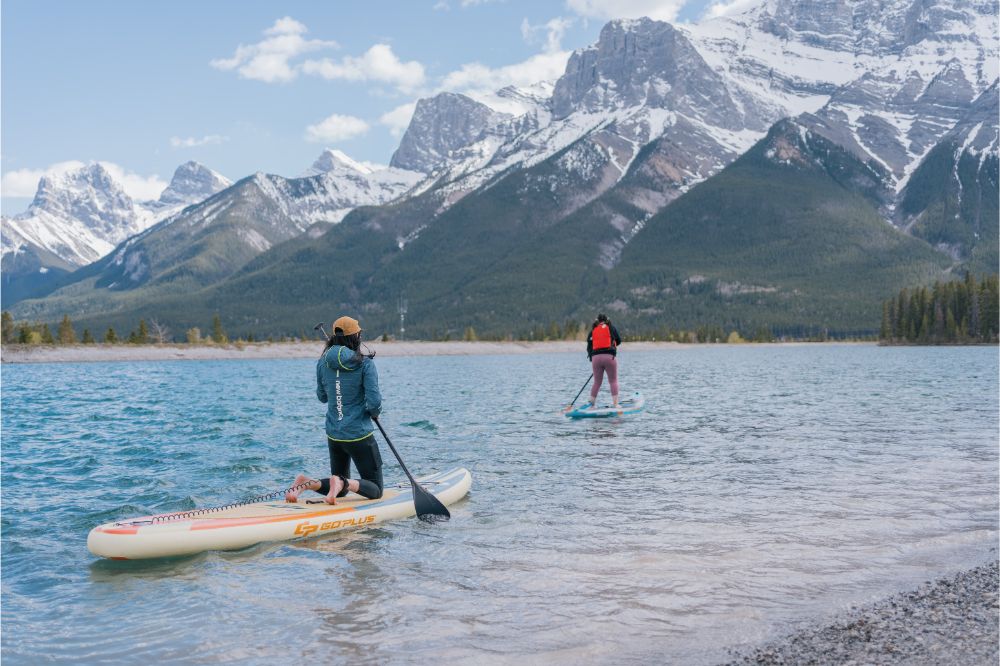 Here's the best part — your joints and lower back will thank you as stand-up paddling is low in impact but high in health benefits.
Learn more about the low-impact, high-intensity workouts you should add to your fitness program. By the end of this article, you'll be paddling your way to solid shoulders and a rock-hard core! 
What Is Stand Up Paddling?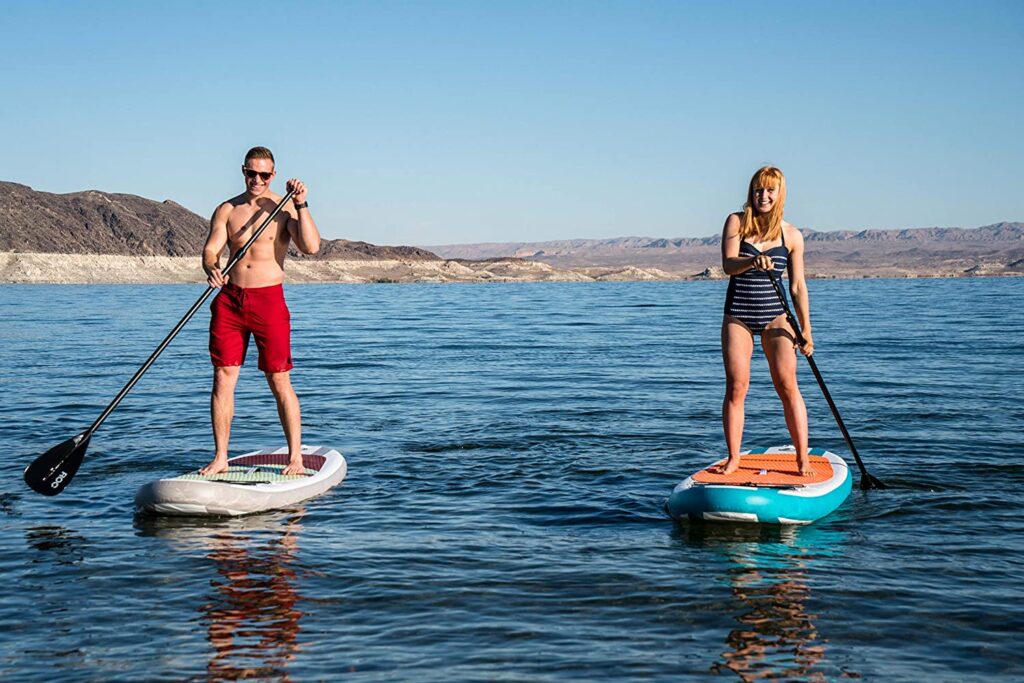 Stand up paddling or stand up paddleboarding is a water sport that originated from surfing and paddleboarding. In stand-up paddling, a person stands on top of a board and paddles on the water. So it is mostly pure muscle power that propels you forward.
Over the course of the years, different forms of Stand Up Paddling evolved and with that different shapes and sizes of SUP Boards and paddles. Nowadays you can find specialized boards e.g. for Racing, Wave Surfing, Whitewater, or even for Yoga or Fishing on a Stand Up Paddle Board (see a full overview of board types here).
Which SUP Board is best for pure training?
However, the most common and widespread type of board is still the so-called all-around SUP Board. This board can be used for most of the adventures unless you really plan to deep dive into one of the specific SUP disciplines.
As the act of paddling alone trains multiple muscle groups for strength and cardio, this is also typically the best type of board for those who want to get fit with SUP.
However, if you want to focus on a specific aspect of your training, you also should look at other types of SUP boards. For cardio, you can choose a touring or race board optimized for speed and tracking.
For full-body strength, try a wide all-around board or a "light" Yoga board, allowing you to perform extra exercises like push-ups, sit-ups, and burpees. Remember that even with the wider boards, the added challenge of balancing on the board trains your coordination and deep muscles more effectively than on land. Try it now and paddle your way to fitness!
What Do You Need for Stand-up Paddling?
If you've gotten excited about getting on board and paddling your way to fitness, you'll be glad to know that you won't need much. All you need are the following four pieces of equipment. Have these ready, and you'll be on your board and on your way to a low-impact high-intensity workout in no time!
A Paddleboard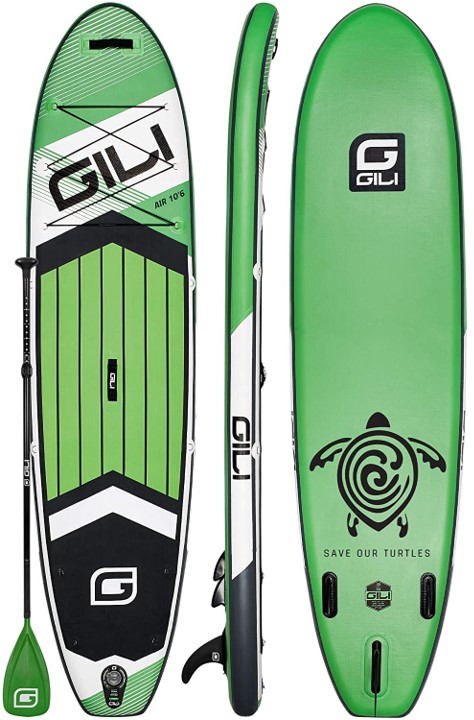 First, you'll need a board. You could start with any board which supports your weight (longboard or large windsurf board), if that's what you have, but all those boards will be less stable than a standard paddleboard.
However, there are some rather cheap SUPs, but still good quality options of boards available in order to get your feet wet.
A paddleboard is 12 to 20 feet long. The width can vary depending on the skill level for which the board is designed. Beginner-friendly boards will be wider than those meant for more skilled and experienced paddlers.
A detailed size table for different skill levels can be found here.
A Paddle or Oar
There are no standards for the paddle or oar dimensions when you paddleboard. However, because you'll be standing, you'll have to get a longer paddle than the one used for regular paddleboarding. A good rule of thumb is to select a paddle that's about eight to 15 inches taller than you. 
A Leash
The leash is a long cord that attaches to your foot. You'll also find it on surfboards. The purpose of the leash is to keep the board near you in case you fall off.
A PFD
A PFD or Personal Floating Device is often required by law. However, as you are engaging in a sport on a large body of water, it is also sensible to have one with you. Does it need to be an uncomfortable swim vest? No! There are surely better options of PFDs for SUP!
What Makes Stand up Paddling an Amazing Low-impact High-intensity Workout?
Stand up paddling has grown into one of the most popular water sports due to its accessibility. Besides that, it's also one of the most intense workouts full-body workouts you can perform. Here's what makes stand up paddling an amazing low-impact high-intensity workout.
Little to No Joint Impact
Most fitness-related activities involve some sort of running, jumping, and bounding, and the metabolic hit of these activities is undeniable. Unfortunately, so is the hit on the joints.
With fatigue and without perfect movement mechanics, you're risking overuse injuries to the knees. Besides that, your lower back might suffer from absorbing frequent impacts from jumps.
In stand-up paddling, there's little to no joint impact. Because you're stationary on a board, your joints remain in a neutral position, protected from repetitive impact and shear.
Speaking of shear, that brings us to the next benefit of stand-up paddling.
No Shearing
Shearing refers to the combination of forces applied to a misaligned object. In the case of the human body, shearing forces increase during bending. The shearing forces increase further during heavy lifting, especially without proper body mechanics. This presents a higher risk for injury — particularly to the lower back.
By contrast, shearing force on your lower back is one less thing to worry about in stand-up paddling. On your board, you're in an upright, stationary position. Even as you paddle, the oar's weight away from your body isn't nearly enough to create the same shear force you'd see on a deadlift or swing.
Not only is stand up paddleboarding fun; it's easy on your joints and back, too!
Multi-muscle Involvement
Think of the muscles involved in a regular row. You'll use the muscles of the shoulder girdle, your rhomboids, biceps, triceps, and trapezius — but that's just the tip of the iceberg!
During stand-up paddling, you'll also be steering and maintaining your balance. For this reason, you'll be using all of your abdominal muscles as you stabilize and brace.
With all the muscles involved, stand up paddling is an all-in-one workout.
Stand up Paddleboarding Is a Calorie-torching, High-intensity Workout!
In just one hour of recreational paddleboarding, the average person can burn up to 550 calories! That's a lot of calories for an activity that's easy on the joints and lower back. 
Few activities can burn just as many calories. These include long-distance running, Brazilian jiu-jitsu, and a CrossFit class.
If you want a calorie-torching workout that matches the intensity of the activities mentioned, look no further than stand up paddling!
Paddle Away to Better Fitness and Body Composition with Stand-up Paddling!
Stand up paddling is a safe, effective way to torch calories and tone various muscles. Most importantly, it's a fun water sport to get into regardless of your skill level.
What are you waiting for? Head over to the water and paddle your way to better fitness!